This post may contain affiliate links which may give us a commission at no additional cost to you. As an Amazon Associate we earn from qualifying purchases.
So you've set up your blog. It looks perfect and you're pushing out awesome content every week. Now how do you get people to read what you're writing and come back to your site every day? The answer is simple, by setting up your RSS feed.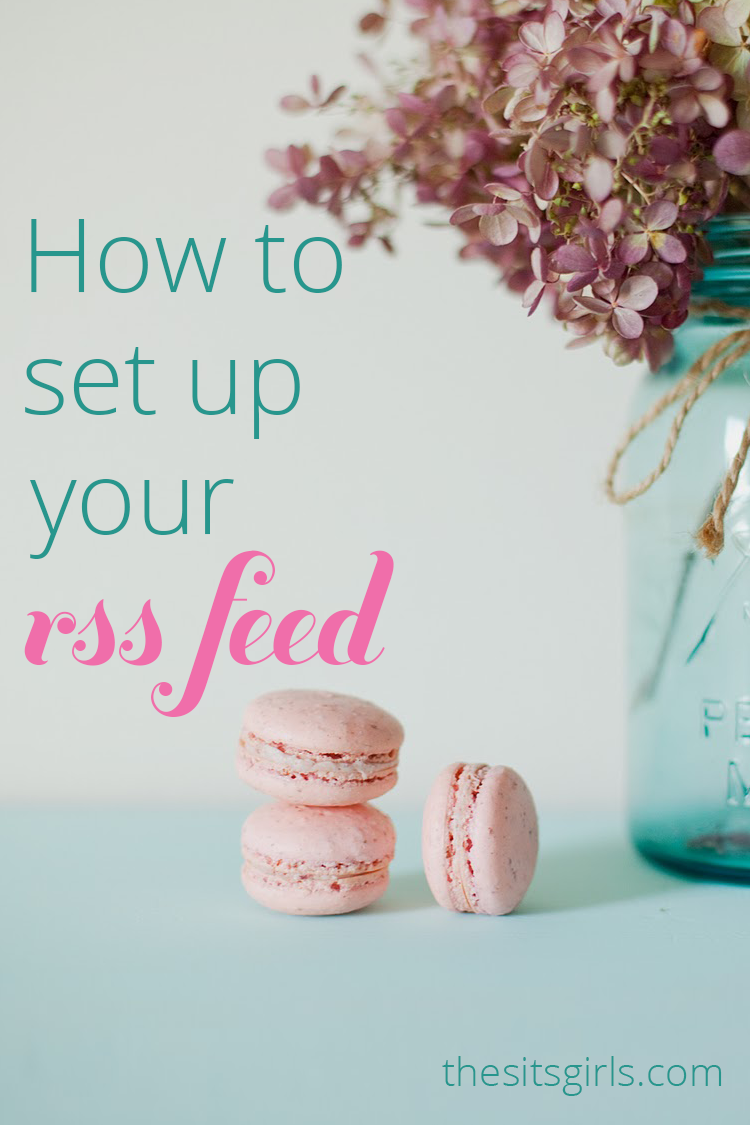 How to Set Up and Optimize Your RSS Feed
What Is An RSS Feed?
RSS (Rich Site Summary) is often called Really Simple Syndication. An RSS feed is a notification system that alerts your subscribers every single time you publish a new post on your site. Every site should have an RSS feed, but it's not automatically set up. You need to enable your blog's RSS feed so readers can subscribe and opt to receive notifications whenever you post new content.
Instead of hoping visitors return to your site everyday (which they may not do even though you're awesome) why not remind them to come over daily through RSS feed notifications.
How Do I Get Content With An RSS Feed?
There are two ways to get readers to subscribe to your RSS feed. If you have social icons on your site such as follow on Twitter, like on Facebook etc. you've most likely seen the RSS icon when you set them up.
1. RSS feed readers. When you add RSS feed to your social icons there has to be a way to showcase your posts and the simplest way – but not the prettiest – is to do that through a feed reader. RSS feed readers offer your posts in plain text, it's not super pretty but it gets the point across and gets your posts delivered.
Other types of feed readers include services such as Bloglovin or Feedly. They give readers a one stop shop to subscribe to several different blogs through one platform. You can join the Bloglovin community and list your blog which allows it to be available for subscribers through their service. When a subscriber logs into their reader, a list of all the blogs they follow is displayed along with all the new blog posts. It's a great way for readers to keep up with your blog.
Feedburner is very popular for delivering your feed, but it's not customizable to suit your brand and blog style. If you want your RSS feed to look and feel like you and your blog, offering subscription through an email service is the way to go – don't worry it's free.
2. Subscribe by Email. MailChimp, Mad MiMi, and other email services can be set up to send an email to your subscribers every time new content is available. What's the difference between an email service like MailChimp and an RSS feed reader like Bloglovin? MailChimp sends a customized email right into the inbox of your subscribers. You can customize the colors and template as well as the content layout. It's truly a personalized experience.
Feed reader services such as Bloglovin require the subscriber to log into their site and receive notifications from all the blogs they follow through that service. It's not dedicated and the content is also displayed in plain text, it's not customizable the way MailChimp can be.
Optimize RSS To Make It Your Own
You can opt to show a partial view in the RSS feed, which gives readers a sneak peek and encourages them to visit your blog to read the full post, or you can give readers the option to read the full post directly through RSS. Which option should you choose? That's a great question.
Don't offer your RSS feed in full text. Why? Because it doesn't help drive traffic back to your site. Just give readers a teaser by email or reader notification and let them come to your site to see the full post – and all the goodies you have to offer.
How can you hook readers and draw them to your site? Be sure to include images in your RSS email or feed. In the age of 140 character tweets and six second Vine videos bloggers have to capture their readers' attention as quickly as possible. The easiest way to do this is with visuals.
Sending readers to your site to view the entire post also gives more accurate stats – if you're into that. When people read your full posts via a RSS reader it doesn't count in your daily stats because they didn't actually visit your site. If you want to track site visits it's a good idea to give a teaser and entice readers to come to your site for the full monty.
Keep Reading
Looking for more information about RSS feeds? Here are a few post you will find helpful: