This post may contain affiliate links which may give us a commission at no additional cost to you. As an Amazon Associate we earn from qualifying purchases.
One of the hottest blogging advice tips going is to "find your voice". It sounds great, and is an important aspect of blogging, but what exactly does that mean? It is an abstract idea to "find your voice." Perhaps the advice should shift to "be yourself" and "show your personality." Those are easier concepts to grasp and execute. Sharing your real self on your blog is not difficult or complicated. It is a matter of relaxing and letting go of your trepidation.
When I began blogging, I was hung up on proper sentence structure, punctuation, and grammar. My writing was very dry and boring because it was written like a college paper. How boring is that? Most people do not want to read a college-toned blog.
On the flip side, some bloggers take their writing to the other extreme. They are too personal and casual. This type of writing is a turn off, because it doesn't say "I'm an authority." Instead, it's a little too personal and uncomfortable.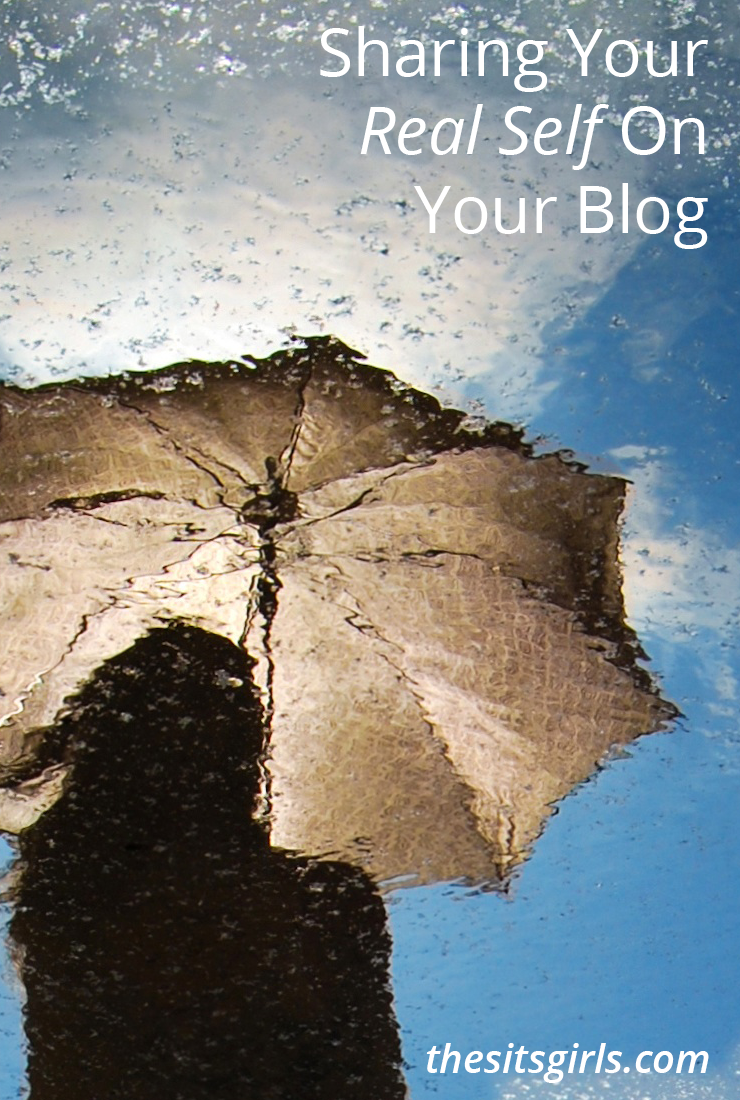 Sharing Your Real Self On Your Blog
The key is finding a balance and letting your personality shine. Your readers want the real, authentic you. But how do you achieve that without crossing the line and sharing too much? Below are a few tips to help you on your way to sharing your real self on your blog.
Casual, Friendly Conversation
When writing a blog, make it a casual conversation. What do you talk about at parties, with friends, your spouse, or in conversations with your kids? Write like you are having a conversation with your reader. Imagine what your reader would say back to you.
Balance
You don't have to share the down and dirty details of your life to be yourself. If your blog is about a particular part of your life (say, raising special needs children) then, of course, you will share bits of your story. But don't feel like you have to share everything. Instead, you can share your emotions, experience, and advice without feeling like you are exposing yourself. People want to know you, but they don't want to be made uncomfortable with oversharing.
Inspiration
Study the bloggers you like. What attracts you to their writing? It may be their humor, willingness to be raw, vulnerability, or great tips. Some of my favorite blogs are about DIY projects. The bloggers share great tips, how-tos, and even failures. They also try to engage in a two-way conversation by asking questions.
Create Conversations
As mentioned above, ask your readers questions. This is great on social media. Post a picture and ask what they think. Post a game and ask people to figure out the solution. Engage in a fun conversation.
Feedback
Ask your friends to read your post before hitting publish. Do they agree it sounds like you? Are you sharing too much? Not enough? Too serious? Too raunchy? Too personal? Your friends are a great sounding board so use them.
Intelligence
I shared my early approach to blogging — college paper style. There are a few things that will turn a reader away: boring, college term-paper style, oversharing, and poorly written posts. Don't ignore grammar, punctuation, and spelling in your writing. Try to have an intelligent conversation with your readers using words. Don't insult your reader with misspellings or poor punctuation. They deserve the best of you. Take the time to do a spelling and grammar check.
Use contractions in your writing. Contractions help make your writing more casual and friendly. Don't be afraid to shorten a word. Slang words are helpful, too, if you don't overuse them. Keep in mind people may not know what they mean and miss your point. But if it is a common slang word, and it helps make your point, go for it.
Mom Was Right – Go Out and Make Friends
Once you break free from the stagnant writing style of high school or college, you will feel freedom. Writing from your heart and sharing bits of yourself is exactly what your readers want. They want a relationship with you and sharing your authentic, true self is how to achieve that.
Remember to approach sharing your real self on your blog the same way you make friends in your daily life! Be honest. Be real. And have fun.
Keep Reading