This post may contain affiliate links which may give us a commission at no additional cost to you. As an Amazon Associate we earn from qualifying purchases.
New to SITS? Welcome!! Go read this to get started.
Welcome to the weekly blogging tip and Saturday Sharefest comment game! This week I'm talking about creating a sneeze page.
Today's tip comes from ProBlogger's 31 Days to Build a Better Blog book. It's an amazingly informative e-book and a great challenge if you're looking to ramp up your blog. I'll be following the 31-day challenge for the month of May. Why don't you join me?
ProBlogger, aka Darren Rowse, coined the term "sneeze page" to describe a page or post on your blog that "propels people in different directions deep within your blog by highlighting a variety of posts that you've previously written." What are the benefits of creating such a page?
Show off your best older posts that are lost in your archives.
Deep linking if good for SEO.
The more great content you can give a reader, the longer they will stay on your site ("stickiness") and the more likely they will become a subscriber and regular reader.
It's easy to create a sneeze page. Just pick some of your best content and create a post that links to those posts. You can also use a theme for your sneeze page such as time ("Best Posts of 2009") or topic ("Top Ten Recipe Posts").
Once you've created your sneeze page, be sure you publicize it! Put a link to it (or them – it's OK to have more than one sneeze page!) in your sidebar and/or your navigation bar so readers can find it easily.
Now, let's play a game! Here are the rules for the SITS Saturday Sharefest:
Leave a comment here with a link to one of your best blog posts (or just your main URL if you prefer).
After you leave your comment, visit the link of the person who commented BEFORE you.
Comment on their post and be sure to say "Happy SITS Saturday Sharefest" in your comment.
Now, go leave some comments! And please visit my blog, Mom Improvement.
We've started our own Blog Frog Community! Every person who joins in the month of April is entered to win a $100 Target gift card!
SITS Girls is coming to:
San Francisco, Philadelphia and Austin tickets are on sale now!
Want to get an email each time we post? Just click here.
And, as always, when you see this: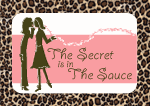 LEAVE A COMMENT.