This post may contain affiliate links which may give us a commission at no additional cost to you. As an Amazon Associate we earn from qualifying purchases.
Imagine with me, will you? Everything you write connects to the core of the person reading it. You have a fangirl (or guy) audience that gobbles up every word you type and it's easy. How can we make that daydream a reality? This list gives you a rock solid foundation to authentically connect with readers while social networking and blogging. I will warn you, some of these tips are deceptively easy, others are unconventional which makes them scary. Just like you should with all blogging tips and tutorials, find and implement the ones that speak to you. Let's get started.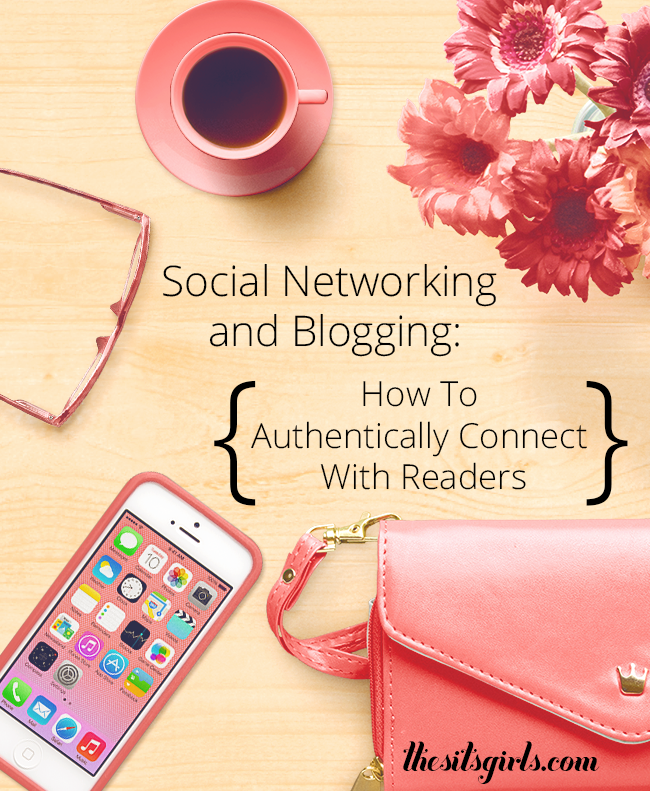 Social Networking And Blogging: How To Authentically Connect With Your Readers
1. Find your voice
We hear so much about "finding your voice". What if you didn't even know you had one? It's not like there's a map or manual to find it. For me, finding my voice clicked when I understood that this included my tone as well. Here's the difference, according to Buffer:
Voice: Your brand personality described in an adjective. For instance, brands can be lively, positive, cynical, or professional.

Tone: A subset of your brand's voice. Tone adds specific flavor to your voice based on factors like audience, situation, and channel.
I'll use myself as an example:
Voice: Authentic
Tone: Simple
Given that example, would I write about social media and blogging in Scientific American speak?
No.
2. Write to one person
In my head, I have one person that I write to for each time I set about writing anything. It's all about knowing your target audience. Who do you envision gobbling up everything you'd create? Is it a working mom, stay at home mom, single woman, kids, no kids, dogs? Get specific and be very clear on what this person looks like, but take it a step further and zero in on what foods they would like, what they would watch on television or read. Once you've got your person down, give them a name and start a relationship with them. Ask what their pain points are, what saddens them or brings them joy. Trust me, this is important. I even have a google image of this person to look at. Try it, then check out what the Blog Maven has to say. And yes, you may be seen walking about talking to yourself, at least that's what people will assume!
If you're still stuck on where to start, I've got you covered. Check out this post by Regina on How to Create an Ideal Reader Profile for Your Blog. Not for the faint hearted.
3. Share your vulnerability
Can I let you in on a little secret? You're not perfect. No one is. I think as bloggers we forget this because so much of our blog and what we create is visual. From plugins to themes to alignment of font, everything has to be perfect. You don't have to be. Readers want to connect with someone just like them. Who do you connect with? Probably someone who isn't afraid to share a part of themselves openly, honestly, and without regret.
A word of caution though, don't get so caught up in sharing your vulnerabilities that it's all you have in your toolkit. Getting caught up in sharing the same vulnerabilities can make your reader feel trapped and looking elsewhere for the "So, what?" scenario. Always have an answer when someone says "Yeah, so what?" Back up your vulnerabilities with how you conquered.
4. Meet in Person
Stay with me. There's only so much you can do behind a screen. You have to get out and meet people. I don't mean standing on a corner handing out business cards. I'm talking blog conferences, local meetups, community functions, and outreach. Connect with readers and potential readers by showing up and being seen. Nothing cements a relationship than an in person experience. Sorry introverts, I know this is hard, so maybe try a Twitter chat or two to build up some courage.
5. Ask for feedback
You can't get anywhere if you don't ask. You can always add a great call to action at the very end of your post to ask people their thoughts on the subject you wrote about. Don't stop there! Use those responses to create another post! Your readers will instantly recognize that they are being heard. Isn't being heard what we all want at the end of the day? Don't just create content, ask for input and most importantly, listen and share that feedback.
Now if you don't have any readers at all because you're a newbie (first of all, welcome to the madness!), hit your social media channels. If you're on Twitter, send a tweet. If you're too shy to do that, reach out to your IRL friends and see what they have to say on the matter. Don't give up!
6. Reply to comments
There's no excuse not to do this. Even Pat Flynn responds to comments, and you know that man is busy. I can't tell you how many times I've seen bloggers with comments that go unanswered. To me, it's just a wasted opportunity. If someone takes the time to comment and share what's on their heart, respond! Batch it if you have to and only respond to all comments one day a week. Whatever your schedule, respond. Blogging doesn't stop when you hit publish.
7. Share other's content
You want to be your readers' it girl. This means they view you as an influencer or thought leader in your niche. You can't do that alone. You have to share other people's content. This could look like you sharing content you curate from Feedly to Hootsuite, using their autoschedule feature, or even sharing an article you read during your coffee break to your Facebook fan page with a little message letting your readers know why you think it's important.
If you think of your readers as close friends, you'll get it right. You share everything with your close friends from the latest shoe obsession to favorite productivity app. Don't worry, your readers won't leave you, they'll regard you as someone who cares about their growth and success.
8. Invest in your community
The flipside to number 8. Don't just automate. You have to spend time on these social networks and actually engage with people in real time. What's the point of making a Twitter list if you don't use it? Spend a few minutes of your day scrolling through your lists and respond to a tweet, or share your two cents. You don't want to be the person that is perceived as only having time to cram content down people's throats but no time to listen, respond and engage with anyone. That's not a good look. Copyblogger has this to say:
Forget about going viral. Don't think about pageviews, and visits, and shares, and comments.

Just think about that one loyal reader that you're turning into a raving fan.

That's how you build your audience, your following, your readership (that's also how your blog becomes a feel-good party).
Which tip will you put into use on your next post? Share in the comments, I would love to read (and respond) to each and every one of you!
The fun doesn't stop here! I've got 6 more tips on how to actually delight your audience and be irresistible.
Looking for more writing tips?
Check out this post to help find and maintain your writing voice.