This post may contain affiliate links which may give us a commission at no additional cost to you. As an Amazon Associate we earn from qualifying purchases.
We live in a face paced world, and when it comes to the web, users like content to load quickly. If your website takes too long to load, your readers will quickly lose interest before they even have a change to read your blog. But what can you do to speed up blog page load time?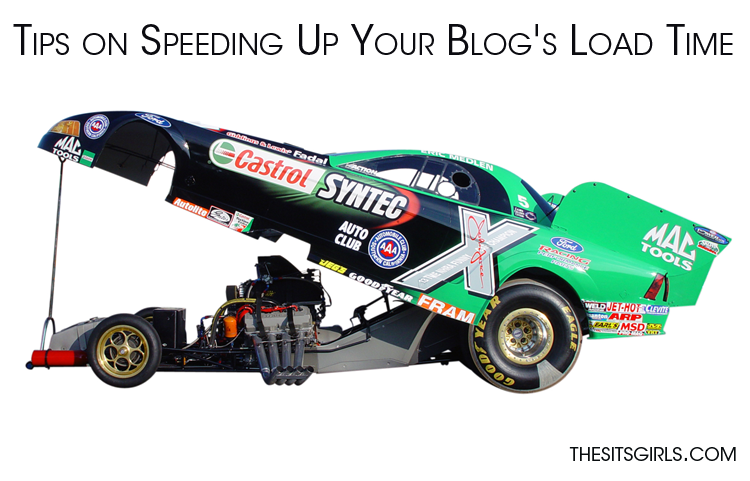 5 Tips To Help Speed Up Blog Page Load Time
Believe it or not, it's relatively easy to speed up the load time on your blog. Using a combination of the tips below, I was able to cut my blog load time in half.
1.) USE A GOOD THEME, and ALWAYS UPDATE IT
A good theme is essential for a blog to load quickly, and don't get lazy about updating your blog themes, and plugins. Not only can old code in outdated versions of blogging applications, themes, and plugins open your blog up to security threats, but it can also have a direct impact on your blog's page load speed.
2.) IMAGES
Creating blog-friendly images is easy with these two simple steps:
Optimize Images: Oversized images take longer to load. Instead, size images to the width of your blog BEFORE uploading them to your blog. Don't just upload a 2000px+ wide image and set the width-parameter (width="570″), as this will slow your page load time.
Image Format: JPEG is your best format option for images, they are compressed and load quickly. PNG is also good but not every browser supports it. Whatever you do, DO NOT use BMPs or TIFFs.
3.) PLUGINS
Too many plugins not only slow your site, but can also create security issues and cause crashes. Not all plugins are unnecessary. Social share plugins are a must-have for every site these days. But you should always check to see if there is a better alternative to the plugin, for example, using a theme with built-in social plugins.
4.) ENABLE BROWSER CACHING (or use a caching plugin)
When you use the HTTP caching system on your website it allows these file resources to be cached or saved by the browser or proxy. By using a caching plugin, your web host doesn't have to retrieve some elements from the server every time a page is displayed. Instead, the host can store elements in a cache and call them from there, which speeds up page loads. W3 Total Cache is a good plugin to for easy web optimization performance.
5.) REDUCE REDIRECTS
Redirects create additional HTTP requests and increase load time, so you want to keep them to a minimum. Only use redirects when it's absolutely necessary and fix broken links on a consistent basis. You can use a tool like Broken Link Checker to identify broken links on your blog, so you can easily fix them.
These tips are easy to implement, and will help your readers have a better user experience on your site. Remember, a few seconds really can make all the difference.
ProTip: Want to know how fast your site loads?
Visit Google's PageSpeed Insights, type in your site, and hit Analyze.
KEEP READING
Looking for more info? Here are a few posts that you'll find helpful: