This post may contain affiliate links which may give us a commission at no additional cost to you. As an Amazon Associate we earn from qualifying purchases.
So you are starting a blog?!!
Do you know what you will need when starting a blog? Maybe you have heard about blogging from a friend or family member. Or maybe you have stumbled about blogging from a Google search. But do you have any clue what starting a new blog entails?
Trust me, when I first started a few years ago, I was totally 100% CLUELESS!
I had no idea how to even begin, let alone how much time and commitment goes into one once you do begin to blog.
The word itself was complete and utter Greek to me, and yet now I am considered an authority by many (I truly hope that doesn't sound full of myself, believe me I am the furthest from this).
But still I am here to clear some things up, and help anyone who may very well be looking at starting a blog.
It is a process, but once you do start up your blog you may very well become so immersed in it that you will barely remember or recall a time before starting a blog ever existed.
What are some tips for Starting a Blog?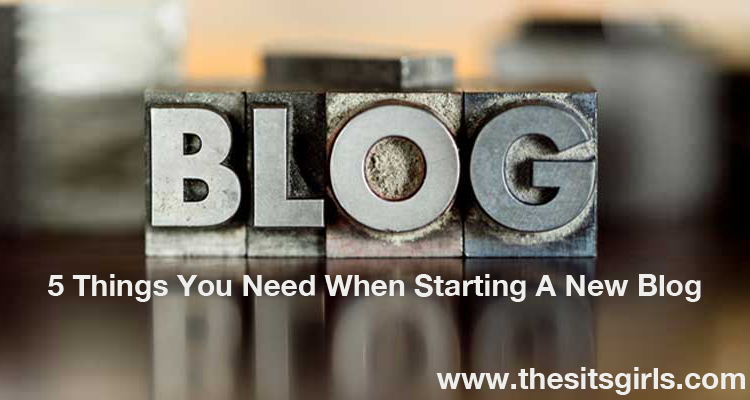 5 Things You Need to Know When Starting A Blog
1) Writing/Design Skills, Plus Where to Host When Starting A Blog
When I first began starting a blog for myself over at Confessions of A Mommyaholic, I truly had no idea about design, let alone the different platforms that existed out there. I certainly didn't understand that if I were to use free platforms, such as Blogger (Blogspot) or WordPress.com that I essentially didn't own my own content and may even be limited if I wanted to make money off of ads and such.
You may not be doing this to make money and that is totally fine, but if you have any thoughts about making money, then the thought of Self-Hosting on WordPress (WordPress.org, which is totally different from WordPress.com) is something you may want to look into. But this doesn't come without the worries of design and setup. That is where someone like myself or another designer comes into play.
However, if you are blogging purely for leisure or fun, you may then totally want to stick to free and not worry about incurring any costs or fees to run your own blog.
As for writing skills, I have read many blogs that the person has probably never practiced the craft of writing or has trouble with grammar, spelling, and other language issues. I am here to say that if you are blogging, try to remember that writing is indeed a skill. You should try to, at the very least, proofread or have some else proofread for you, if you can't. Trust me, mistakes and errors will happen (no one is perfect), but you should try your best to keep them to a minimum.
2) Support from Family and Friends for Starting a Blog
Now that you are contemplating starting a blog, think of how those closest to you will respond. Many may be skeptical, but those closest to you need to be supportive of your endeavors.
Here is the thing, blogging takes time out of your daily or even weekly life. Believe me, when I say you may think I will just do this in my spare time, but take it from someone who has been there, done that. Blogging is time consuming. Don't get me wrong, it can be a lot of fun and you will most likely meet lots of others out there like yourself (I will discuss more about this in a bit), but make no mistake, it isn't just about writing the best blog post or article, you will need to include images that make your blog article and post stand out or at least get noticed.
Whether you use your photos, which can take time getting just the right image with quite possibly a fairly good quality camera (DSLR or at least a very good quality Point and Shoot Digital camera), then you may need to search for free photos or give proper credit to ones that aren't free or even look through and purchase descent quality stock photos. You will also need to know or learn how to use Photoshop, PickMonkey, Pixlr, or a good photo editing program to help with editing your blog images.
Believe me when I say, I can now write an article pretty quickly, but it is editing and making sure my images fit the article that take me the most amount of time.
The point to all of this is, the time you take to work on your blog, be it writing/editing or articles and images, can take away from your daily life (including family and friends). Take for example this article you are reading, I wrote it on a Sunday morning, while my husband was doing work at home and my girls were watching a DVD and playing dress up. I am blessed with a very good support system for all I do with blogging and online work. So it boils down to this: you will need a wonderful support system around you that doesn't mock or put down you and your blogging goals or even come in the way of you getting your blogging done.
Which lead me to the next tip of indeed having blogging goals.
3) Have Blogging Goals for Starting a Blog
Again you are starting a blog, therefore you must have a reason why you are starting and where you want to go with it or growth potential.
Along these lines, it would help if you could come up with topics you want to blog about, as well as the niche you may find yourself fitting into.
When I first started my blog, I wanted to simply write and share about my family. It was such a crazy time in my life with being a stay home mom to two little girls under the age of 3. I clearly was overwhelmed, but I also told myself that I didn't want to forget this time in our lives and have something substantial to look back on.
Clearly, my topic of choice was my young family, and I fit into more of a Mommy Blog niche. There are many niches out there, including recipes, technical, and more. You just have to decide what works for you.
Again, that was my initial goal for starting to blog. However, as time went by, I readjusted my goals. I made the decision to monetize and to branch out, but still that took time to develop. I am not saying you will have it all figured out in the beginning, but still you should have an idea as to why you are starting a blog and as you continue should be able to amend and update these goals, too.
4) Time Management (Set Up a Schedule) for Starting a Blog
Understand blogging takes time and cannot be built overnight. In the beginning, you may blog whenever you have free time. But you will slowly see that blogging may take up more then free time, especially if you start to get comments and even you indeed get to know new people through navigating the new wild world of blogging.
So, a big hint and suggestion for you from me is to set a schedule for when you post and so on. Trust me, you will thank me for this one.
My weekly (yes I take weekends off to spend time with my family) schedule now is to read other blogs (yes in order to be a blogger you need to read, comment and share for others – more on this in a bit) in the morning. Mid afternoon, after my girls and my dog are settled, I usually will try to write or do design work. And then, usually later in the day, I catch up on anything I may have missed.
Mind you this is my summer schedule and you can amend your schedule for different times of the year. But the key is to have a schedule set that will work for you.
5) People/Networking Skills & Social Media When Starting A Blog
Now, that you have started your blog and have a support system, blogging goals, as well as a schedule, you now will want to put yourself out there and get to know others that blog alongside of you through networking.
Blogging is not an introvert's palace and you will definitely want to become more extroverted and communicate with others in the blogging world through commenting and social media, too.
I, myself, belong to all forms of social media, such as Facebook, Twitter, Pinterest, G+ and Instagram.
This may sound overwhelming, and trust me it can be, but my suggestion is do a little bit at a time with each one as you get acclimated and feel your way around.
Also, set some time limits here, as well, because just like blogging, you need to schedule time for this and not let it consume you.
Also, you may find that one of these social networks is a better fit for you and that you gravitate towards one or two more then the others. For me personally, I love Instagram and Twitter probably the best and the others I use as I see fit and have time.
But still the take away on this is that you should be out there networking with others in the blogging community as much as you can and time permits, to help further you as blogger.
You may also want to join affiliations and groups to connect with others in the blogging world, such as SITS. Trust me these affiliations really do help you get to know others and also help to further your advances as a blogger.
Bottom Line for Starting A Blog
Blogging is totally what you make of it, and if you are indeed contemplating starting a blog, my tips above will definitely help you, and hopefully you will succeed with blogging.
Happy Blogging!
Keep Reading
Looking for more information on starting a blog? Here are a few posts you'll find helpful: