This post may contain affiliate links which may give us a commission at no additional cost to you. As an Amazon Associate we earn from qualifying purchases.
One of the questions I am often asked is how to start a blog. When starting a new blog, there are a few things to think about.
Do you want to focus on parenting, food, fashion or lifestyle? Or do you want to have a blog that encompasses a few interests?
Do you want to start your blog on a free space or do you want to self-host?
Are you looking to monetize your blog or will you keep it ad free?
While it can sound overwhelming, I assure you it is not. Every long journey starts with a few simple steps — and the same is true for starting a blog.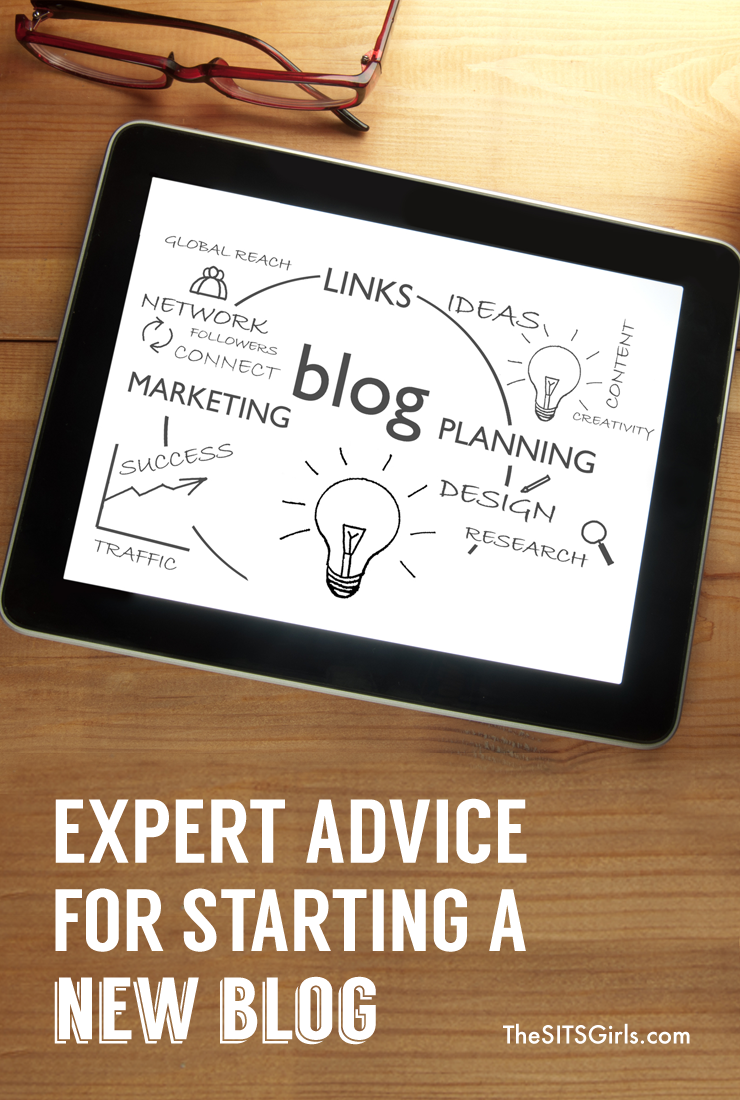 Expert Advice For Starting A New Blog
Here are a few things to help start you on your blogging journey.
1. Start With A Plan
One of my first suggestions is to write down some thoughts and ideas you have for your new blog. Sometimes when you see it on paper, it can be a bit clearer. Write a list of ideas for blog posts, categories of topics that you would like to talk about, and ideas for names. Also, list a few blogs that inspire you along with things you like about their sites.
2. Name Your Blog
When it comes to a blog name, you want something descriptive, memorable, and not too long. However, I can't stress this enough – before you buy a domain, please do a quick Google search of your name idea and see if there is another blog or site with that same or similar name. Don't just rely on whether or not the domain name is available. By taking this extra step, you can save yourself a few headaches. This might take some time, but when you find the perfect blog name, you will know. When you have decided on a name, make sure that the domain is available. Domains have changed and while many still use a .com, you have other options for premium domains like .media, .kitchen, .style and more.
3. Find a Home For Your Blog
Now that you have decided on a blog name and domain, let's turn the focus to hosting and blogging platform. Are you going to self-host or use a free service, such as Blogger, Tumblr, or WordPress.com? If you are going to monetize or plan on monetizing down the road, you should consider self-hosting. While Blogger will allow you to Monetize, WordPress.com will not. With self-hosting, you have the freedom to build your blog house on your own land and the options are more plentiful. If you do decide to start with a free service and eventually move to a new platform down the road, it can be done – it just takes a little bit more work. Know that each platform has different options and nuances. You have to find that one that is right for you.
4. Install and Set Up Your Blog
With many of the blog platforms, like WordPress, the software is easy to install and your host often has instructions on how to make it as pain-free as possible. Often, once it's installed, you can start writing almost immediately.
What if you want to customize your blog and jazz it up a little? Many blogging services offer theme options, both free and paid, which can help you customize your blog. Nowadays, with a good portion of traffic coming from mobile devices, you want a theme that is mobile responsive and, hopefully, optimized for search engines. Many blogs have similar themes and often you can find out where the theme is from through a website's footer. Some themes allow you to change the fonts, colors, and customize it.
You will want to register your blog with Google Webmaster Tools, which will give you options for Google Analytics and so much more. SITS has a great article on Google Webmaster Tools that is a must read. With WordPress, you also have the option to add different plugins that will help with your blog's functionality.
5. Take Your Blog Social
Now that you have the blog set up and ready to go, you will want your blog name on your social media profiles. I would suggest that you try to be as consistent as possible with the same social media handle on the various social media platforms you will be using, whether it's Twitter, Facebook, Pinterest, Instagram, Snapchat, or Periscope. Now, I'm not advising that you have to use all of those tools – just use the ones that you love and will use often. Make sure your blog readers know where to find you on social media and have those links displayed prominently on your blog. Another thing to keep in mind, you will want to have sharing buttons on your blog so your readers can easily share your amazing content.
6. Go Forth And Blog
Congratulations! Your domain is secured, your platform is chosen, and your blog is set up and ready for you to write your first post. Blogging can be a bit solitary, but know that you have found your tribe here at SITS and if you need blogging support or have a question, we have a variety of resources to help you on your blogging journey.
Now – the world is yours, so go forth and publish your first blog post!
Keep Reading
Want more information about setting up your blog for success? Check out these posts!