This post may contain affiliate links which may give us a commission at no additional cost to you. As an Amazon Associate we earn from qualifying purchases.
First off…every single living or non-living organism is relevant in this world. I find that to be completely true, even if others do not, but when it comes to blogging, this can seem to ring false. Our universe is small, when you take in what affects you personally, and the blog-sphere can be judgmental, short-minded, and unforgiving. All that means is there is a type of blogger that gets more play than others and fandom can come and go as quick as a blink of an eye. It can be hard to find your place as an older blogger.
I started out late in this blogging game (I was 40), and while it was a hobby at first (I was working a 9 to 5 and needed an outlet so I wouldn't kill my co-workers), it turned into a career within a few years. I then began to see that I was at a disadvantage from some of the more successful brown bloggers. They were:
Young
Thin
Racially Ambiguous
&
Gorgeous!
I find myself to be beautiful, but gorgeous? It's hard to say in comparison to the descriptions listed above. It was somewhat intimidating, but I had to get over it and find my space on the internet. And guess what…I did!
My words were for all women (mostly women of color, but all women can relate), and while some may feel a sting at the 'racially ambiguous' point mentioned above, our world is still working out the kinks on finding everyone of equal value. Sad, but oh, so true.
Despite that limited skew of what people want, I find there is room for women over 30, over 40, and even over 50 out here if you want to blog and do it successfully. Here a list of what you need to be doing if you fall into that category (such as I) and want to give this blogging thing a try.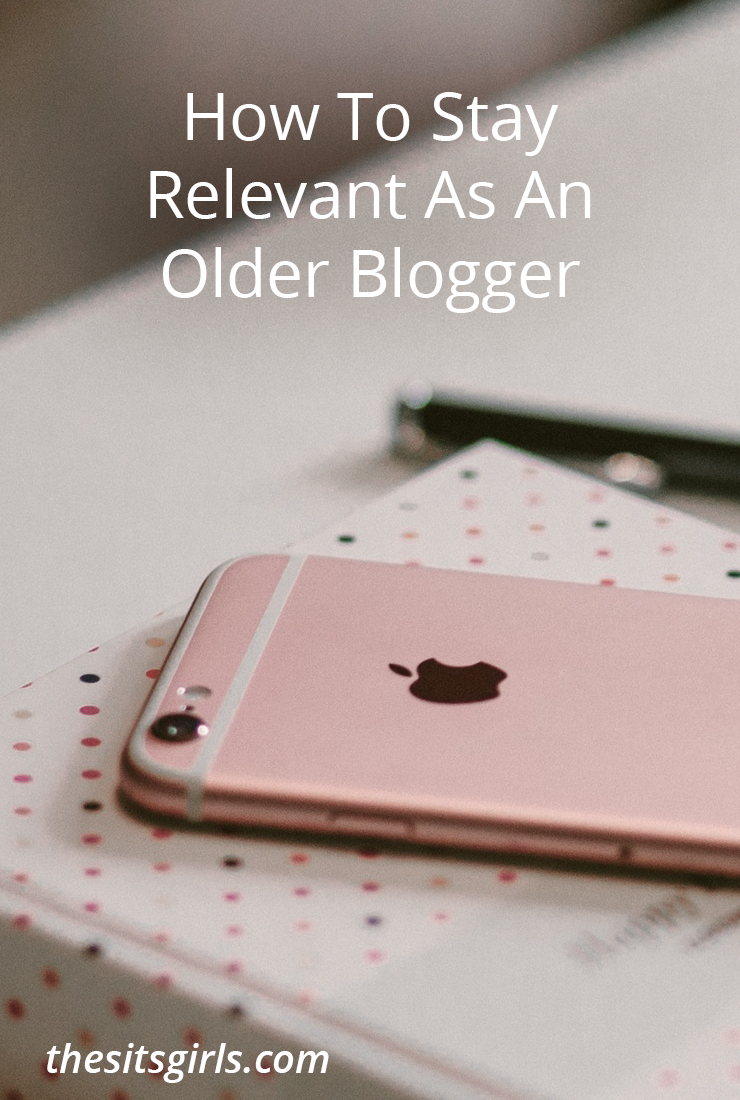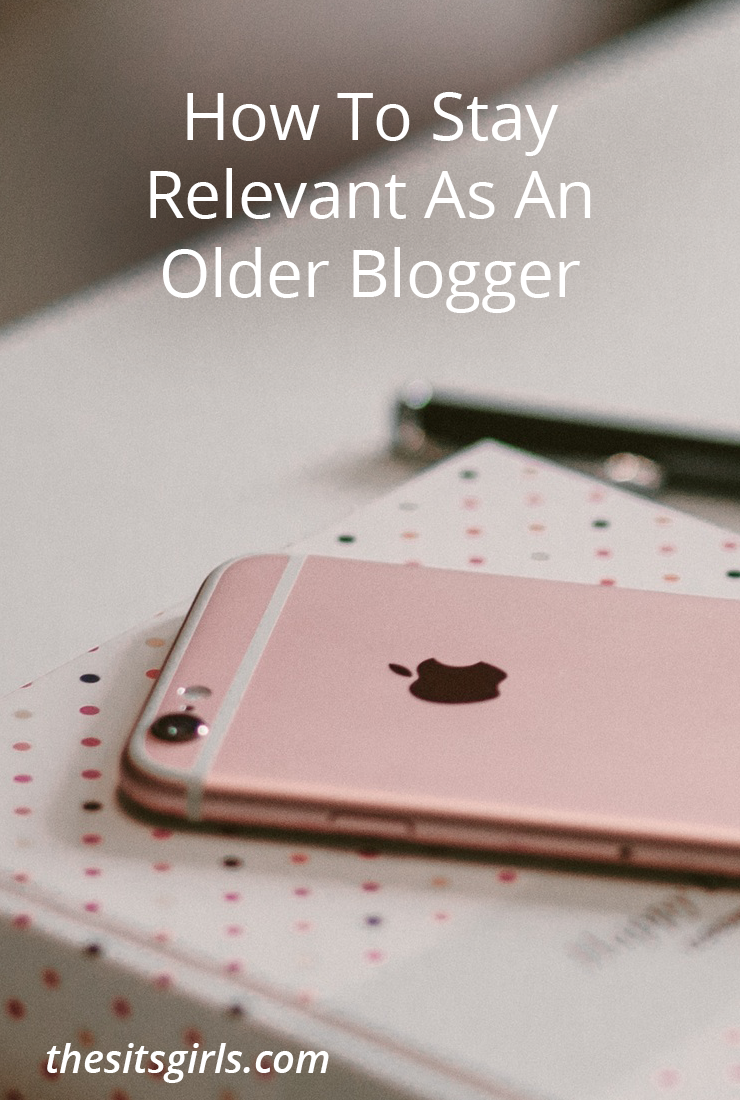 How To Stay Relevant As An Older Blogger
1. Follow your own voice
Sounds funny to put it in that way, but if you become too bogged down by what others are doing, you may become anxious or veer away from the path that was meant for you. Work on what you find interesting and useful and worry less about what others are doing. This can be a rabbit hole you do not want to fall into. Everyone has their own unique qualities that makes them relevant. Make sure you focus on something you feel passion about, and have a big interest in, as you will be working on it a lot!
2. Know your audience and give they what they want (need)
Hopefully this is something you are already doing, but until you find out who your audience is, you are flailing in the wind. Do a survey with real questions to find out what they want from you, and get to know them, as well. I soon found out my readers were just like me, older black women, highly-educated, with older children and pets, and career driven. This began to give me a face for my reader, and I was able to give them what they wanted.
3. Make your voice heard
I know very little about SEO but I know enough to hire someone who does. I have much to say, and it's good information…scratch that. It's excellent information, but if no one sees it, is it really helping?
Guest post, write for a bigger publication, do product reviews, and always share your work everywhere! From Facebook groups to StumbleUpon to Pinterest, make sure you give the world access to your work. Every post I create can be found on at LEAST five social media sites, because I know the importance of getting my work out there to the masses.
4. Be willing to evolve
We all know too well how many perceive the older worker. We are unwilling to change or learn, and we are becoming obsolete and unmarketable. This is what they think of us, and that can happen to your blog, too. That is the quickest way to find your blog becoming stale and lose followers. 
Many popular bloggers are forever evolving and growing. You must do the same, and while I started out as a natural hair blogger and freelance writer for big publications, I have evolved into a lifestyle blogger that discusses natural hair, beauty, travel, and weight management. I also discuss working for myself as I am in that category and know black women are the fastest-growing group of entrepreneurs in America.
5. Show the market they NEED you
I have to say that me being an older blogger has NOT hurt my chances on working with brands. I know some bloggers feel brands only want to work with a certain type (like the list above) but I've worked with retail chains and hair care brands to Fortune 500 companies promoting their products. The reasons I get these gigs is because I work with third-party companies like blogger networks, and I am big on cold-emailing brands to tell them how I can positively promote their products. All they can do is say no, or ignore you, but quite often they work with me, because my voice is genuine and I can promote the hell out of a product.
Too often the older blogger feels they are not the right fit for big campaigns, and while you may not be perfect for every brand, you are perfect for the millions of companies that are out there wanting access to your readers and love your storytelling ability.
6. Do something different
I find there is an overabundance of older bloggers writing about fashion, but when it comes to everything else…we are lacking. Older women have much to say. If you are looking for a niche, look to any and everything, because older women are interested in EVERYTHING! We love animals, art, beauty, home decorating, motherhood, politics, the environment, and everything in-between. I am not saying nix the fashion blogging, but know you can blog about anything. To set yourself apart from others, make sure it is something you feel needs to be said and is NOT already being said through your vision.
Perfect Example: There are thousands of natural hair bloggers out there, but not that many popular ones are over 30 or over 40. I snagged that niche up and owned it, and as an older woman, I give a unique perspective to the niche.
Know what you can give and give it differently than others by using your experience and voice. Worry less about what those millennials are doing and concentrate more on your contribution to the craft.
Author Bio: Sabrina
I'm a freelance writer, full-time blogger and Editor-In-Chief and creator of Seriously Natural, a blog on natural hair, beauty and lifestyle. I also own Seriously Natural Boutique where I create beautiful clothing for Women of Color. I have had featured articles on Black Girl Long Hair, BlogHer, Natural Hair Rules!!! and am a contributing writer on Essence.com, Naturallycurly.com, and CurlyNikki.com.