This post may contain affiliate links which may give us a commission at no additional cost to you. As an Amazon Associate we earn from qualifying purchases.
Are you a blogger looking for more traffic? Are you tired of trying various strategies just to be discouraged by your low stats?
If no one reads your blog, the greatest writing in the world won't help you. You need a reason for people to click through to read your writing. This reason to read precedes the hook — it's the headline. We are taught in school that the hook engages the reader. In the blogging world, the headline must engage the reader. If the headline does not meet certain criteria, no one will read past the headline and read your posts.
Many people are stubborn; this includes bloggers who feel they know what they are doing. They are so confident in their writing, they don't stop to read the methods that others before them have tried and found to work.
One way readers can find you is by using a search engine. For this reason, Search Engine Optimization is an important skill for all bloggers. Many find the acronym, SEO, too confusing to try to dissect. If it wasn't helpful, there wouldn't be so many articles written about it.
SEO is actually very simple. Bloggers need to optimize their writing so when if a reader does a search for their topic, their blog will come up in the results. Isn't that what all writers want, for their work to be read?
SEO can be optimized (your chances to be found in search improved) by following this simple advice for your headline.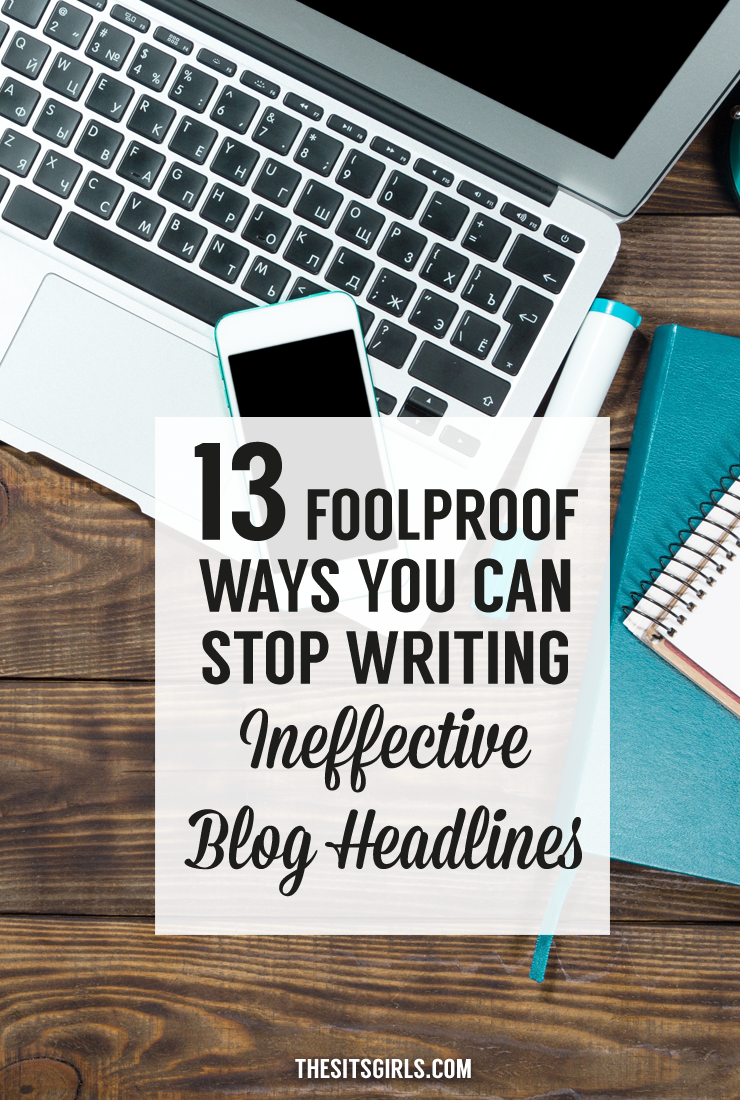 13 Foolproof Ways You Can Stop Writing Ineffective Blog Headlines
1. Have a number in your headline. Readers like numbered lists. It gives them a sense of structure. Headlines with numbers in them are found by search engines more than any other. Use digits at the beginning, not words, and try to write a list with eleven or more points.
2. If you want search engines to find your work, limit the number of characters in your headline to 65. I counted 65 characters in my title.
3. Start strong and end strong. There is research that shows readers will only read the first three words and last three words of your headline.
4. Have the word "you" in the headline. It makes readers feel like they are being addressed directly and will give you a greater chance of success. It makes your message personal.
5. Use the word "how" in your headline. According to Jon Morrow, headlines that contain the word "how" come up in search engines often.
6. Have an adjective in your headline. Look at mine. After I wrote my title, I added the words "foolproof" and  "ineffective."
7. Your headlines should make your readers feel like you are solving a problem of theirs. For example, my headline would solve the problem of ineffective headlines. Having the word "tips" or "ways" makes ineffective headlines purposeful. Readers want to know what will be accomplished if they take their valuable time to read your post. What purpose will it serve for them?
8. Make sure the content matches the title. Otherwise, you will lose credibility.
9. Use negative words like "Stop." See my title for an example.
10. For those of you who like formulas, there's actually a formula for creating a headline! The formula is: number + adjective + keyword + promise. For example, 13 Foolproof Ways You Can Stop Writing Ineffective Blog Headlines dissected is #- 13, Adjective – Foolproof, Keyword – Ways, Promise – You Can Stop Writing Ineffective Blog Headlines.
11. Headlines should tell readers that by reading your post, they will get a dream or desire fulfilled.
12. Use headlines that ask questions.
13.  Increase your readers' curiosity. For example, add especially #… in your headline.
I am by no means an expert; I am always looking to increase my traffic. However, I have found that after I started using these tips in writing my blog post headlines, my traffic increased.
Author Bio: Janice Wald
By night Janice Wald is a happy blogger, wife, mother of three daughters, and a dog owner. By day she is a teacher who is passionate about the subjects she teaches, medieval and ancient world history. She recently completed a Masters Degree in Education, Curriculum and Instruction. An avid writer, she is currently collaborating on a screenplay and loves blogging to the point of obsession! If you'd like to read more of Janice's advice blog, visit Reflections at mycurrentnewsblog.com.
Keep Reading