This post may contain affiliate links which may give us a commission at no additional cost to you. As an Amazon Associate we earn from qualifying purchases.
If you write or plan on writing sponsored content on your site, then chances are that you may have, or will be, running a blog giveaway or contest in the near future.
What is a blog giveaway?
A giveaway simply is what it sounds like and allows you to offer free products or services to your current subscribers, as well as others who may not be.
But why run a giveaway?
Giveaways are run in essence to gain interest in a product or service and usually help both the company gain awareness and help a blogger gain short-term traffic to their blog.  Essentially the company profits by getting more eyes on their product/service and the blogger benefits by gaining more eyes on their blog.
It is a win-win.
But keep in mind those new readers may only be short-term for the actual giveaway and may not stick around your blog once the giveaway ends. So, if you are looking to add and keep those new readers from a giveaway, it is what you do after the giveaway ends that can help maintain their interest so they will be invested in your blog for the long term.
However for this article, we are concerning ourselves on how to run a successful giveaway on your blog.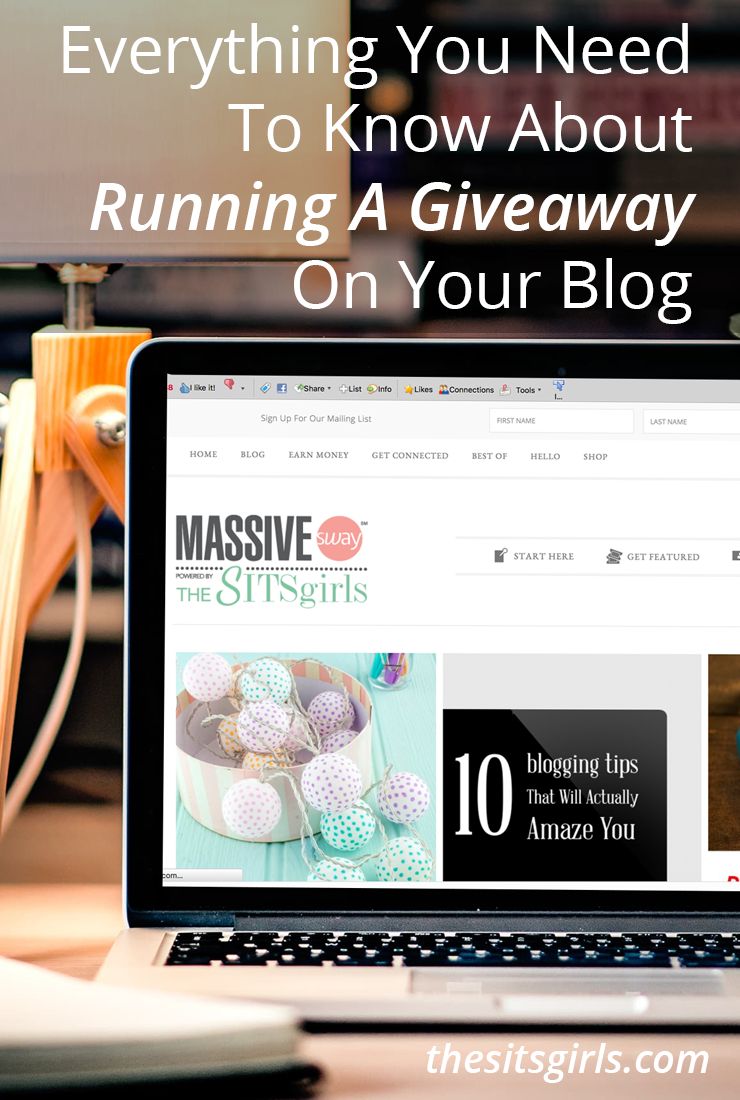 5 Easy Steps to Run a Successful Blog Giveaway
1. Use Rafflecopter to set up your giveaway.
Rafflecopter is an independent site that easily helps to set up and run blog giveaways. You don't need to pay for a premium Rafflecopter account and can pretty much run a simple giveaway for free with them. Once your account is set up, you follow the simple prompts to set up and install a new giveaway here.
2. Make sure to clearly define what is to be given away.
Before your giveaway actually goes live, make sure you and the company are on the same page as to what exactly will be given away, as well as who is responsible to get the prize(s) to the winner of your giveaway. This truly is a key component in helping to run and expedite the giveaway at its conclusion, too.
Trust me, if you don't have this clearly stated, it will most likely come back to bite you in the rear. So, make sure to have the prize winning details hashed out way before setting the giveaway live on your blog.
3. Write an enticing sponsored giveaway post.
No matter what is being given away, you want to make sure you are able to test the product or service out beforehand, take and display your own high resolution photo images of what is being given away, and share a personal story that fits well with the product. It's important to put your personal spin and words out there for potential readers who may be interested in entering your giveaway.  To learn more about how to write a great sponsored post, check out this article.
4. Promote your giveaway on ALL your social networks.
Once your giveaway post is published, you will want to promote on most (if not all) of your social networks, because not all of your readers may subscribe to your blog. Keep in mind to make sure to have your giveaway post shared through your newsletter as this is still your first line of defense in getting the word out there to your current subscribers.
But, let's be honest, even if someone does subscribe to your blog newsletter, they may miss the email. Socially sharing can not only increase the chances of reaching those current followers, but also bring in a new set of eyes to read your blog post and enter your giveaway.
Using hashtags like #giveaway, #contest, or even #win can be effective in promoting your giveaway.
Plus, if you don't use social media scheduling services, such as Hootsuite, Post Planner, or Buffer, now is the time to try them out. Plan out your social shares for the duration of your giveaway, so you can continually socially share until your blog giveaway ends.
5. Choose your winner carefully.
Now that you have run your giveaway, and it has ended, you will obviously want to pick a winner. With Rafflecopter, they will pick a winner for you randomly. However, you still need to verify manually that the person chosen did indeed follow the way the entry says they won by.
So, for instance, let's say the entry was for subscribing to your blog.  You will want to check and make sure they did this. Plus, you should also go through the other mandatory giveaway follow methods to make sure this person also completed all of those steps.
If for some reason, they didn't do all asked of them, then they should be disqualified. You can do this simply through Rafflecopter and then pick a new winner by again going through the entries to make sure they did what they should have to win the prize at hand.
Once you have picked a winner, you can announce it to the winner, the company, and display it on the giveaway post right through the Rafflecopter widget.
Now that you have the basics for running a blog giveaway, go forth and run a giveaway now. Keep in mind that some may unfollow after the giveaway is over, because you clearly can't hold someone to following if they were only following to win your giveaway. Still, there are simple ways to keep those new reader interested and invested and you can start by checking this article out here. If you still have any lingering questions, please feel free to reach out and contact me.