This post may contain affiliate links which may give us a commission at no additional cost to you. As an Amazon Associate we earn from qualifying purchases.
The most important part of our blog plan is current, consistent, and relevant content. Our audiences want something fresh and new on a regular basis. Every time they visit our site, they are expecting for find another piece of helpful content.
Unfortunately, we are all guilty of letting our readers down. For numerous reasons we have failed to create content and missed another opportunity. Worse, we may have created something but it was a slog to get it done. Why? Because we allowed so many other things to interfere with our blogging time.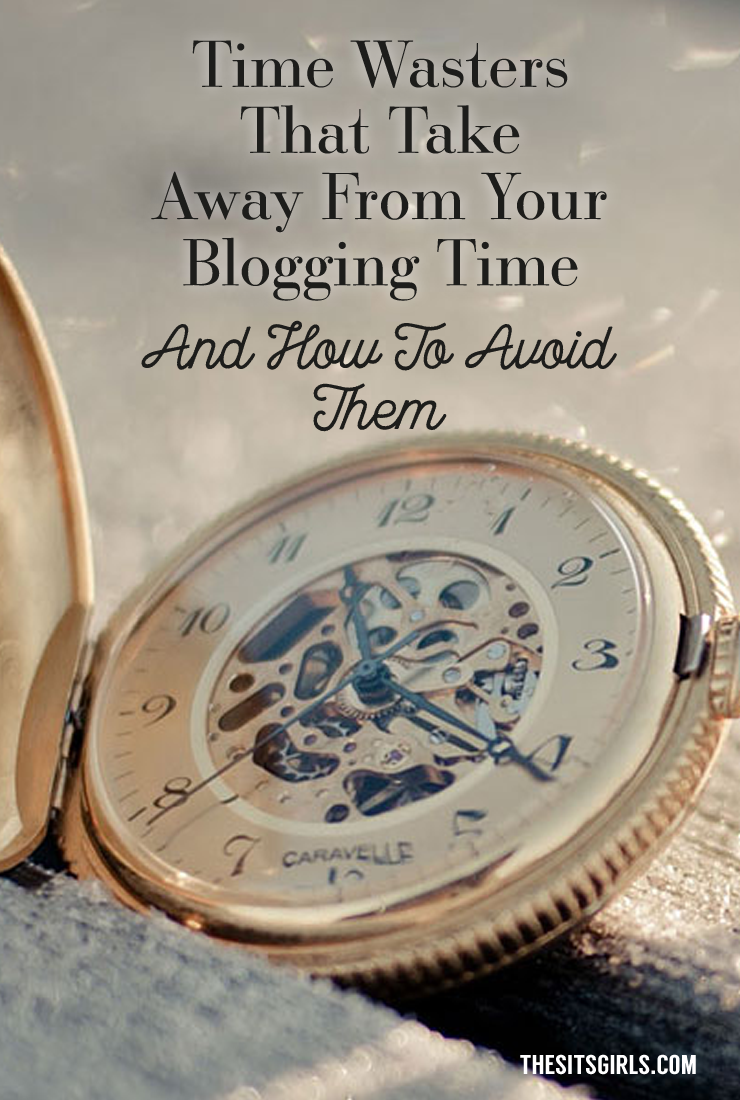 Time Wasters That Take Away From Your Blogging Time (And How To Avoid Them)
Here are 5 time wasters that will take away from your blogging time and prevent you from effectively sharing awesome content with your readers. Don't stress about them — we've included the solutions, too!
1. Social Media
We all know it. Social media is a necessary part of blogging and online business. Yet, it seems to creep into our work time and distract us from the tasks we want to accomplish for the day. First you add blog links, tweets, and post images on Instagram. Suddenly, you are checking your own news feed, watching silly videos from friends, or checking the latest sales at your favorite stores. Each of these things are fine, when you are not working.
During your blogging time, social media can cause a disruption in your productivity.
Solution: List the tasks you need to accomplish on each social media channel and set a timer. Limit your time to share, like, re-tweet, or comment on social media. A list will help you keep on task and ensure you are productive. When the timer dings, it's time to log out and move on to the next task.
2. Checking Stats
Don't you love analytics? They are amazingly helpful to analyze your audience, examine what works, and uncover what doesn't. However, when you start checking your stats more than once a day, every day, or too frequently, you become sidetracked from writing that great content. Use analytics to get an idea what your readers want, who they are, and how to reach them.
Looking at your blog analytics too frequently can also cause you to become too micro-focused rather than seeing a bigger and fuller picture of your blog.
Solution: Schedule regular visits and review of your google analytics report — perhaps once a month. Decide the specific information you will review. For example, plan to review bounce rate, page views, and popular posts once a month. Like social media, set a time limit for analytics review.
3. Editorial Calendar
The lack of an editorial calendar leaves you with little direction for content development. Rather than wasting time looking for ideas or inspiration, create an editorial calendar and future posts list. This will help you keep your thoughts focused on the content at hand rather than scrambling to develop something. Note any sites you like to use for research, review, or reference.
Solution: Use a monthly planner, print out, or pad of paper to create a posting schedule. Note any websites for your research. Additionally, create a list system (notebook, Evernote, etc.) to jot post ideas for future reference.
4. All Talk. No Action.
Inaction is perhaps the worst time water of all. Your inability to move forward with a post, project, or execute an idea suffocates your blog creativity. To create amazing content, you must sit down and write. Content will not spring forth from your desire to make it happen. It comes from you actually getting it out of your mind and onto the blog.
Solution: Set aside specific times to write. Choose a space that you enjoy, gather anything you need (coffee, tea, water), play calming music, get away from the kids and dog, and start to write. Just get it down. Don't worry about making corrections, grammar, or spelling. The first step is to write it. You can go back to edit later. Make this a routine and you will find your blog grows, because you are creating consistent content.
5. Lack of Prioritization
My worst time waster is allowing little things to take priority over the more important projects. A child needs hair combed, the dog wants out, my mom wants a recipe. Whatever it is, these little things always distract from the important tasks. Meeting a deadline, submitting a pitch, or replying to business email usually takes priority at the moment.
Solution: Create a list of tasks for the day. Number the tasks from most to least important. Focus on the tasks that have the most impact on your business and blog. Of course, sick children and parents, appointments and functions all take priority at times. It is important for you to determine which items are more important than others.
Create an actionable plan for your blog, content, and day. Focus on the items that take the highest priority. These are usually the things that have the highest results and result in accomplishments. Consider the importance and necessity of your activities and do the most important first. Most importantly, prioritize your daily tasks and goals. Take care of what you believe is most important and leave the rest for later.
Watching out for these five time wasters, and putting the solutions into action will help you to get more out of your blogging time every week.
How do you maximize your blogging time?