This post may contain affiliate links which may give us a commission at no additional cost to you. As an Amazon Associate we earn from qualifying purchases.
Even though a lot of us started blogs without realizing the connections we could make through blogging, we can quickly get addicted to getting a response to what we wrote. Do you remember the first time someone you didn't know starting leaving blog comments on one of your posts? It's an exciting feeling!
Yet, once you get one or two comments, you want 10, 20, and more! So, how do you encourage more blog comments?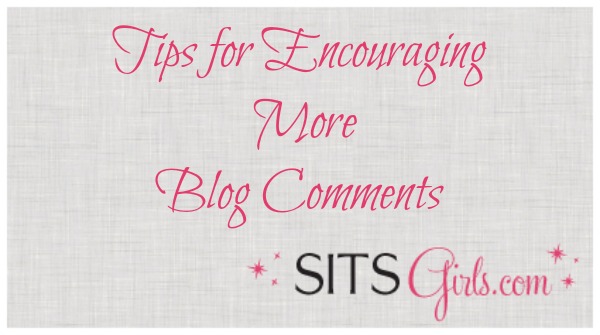 Get out there!
The first thing you need to do is to help people find your blog. They can't comment if they don't know your blog is there! So promote your posts through twitter, facebook, google +, and pinterest. Comment on other's blogs.
Make it easy to comment!
If you can end your post with a question, your readers will find it easier to know what to say in your blog comments. Though only do this if that day's content really does lend itself to a question.
Understand that not all content lends itself to as many comments. I get many more comments on my heartfelt posts than when I write a tutorial: though the tutorials get tweeted and pinned more often. Different types of posts encourage different types of interaction.
Use a commenting system that doesn't require your readers to sign in. Even if you are on Blogger, you can set it to allow people to comment using just their name and url.
Remove word verification. All those funky symbols can be hard to read and may discourage your readers from leaving a comment. Blogger's spam filter actually does do a great job and WordPress has many different options for it as well.
What do I do now that I've gotten some blog comments?
You can reply to your comments! If you are on Blogger, be aware that hitting that reply button doesn't send the reply to the commenter's email, though it will show up on your blog. You can reply to them via email to be sure they saw it. WordPress has plug in options so that the reply will show up on your blog and be sent to the commenter's email.
Don't feel pressure to reply to every comment. Sometimes someone will reply "LOL!" and while it's nice to get any comment- it's pretty hard to know what to say to that in response.
Since you know how good it feels to get comments, go give some comments to those who showed you comment love! Time doesn't always allow for a 1-to-1 comment-return comment ratio, but it's nice to give it a try!
What have you found helps you to get more blog comments?