This post may contain affiliate links which may give us a commission at no additional cost to you. As an Amazon Associate we earn from qualifying purchases.
Today I'm going to share my top 10 tips on how to successfully navigate the ever-churning waters of the blogging world and become a better blogger!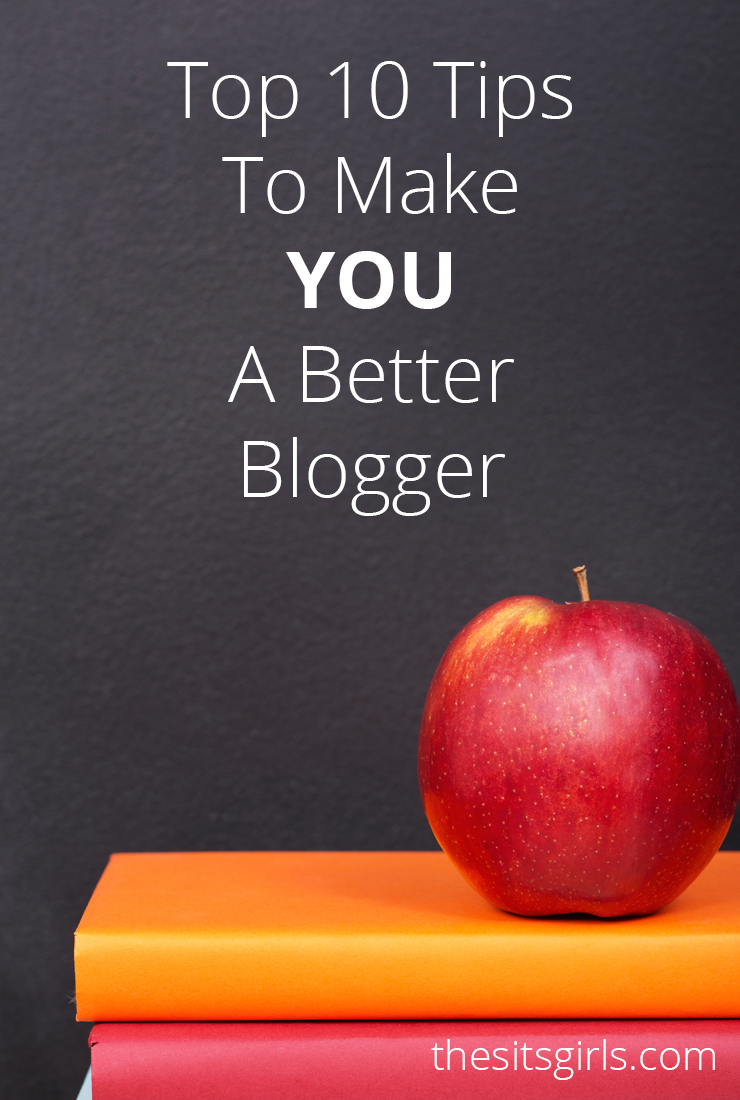 1. Blogging Isn't Always Going To Be Fun
Blogging is a lot of work. Let me repeat that – blogging is a LOT of work!
If you want to be "successful" or work your way towards becoming a popular/wealthy/influential blogger, there is no secret recipe to getting there. And there are so many ways to skin a cat in the blogging game. There is no book that has all the secrets to becoming a successful blogger – and even if it existed, I doubt many of us could actually afford it!
For 99% of bloggers, this isn't a glamorous life! 
2. Realize It's NOT About You
Now, If you are blogging as a hobby or to keep track of your race training/weight loss/whatever, then of course you are the primary focus of your blog. But when you start to take blogging seriously, you have to realize that it's all about your audience!
Of course you can use your personal experiences and share things about yourself, but the end goal should always be to provide content that is beneficial to your audience! Otherwise, why would they keep reading?
3. You Can Only Get So Far With Free Stuff
Blogging is fantastic because there are so many people out there who are providing blogging advice completely for free –  I mean hey, that's what I'm doing right now!
You can go to Pinterest and have a field day reading articles that provide tips on how to get more traffic, how to make passive income through your blog, how to learn coding. But eventually, you'll have to make an investment with your blog to get the most out of it…not to mention preserve your sanity!
There are so many great eBooks and blogging courses on the market that focus on very specific aspects of blogging. While a lot of them are on the pricey side, they do have all the things you really want to know. The best information comes at a price!
Another example of making the investment is with your blog itself. I started Run With No Regrets on Blogger. It's free and it's very easy to use. But Blogger is owned by Google, and they have shut down blogger's accounts in the past!
That's why I took the plunge and switched over to WordPress.org. Now I'm self-hosted and everything that I create is MINE and I control it! It does come with expenses, but it's worth it, though there was a bit of a learning curve getting used to all of the plugins.
Here is how my process went after blogging over a year and a half:
I obtained my website domain – I had a free coupon from Namecheap!
I purchased website hosting from Bluehost.
I purchased services to transfer Blogger to WordPress and the Genesis WordPress theme after being tired of trying to figure it out myself.

 

This saved me a lot of grief!
Now I feel that my blog looks a lot more professional! If I had kept my original Blogger design, I really don't think I'd be where I am today with my blogging.  Spending money means you're taking yourself seriously. 
4. Don't Wait To Start Monetizing Your Blog
Since you should have a few expenses for your blog, it really makes sense to monetize as soon as possible.  I know that there are so many people out there like me who want to wait until everything is in its perfect place…but do not hesitate!
Now I'm signed up with a variety of networks that I hope will provide great resources while supporting the blog at the same time.
5. Always Post Your BEST Work
How many times have you been in a rush to just "write something" that you throw up a blog post with 50 words and a bunch of pictures just to fill the page? Once a month? Once a week?
It's important to know what time of the day you do your best writing and stick to that! Believe it or not, readers CAN tell when you've written a lazy post.
Every post you write has to be amazing. Not just average, or even good. It's as simple as that. It's cliché, but I truly believe in quality over quantity.
And needless to say, you must proofread your work before posting. Previewing your post before it goes live does wonders! It's only human to have a minor mistake once in a while, but don't make it a habit.
6. Social Media Is Maddening…But A Necessity
I learned in a webinar that it's important to focus your time on the social media outlet that provides the most dividends and neglect the ones that don't…I definitely agree!
Facebook
Here are some of the things I'm doing with my Facebook page:
I share images/links that other bloggers in my niche post on Facebook
I use Facebook scheduler to schedule posts in addition to Coschedule
I use Instagram to share images on my Facebook page
I ask questions and interact with my comments
I've learned that Facebook really doesn't like when I share posts through Buffer, so I only use Buffer for Twitter.
Pinterest
I'm really enjoying using Tailwind – it's like a Buffer for Pinterest only and is chock-full of useful analytics. I'm still on the trial version but will upgrade to the inexpensive blogger plan once my 100 pins are used up! I think that once I start paying for the service, I'll be doing a whole lot more pinning!
Twitter
I've already mentioned Buffer, which is great, but using Coschedule has been a godsend for social media sharing on Twitter! I have been making sure to have one or two Twitter posts a day sharing my old content. I don't like to tweet very often, so this gives me more visibility on Twitter. 
7. Time Management: You Need A System And You Have To Stick To It
It is very easy to get caught up in blogging. You're reading, you're writing, you're networking, attending webinars and Twitter parties, and the hours fly by. And you still have to manage chores, dinner, work, kids, sleep…
Work-life balance is just as important in blogging as it is in more traditional careers.
Here's a short list of items that make blogging time management a lot easier:
Blogging Planners
Evernote
WordPress Editorial Calendar Plugin
Google Calendar
Find out what works best for you and make a serious commitment to stick to your plan.  Let your friends and loved ones know when NOT to disturb you! Because again, you're not just "playing around" – blogging is real work, and it's time-consuming! What ways do you separate your blogging time and "regular life" time? 
8. Join Blogging Facebook Groups – They're Amazing!
There are tons of different types of Facebook Groups for bloggers out there that can suit your needs with these offerings:
Share Your Posts
Get Comments, Likes, Pins, etc.
Gain Followers or Fans
Discuss blogging issues/support
Ask questions
Share useful articles
Promote giveaways
Crowdsourcing for roundup posts
Here is a list of some of the Facebook Groups I currently belong to:
Sign up for a few groups and see if they're right for you!
9. Don't Get Overwhelmed By All The "Expert" Advice
There are so many incredible blogging experts out there.
But I've realized these past few months that I have probably been following too many experts. I've made my head spin on multiple occasions trying to remember who said what and how to get things done the "right" way.
While it's great to have a wealth of resources available to you, there is such thing as an information overload. I'd recommend finding no more than 2 experts to serve as a guide/mentor, and only stick with them.
10. Remember Why You Started Blogging
It's so important to remember why you started blogging in the first place. I doubt you started blogging because you wanted to be stressed out and miserable. You probably wanted to express yourself creatively, promote your business, connect with people, or learn more about yourself. 
So find that inner drive inside of you and keep doing what you do best – being you! Blogging should feel like a worthy endeavor, never a chore. If it gets to that point, then it is most likely time to reassess where you are, and take a short break if needed. I wish you the greatest success on your blogging journey! Two years in, and this is just the beginning for me!
What blogging tips did I leave out? What do yo wish you knew 2 years into blogging and what secrets made you a better blogger?
Author Bio: Janelle
My name is Janelle, and Run With No Regrets is a space for runners, fitness junkies and those committed to living a healthy life to connect and bond, all while keeping a positive attitude! I share tips on race training, injury prevention, and healthy eating. Find out how to you can get a FREE Cheatsheet on How to Start and Maintain a Running Routine in 7 Simple Steps.