This post may contain affiliate links which may give us a commission at no additional cost to you. As an Amazon Associate we earn from qualifying purchases.
New to SITS? Welcome!! Go read this to get started.
Welcome to the weekly blogging tip and comment game! This week I'm talking about the pros and cons of moving from Blogger to WordPress.
Since SITS changed blogging platforms from Blogger to WordPress last week, I've received lots of tweets and emails asking, "Why?" Today I present to you the Top 10 Reasons to Move to WordPress:
Plugins. There are hundreds of thousands of plugins (similar to gadgets/widgets) that enhance WordPress. They are free and do all kinds of fun and useful things. You have already seen the "Comment Luv" and "TwitterLink" plugins in the comments here at SITS. There are plugins that share your content on social networking sites,  track clicks on outbound links, display a welcome message and ask visitors to subscribe to your blog, automatically tweet your posts, show the weather in your sidebar… ah, so much fun. If someone would give me a full time job testing plugins, I'd be in heaven. Plugins rock.
Thousands of theme options. You can find tons of beautiful free themes (designs) for your WordPress blog. Just upload and activate.
Commenting is easier and better. Is anyone else really annoyed by the Blogger commenting system? There's a pop-up window (sometimes two), then after you enter your comment you get that "are you sure you want to navigate away from this page?" alert. ARGH. With WordPress, just enter your name, email, URL and comment. And you've got a link directly to your blog – not your Google/Blogger profile. Not to mention all the cool plugins you can install to give your commenters extra link love.
Static Pages. For permanent, important information such as advertising, policies, "about" or "contact" pages, you can set up "pages" on WordPress, which are different than "posts." Pages are easily linked in a navigation bar or sidebar widget instead of being buried in your post archives, so they are easier to access and edit. They also have simpler/more professional URLs.
Professionalism. If you have a product, store, or service, WordPress is the way to go. You have more options in terms of organizing and categorizing your posts, pages and other content, as well as more options for your home page display. WordPress can be set to show a featured post/image or a static page for your home page instead of a "list of posts."
Spam control. Forget about that "captcha" word verification. WordPress comes with the fantastic Akismet plugin to control your spam. You have full control over what type of comments are held in moderation — comments with more than 3 links, comments that include certain words (gambling, sex, etc), or comments from specific IP addresses.
SEO. You can install a theme that is specifically designed for search engine optimization (SEO) and/or there are many plugins that also help you specify title tags, meta tags and other options that will help your blog rank higher and be seen by more people. On WordPress's dashboard there is a section that lists every blog that has linked to you recently. It's a great "at-a-glance" way to quickly see who is talking about your blog.
It's not hard and you won't lose your permalinks or posts. Creating a post is no harder in WordPress than in Blogger. You do need a little bit of tech knowledge to buy a domain and web hosting, but most people have no problem.  You might need some assistance importing your Blogger blog to WordPress and making sure all your permalinks still work. If you have a HUGE blog with TONS of comments, there is a chance you might lose some comments. But most blogs import all posts and comments smoothly.

Superior Support. Because WordPress is so popular and used by many professional bloggers, designers and programmers, the support forums are incredible. WordPress's tutorials are also excellent.
Full control and statistics. OK, this is really two things. Yes, you can gets stats from sites like Sitemeter and Google Analytics, but WordPress offers you a complete stat package built in. And you don't ever have to worry about Google deleting your blog. You own it. WordPress also makes it really easy to backup all your posts and data.
The cons? Well, there is a cost. You need to buy a domain name ($10/yr) and hosting (~$9/month). And if you are completely techno-phobic, you may need to hire a designer if you want a highly customized design (although this is also true with Blogger).
I hope I've given you some insight as to the power of WordPress. Let me know if you have any questions!
Now, let's play a game! Here are the rules for the SITS Saturday Sharefest:
Leave a comment here with a link to one of your best blog posts (or just your main URL if you prefer).
After you leave your comment, visit the link of the person who commented BEFORE you.
Comment on their post and be sure to say "Happy SITS Saturday Sharefest" in your comment.
Now, go leave some comments! And please visit my new blog – Mom, Reinvented. I've got some great giveaways going on!
SITS Girls Twitter Party this Monday- no brands, just us connecting!  Here is the info.

Want to subscribe to SITS and get an email each time we post? Just click here.
And, as always, when you see this: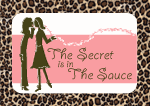 LEAVE A COMMENT.