This post may contain affiliate links which may give us a commission at no additional cost to you. As an Amazon Associate we earn from qualifying purchases.
Think you've read all the blogging tips and tutorials out there? Well you haven't. Grab a pen and paper, let's get old school on this one. I have the top 10 tips for blogging you need right now.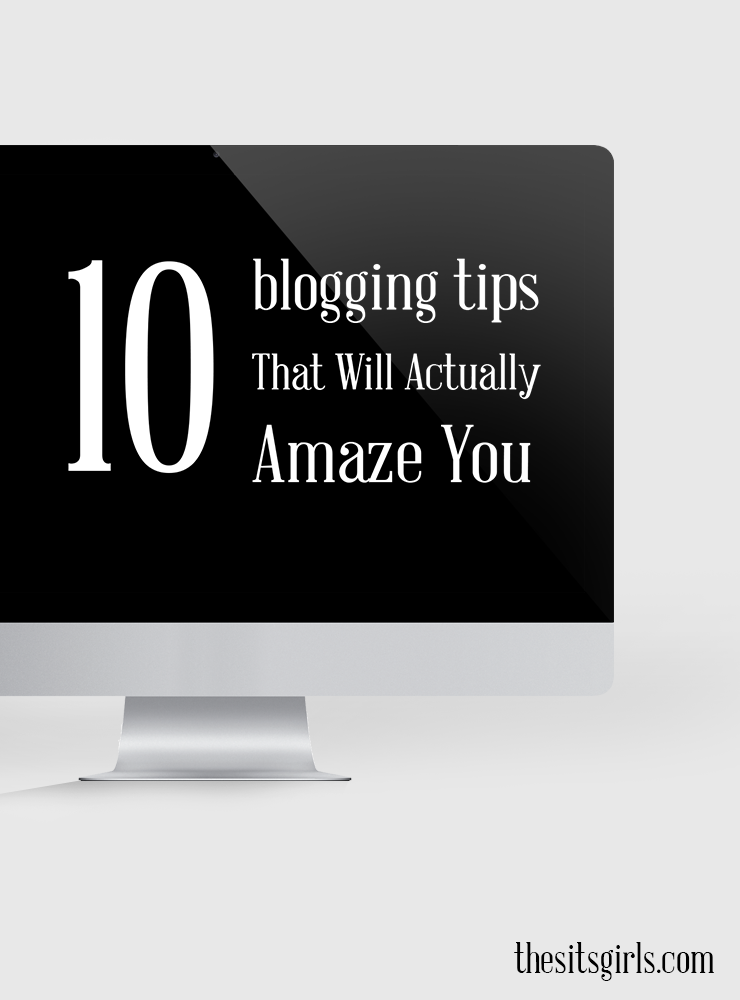 Top 10 Tips For Blogging That Will Actually Amaze You
1. Before you even think about opening up a "new post" get your content strategy down. What are you going to write about? Not just today, but long term. Think about what you can jam on for days on end and bucket them into categories. I suggest 5-7 if you've been at this blogging game a while. If you're a newbie, think of 3-5 topics (you can always add more later).
Why is this important? You won't scramble for things to write about because you've given yourself a roadmap. Isn't it easier to get where you're going with a GPS? Yes. Yes it is. You also want to build trust with your readers. Having solidified categories that you will write about lets your readers know what to expect when they settle in with their cuppa joe.
2. Be yourself and cut the jargon. Just because you can use S.A.T. words in a sentence doesn't mean you should (unless you're writing for a medical journal). Use a tone that reveals who you really are. You don't have to get personal, but you should let your personality show through the written word. Take this post for example, you'll see that I am a fun, straight shooter who likes to work hard and play hard.
Why is this important? It's no fun being everybody else. In fact, it's tiring. When you start off being yourself, that gives you the space to evolve as a blogger, writer and creative. If you start off sounding like that amazing chick with all the comments on her posts you'll come to hate blogging and give up, because the real you will get smaller and smaller with each word. Ain't nobody got time for that. Readers want to get to know you, not a patchwork frankenstein of you and 20 other people.
3. Be consistent. I tell my clients this one thing all the time. You ready? You don't have to post 3-5 times a week. You don't even have to post 7 times a week. What you must do is have a schedule and stick to it, even if it's 1 post a week. Pick a day and a time and add that to your calendar each week. Make your one post so chock full of goodness that when you publish, your readers are waiting on baited breath to read and share it. Amy Lynn Andrews does this really well with her Useletter on Saturday's. When, and if, she writes more than that, her readers feel like it's Christmas in their inbox. <– be that girl (the Christmas in your inbox girl, not Amy Lynn Andrews, see tip #2).
Why is this important? Again, you want to build trust with your readers. Building trust means you're building your brand. You may think that keeping consistent with your one post is a small thing, but if your readers can count on you to publish every Wednesday at 1PM, you'll build a following.
4. Get your social on. I don't mean just social media, although we all know how much I love that. I mean visit other blogs and comment. Seem overwhelming? Pick one day where you visit a mix of your favorite bloggers and some new ones. Commenting on 5 blogs a week isn't hard if you make it a habit. Don't know where to start? You're part of The SITS girls! Start there! We have a link up on Saturdays full of great blogs to visit.
Why is this important? Community, that's why. So often we feel like this blogging thing is us, alone with a laptop or smartphone, typing in the dark, while our families or pets are sleeping. Visiting and commenting on other blogs does three things:
Reminds us that we're not alone
Builds community
Lets us scope out what others are doing so we can steal like an artist!
(Not steal as in copy, but steal as in revamp-to-fit-our-style.)
5. Call To Action (CTA). You need a call to action at the end of every post. Every time, all the time. Please don't forget this tip. It can be as simple as asking them to comment, adding a Pinterest widget badge to your blog board, or asking them to sign up to your newsletter. You want to engage your reader, not just fire hose them with what you want to say and not invite them to take part. So often we are afraid to ask a question, any question really, especially if it's something we want or could benefit us, which in this case is a action on the part of the reader.
Why is this important? You want your posts to be read and shared right? If you don't ask, you won't get it. Where is this often a missed opportunity? In your "thank you" email subscription form. You have a captive audience, they're interested because they signed up to receive your posts! So when you thank them for signing up, why not ask if they'd like to share how they signed up and why others should too?
6. Write really solid headlines. Your headline's sole purpose is to get the first sentence of your blog post read. What's the purpose of the first sentence? To get the second sentence of your blog post read, and so on until your CTA. It's safe to say that if your headline is blah, no matter how great your blog post is, it won't get read. I love using the Co-Schedule Title Analyzer. It helps me learn as I try out different blog titles by analyzing what I'm missing with examples of how I could fix it.
Why is this important? Think of your blog post image with text overlay. The title has to wow to get the reader to click through on social media. What if the title of this post was "Blogging"? You'd think, "Yeah, so what?" but this is a list post, or a listicle (combination of list and article) – those convert.
7. Make your 404 error page work for you. Yes, you read that right. Your 404 error page. Hey, we're human and broken links happen, right? Even to the best of us. So why not set up your error page with a quick, relatable "oops" and add some links to popular posts, a subscription box or other CTA?
Why is this important? It shows that you're human while also maximizing and optimizing every opportunity for conversion. You want to keep your reader on your site and coming back. Make it easier for your reader always and in all ways.
8. Have a content calendar. I know you've heard this before. I preach this like nobody's business. You need a content calendar for your own peace of mind. You should control your blog and your output, not the other way around. If you have a content calendar, and schedule when and what you're going to publish, there are no last minute rush posts to put together. I love Trello and sing it's praises because I learned how to really create one that works, but you can use a spreadsheet, a paper calendar, Google calendar, Outlook, you name it. Find something that works for you, and just do it.
Why is this important? Trust me, last minute posts are permissible every once in a while, but too much of that will cause you to burn out, fast. Your readers cannot afford for you to burn out. They want to read all that you want to share, so do yourself a favor and set aside time to brainstorm and plan.
9. Visit your blog's home page like you've never been there before. Ever. When you first visit a blog there is a routine in your head that you follow. You may not realize it, but try it the next time you visit a blog. You think: header, social icons, profile, about me, search bar, sidebar. Take a quick audit of those areas of your blog for branding, content, and a quick refresh. You'd be surprised how some parts are outdated, or no longer mesh with your brand.
Why is this important? It's always important to run a quick blog audit and tweak every so often. Sometimes affiliate links are mistyped, Facebook updates their plug-ins, your social icons aren't linked properly, you name it. Better that YOU find it than a reader assume you aren't as vested in your blog as they are in reading it.
10. Have fun and take care of yourself. Write, collaborate, and connect with everyone you can. These relationships although virtual are real. Jump into challenges with both feet and give this blogging thing a real go. You'll be glad you did.
Why is this important? Creativity doesn't come with boundless energy. Self care is crucial. Just like your laptop needs to reboot, so do you. Epsom salt baths and massages (with extra attention on my shoulders and hands) are my very best friends. Make time to relax and refresh yourself, your next blog post will thank you.
I would love to hear what your favorite tips are, in the comments.
Come on, dig deep, and share your blogging gems so we can all thrive.
Ready to set some goals for your blog?
Check out these tips for setting attainable blogging goals.