This post may contain affiliate links which may give us a commission at no additional cost to you. As an Amazon Associate we earn from qualifying purchases.
Having a marketing strategy is a key component for bloggers. Whether you gain new readers from social media, word of mouth, or being found via Google search, you need to get your blog noticed somehow. I've compiled a list of blog marketing strategies to help you bring new and old visitors to your site.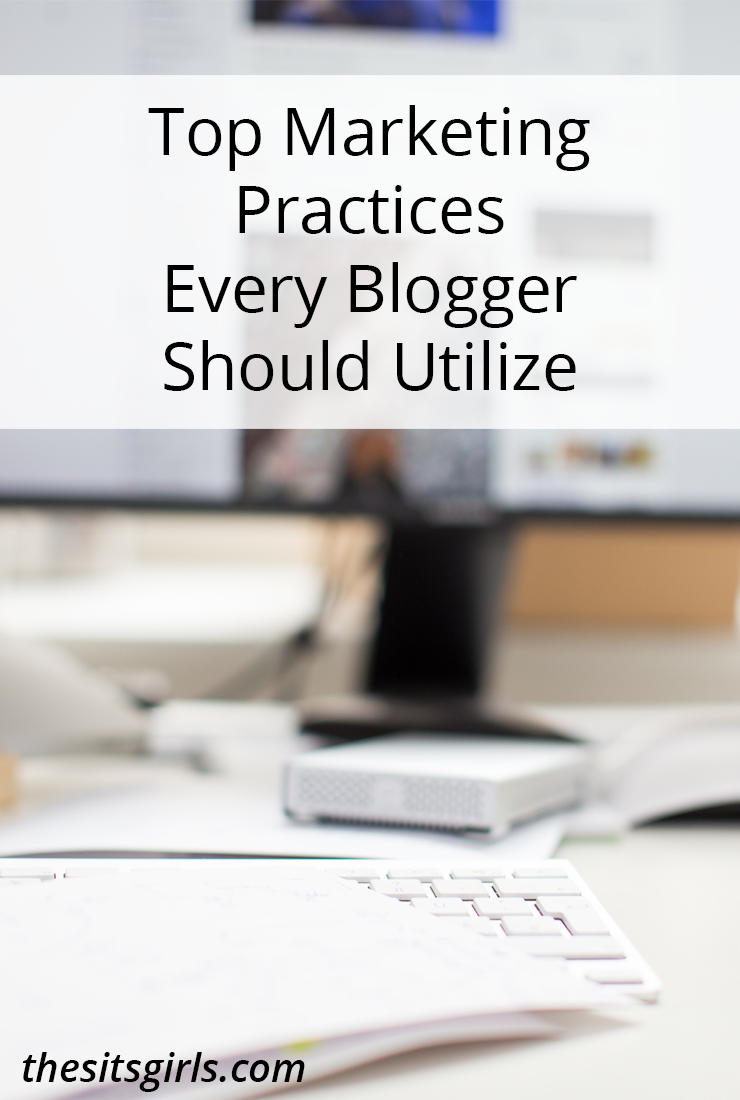 Top Marketing Strategies Every Blogger Should Utilize
1. Create a Facebook Fan Page: Facebook can be a powerful social media tool. With hard work and time, you can build an engaged Facebook audience.
2. Create a Pinterest Business Page: Pinterest is a fabulous way to get your content seen, and you should definitely be utilizing it. With a business page, you get access to analytics that will help you really see what is and isn't working in your Pinterest strategy.
3. Other Social Media Accounts: Be sure to set up accounts for other social media sites: Twitter, Instagram, or any others that you have time to maintain. Don't feel like you have to be on every platform, especially when you are first getting started. Make sure you are spending the most time on the social media platforms that work for you.
4. Advertise on Facebook: Facebook Ads have the potential to bring in new page likes, engagement, and clicks to your site.
5. Facebook Live: Whether you are talking about hairstyles, parenting, or sharing your latest recipe or craft idea, sharing live video allows your readers see the real you and your personality.
6. Facebook Groups: Join Facebook groups that are relevant to your blog. By joining these groups, you'll be able to network with other bloggers and potential readers.
7. Search Engine Optimization: Use SEO to drive traffic to your site from search engines.
8. Newsletters: By collecting email addresses on your blog, you're able to send newsletters to those who have opted in.
9. Offer an Affiliate Program: If you have a product, like an eBook or course, consider starting an affiliate program to help promote it. People who've already purchased your product or service will be able to earn a commission from any sale they refer to you.
10. Submit Your Articles: Submitting articles to large sites that accept contributor articles, guest posts, or recipes can be an easy and beneficial marketing tool. There are many sites out there to submit to, like The SITS Girls, Huffington Post, or Scary Mommy. You can also publish (or cross-publish) on Medium.
11. Leave Comments: Commenting on other blogs is great. You are expanding your chances to be seen. Don't go posting crazy, off the wall, spammy comments. Truly take the time to read the other bloggers' posts and post a real, sincere comment.
12. Attend Blogging Conferences: Blogging conferences are a great way to broaden your horizons and network with other bloggers.
13. Submit Your Blog to Search Engines: Is your blog found on Google or Bing? If not, make sure you've submitted your site to the search engines so they know that it exists. Applying SEO to your blog, like I mentioned above, will help too.
Do you have any clever marketing strategies that've worked for you?
Please share them below in the comments.