This post may contain affiliate links which may give us a commission at no additional cost to you. As an Amazon Associate we earn from qualifying purchases.
There are so many cool features that WordPress offers that Blogger does not. I'm happy I decided to transfer from Blogger to WordPress. There are awesome plugins to make life easier, its so easy to customize your theme just the way your want it, better SEO capabilities, and I OWN my blog. That was something huge for me. Last summer I helped a friend start a blog, and blogger took her blog down a month later for no reason. On WordPress, that can't happen! You own your material, and that is huge. There was so much that I didn't know going into this process, but my designer helped and explained things to me so well, which made the move less stressful.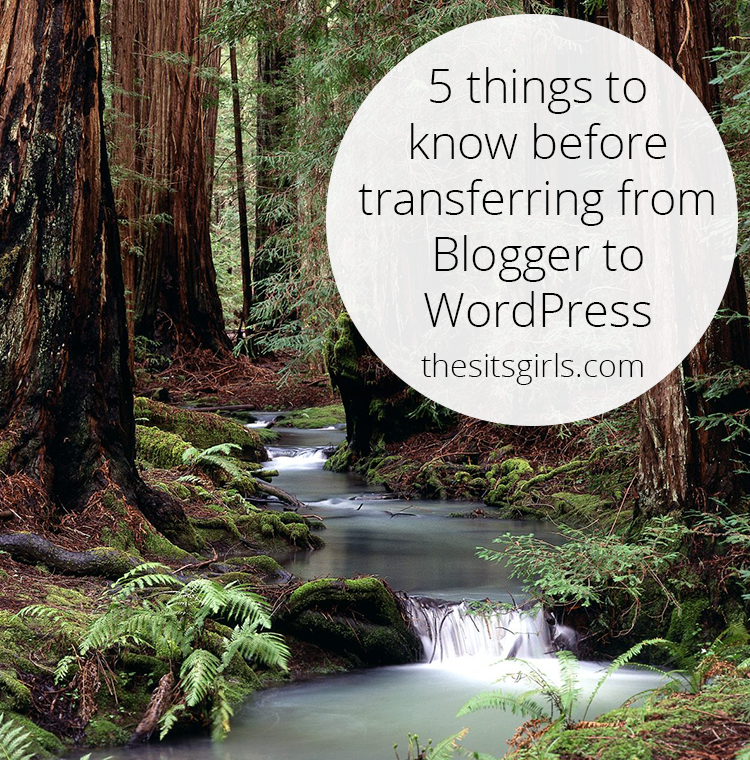 5 Things to Know Before Transferring From Blogger to WordPress
Now that the transfer is over, I wanted to share the top 5 things that I think everyone should know before transferring their blog. I think if I would have known some of these things it would have made my life so much easier, and I wouldn't have been doing so much last minute research trying to figure everything out. So in efforts to make your life easier here are my top 5 things to know before your transfer.
1. The Cost Of WordPress
The upfront costs of switching. This is something that was huge for me and that I was not aware of how much it would actually be. I knew that it was going to cost me to pay someone to migrate my blog, but I didn't think about all of the extra costs of hosting, theme, and framework. Even though there is an upfront investment, it is 100% worth it, and I know that I will see a return in the investment now with my blog being much more professional.
What you can expect to pay…
Domain Name: I used goDaddy, and it costs me $28.98 for 2 years. My account is on auto renew so I don't loose my domain name.
Hosting: I payed $3.49 a month upfront for a year using Bluehost, costing me a total of $71.40.
Framework: Genesis Framework was $59.95
Theme: I used the Bloom theme from Restored 316 Designs and it was $50.
Migration: My designer charged $100 for a migration, but gave a discount for using her links.
2. New Terms
Start to do your research and learn about all the different terms that will be used during your transfer. I didn't know what I was getting myself into and had a lot of confusion at first about the difference between hosting, domain names, themes, and framework.
Hosting: hosting is how your blog is stored on the internet and what keeps it up on the internet.
Domain Name: this is what the URL will be to your site and how the host will point to your blog. You will need to purchase a domain name when your switch to self hosted WordPress.
Framework: this is the bones and structure of your blog. It it what allows your blog to function on WordPress.
Theme: I think of the theme as the makeup and clothing of

 

your blog. Its what makes it pretty and adds design and elements to your framework.
3. Categories And Tags
Start to label your old and new blogger posts with categories and tags. I had so many posts that were not categorized and I'm still working on getting them all categorized for readers to better find what they are looking for. Also, think about the main topics of your blog, and stick to those categories. Then break them down further into tags. Too many categories will make it confusing for your readers to find new posts.
4. Choose A Theme You Really LOVE
Know what you want in the theme you are wanting to purchase. Don't settle with one that you are not happy with or with a theme that might not fit your blog. Find one that really shows off your style of blog. Food blogs and fashion blogs might need different things in a theme, and someone who doesn't take a lot of pictures might not want a theme with tons of space for pictures. The cool thing about most themes, though, is that there are a lot of layout and color options that come with them, so do your research and play around with the themes before you purchase one.
5. Should You Hire A Mover?
You can transfer your blog yourself, or you can hire someone you trust to do the move. Go with someone that other people suggest and that is of a reasonable price. Kristie from Blog Ambitions did my move, and she was so amazing and easy to work with. I'm so glad I used her. I've heard horror stories of people breaking their blogs trying to migrate themselves or hiring the lowest bidder who didn't do a good job, so make sure you do your research!
I hope some of these tips help you out if you are thinking of migrating your blog from Blogger to WordPress. If I can figure out what all of this stuff means, and how it functions, you can to! If you think of something else that should be included on this list please leave it in the comments!
Author Bio: Amanda
I'm Amanda and I'm the girl behind Life With Grace. I'm 26 and have been married to my best friend for over 4 years. Together we have a 2 year old named Harper who keeps us on our toes! I have a passion for sharing my love of fashion, creativity, blogging tips, recipes, my faith, and home decor with all my readers. Come say hi and join in on the fun!