This post may contain affiliate links which may give us a commission at no additional cost to you. As an Amazon Associate we earn from qualifying purchases.
Every year thousands of writers come together to write a novel during November's National Novel Writing Month, or NaNoWriMo as it's called. Why? Because arduous tasks are more fun when you have someone else doing them alongside you.
That's why this year, many bloggers who have decided to write an eBook during the NaNoWriMo 30 days, instead of a fiction novel, will turn to one another for support. Writing with a friend, or two (dozen), is so much more effective than going it alone.
How can you use community to help complete a project effectively?
Here are my favorite tips:
1) Create a forum, group, or place where you can collaborate together
Create a forum, group, or place where you can collaborate together, even if you are all working on a different project. My 30 Days to Make and Sell a Fabulous Ebook manual comes with admission into a forum group that can give you access to other people who are also working on an eBook. Let your fellow bloggers know what you're doing and don't be afraid to start talking about it, even while the work is still in progress.
2) Do writing sprints with others
Sometimes you just have to slog through a chapter or section of the book and GET IT DONE. Writing sprints are a great way to keep yourself focused during those times because you get that instant accountability. Here's how to run a writing sprint:
Get with your writing sprint partners on an IM or skype chat room. One person is the time keeper and will tell everyone when to start, usually 10 after or 15 after the hour so your writing sprint time is 50 or 45 minutes. At the end of the time the time keeper announces "Time's up!" and everyone reports back with their word count.
3) Provide support for the finished product when it's done
Insane to think about, perhaps, but at the end of the month you would have an eBook product ready to promote or sell. If you've had a month of working with others you will want to share their book, and they will want to share yours. It's so much more effective when you can work together to share your message!
4) Help to hold one another accountable
You can announce on Facebook and Twitter that you are working and your friends will keep you accountable. If you see you goofing off on social media they will ping you – Are you finished with your chapter yet? It seriously helps.
5) Get a hand with photos, research, and information
Sometimes you just flat get stuck! When I was working on Backyard Farming on an Acre (More or Less) I got stuck looking for a photo of a mulberry tree. I put the word out to my peeps who had been following along with my book's journey, and viola! Photo of a mulberry tree that works perfectly for the book.
Do you have an eBook waiting inside you? Believe me you aren't the only one! Follow the #30days hashtag and join in the fun of those who are writing an eBook as a NaNoWriMo alternative so you don't have to tackle this project alone! Pick up a copy of 30 Days to Make and Sell a Fabulous Ebook, which will have a day-by-day guide to creating and marketing your book.
About the Author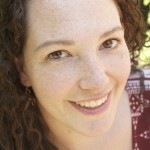 Angela England is a mother of five living with her children and husband in rural Oklahoma. She is the founder of Untrained Housewife and author of Backyard Farming on an Acre (More or Less).
Disclosure: This post includes affiliate links.