This post may contain affiliate links which may give us a commission at no additional cost to you. As an Amazon Associate we earn from qualifying purchases.
Like most bloggers, when I first started out, there was one question that completely eluded me: What is a meme?  And once I figured that out, I wanted to know how to start a meme.  Lucky for our SITStahs, Shell from Things I Can't Say is here today talking all about blog meme ideas and giving us the low down.
Before we dive into her wonderful how-to, let's go over a short definition:
What is a Blog Meme?
A blog meme is a list of questions or an idea that is propagated via your blog.  It could be a writing prompt that you decide to answer and share with others. In blog land, this means that you'll start by creating a post on your own blog and then link up to a website that can host the meme.  In the process you invite participation and engagement, and give your content the opportunity to travel further.  The nice thing about memes is, if popular, they can go viral.
Blog Meme Ideas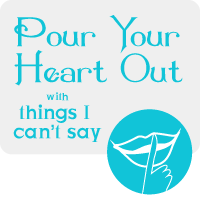 I was actually inspired to take the leap and start a weekly link-up when I attended Bloggy Boot Camp in Baltimore in March of 2010. Which is also where I learned that I had been saying the word wrong, as Scary Mommy taught us that it rhymes with "dream."
Every Wednesday, I host the Pour Your Heart Out blog meme, which encourages my readers to share a post from the heart. Something that they are really struggling with or celebrating or an issue they feel strongly about. We get the heartbreaking and the joyous.
How to Start a Meme
If you are looking to start your own blog meme, here are a few things to consider:
1. Be Original
Know what else is out there. While you can't possibly scour every blog to make sure that no one is doing exactly what you are planning, try to avoid copying if you are aware of an existing blog meme. Not only is this good bloggy manners, but it's tougher to compete with something that already has loyal participants.
2. Be True to Yourself
Once you commit to hosting a blog meme, you are going to have to participate every time, too. So, choose something that you will have an easy time writing. I was already writing a post each week where I was pouring my heart out, so it was a natural extension to invite my readers to join in.  Don't pick something that you won't be able to stick with. I could never host a poetry link up because I could only spout poetry that I'd be willing to share with others about once every five years.
3. Know Your Readers
Do a lot of them already participate in a weekly blog meme? There was no way I was going to schedule mine for Thursdays because that is when Mama's Losin' It hosts her weekly Writer's Workshop blog meme.  What are your readers' interests? While people will occasionally step outside of their comfort zone, if you choose something that isn't relevant to your audience, you won't get many participants. You want to be original, but hosting "Cooking with Kids" if most of your audience doesn't have kids won't be a smashing success.
4. Decide on the Details
Choose a name: You want something catchy that will give people a general idea of what you are doing.
Choose your day of the week or even day of the month: I have started hosting a monthly themed photo blog meme that opens the second Monday of each month in addition to my weekly Pour Your Heart Out. The frequency is up to you.
Get a button designed for your link up: Cynthia from NW Designs does a fabulous job with all of my blog meme buttons.
Choose a linky system: There are free ones like Inlinkz or subscription services like Linky Tools. I currently use Linky Tools, though it was free when I started using it. Check out other link ups to get a idea of which one you like.
Make an announcement about your blog meme a few days or a week ahead of when you plan to start: If you wait until the day of, most people will already have their post done or planned for the day and you might hear crickets. So, give people notice!
5. Go For It!
There is much to be said for enthusiasm. Jump in. Maybe even beg a friend or two to participate in your first blog meme.  Visit and comment on everyone participates in your blog meme. Tweet out some of the links. It's your blog's baby, so take care of it!
About the Author: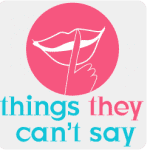 Shell uses her blog, Things I Can't Say, to share all the things she won't say out loud. It is her space to write exactly what she wants. Everything you read is always completely open, honest, and real. Shell is also a stay-at-home/work-at-home mom to three little boys (ages 6, 5, and 3). Please don't ask her if she is going to try for a girl. She's had three kids in the span of less than 3 1/2 years. She's done.
More Blog Meme US and Writing Ideas:
Before jumping into the world of blog memes, it is a good idea to have a few basic writing skills down pat. Here are several posts you want to be sure you don't miss: