This post may contain affiliate links which may give us a commission at no additional cost to you. As an Amazon Associate we earn from qualifying purchases.
At Mom of 6 I blog about all things related to Mom-organization… how to set up your family calendar, how to create manageable routines for your kids to get out of the house in the morning, how to pack for a road trip, etc. So it should be no surprise that I would approach blogging with the same uber-organized mindset!
I firmly believe that "everything has a place and everything should be in its place"- so you know… you can actually find it again when you need it. This is a great mantra to employ whether you running a blog or a household- or (as most of us do) both. So today I am going to introduce you to one of the greatest organizational tools EVER… Evernote!
When you get started in the blogging world, you come across tons of fabulous ideas… it might be a post on SITSGirls on how to create a fabulous Facebook landing page, or an idea of how to increase your twitter followers that you found in an e-book, or maybe even some notes that you've made on great ideas for future posts. The question is – where do you keep this growing pile of notes and ideas?
As bookmarks in your web browser?
Printed and filed in a notebook?
Pinned on a Pinterest board?
While all of these are valid possibilities, none allow you the capability of holding all of your ideas (whether they come from a website, a photo, typed up notes, or even a .pdf file) in one place. But Evernote does just that. Plus, it can sync all of your information across every web-enabled device that you have – your smart phone, your tablet, as well as your computer – so you have access to your notes no matter where you are working.
And did I mention… Evernote is FREE? (My frugal side just loves that!)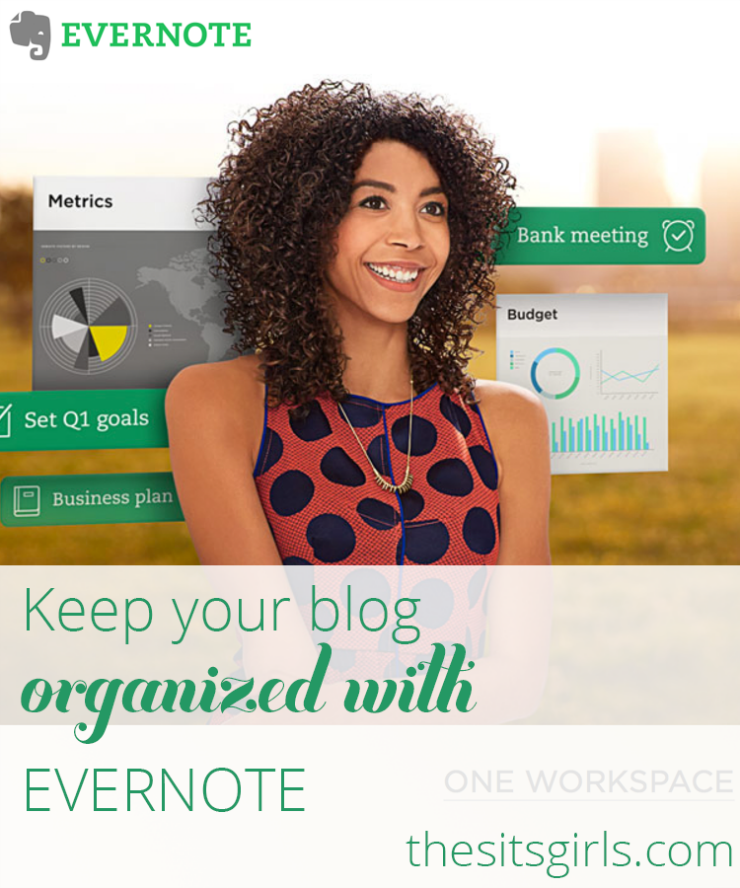 How To Use Evernote
Let me show you a little peek at my Evernote Blogger's Notebook- where I keep all of my ideas and articles on things that I would like to do with my blog:
Organize Your Notebook Into Folders
On the left side of my Evernote window I have a main folder called "Blogging Notes" and within that folder I have lots of sub-folders that I use to organize categories of my blogging life- such as "Blog Changes I Want to Make", "Facebook", and "Stats". In this picture I am peeking into my Facebook folder, looking as the 12 different notes that I've stored here.
So how did these notes get into my Evernote notebooks? Most of the time I am clipping and pasting the note right from an article that I have found on the web.
I simply highlight the portion of the article that I wish to save for future reference, select Edit/Copy from my browser window, and then click on the Evernote icon on my desktop (elephant shaped), select Paste to Evernote… and voila- the new note has been created.
Making Changes To Your Notes
Once the note is living in Evernote, I can edit and change the title, I can add tags to the note to make it easier to find later, and I can change the notebook where this note is filed. The clipped note also contains the original web link for future reference- just in case I would ever like to go back to the original article.
Creating New Notes
Of course, you can just create a note by clicking on the little elephant icon, selecting New Note, and then just start letting the thoughts flow. It is super easy.
Creating Tasks or To Do Lists
One of my favorite features when typing a new note is adding a little task box next to listed items, so you can check them off as you complete them! And notes saved in Evernote are "searchable" by keywords, tags, or even words inside of the note, which is really helpful when you can't remember where you filed your 2010 Holiday Card list! (And you sure can't do that with a piece of paper misfiled in your house somewhere!) You can print a note, email it, or even post it to Twitter or Facebook should that be your heart's desire.
Beyond Your Blog!
Beyond just using Evernote as an organizational tool for my "Blogger's Notebook", I also use it to clip recipes that I find on cooking blogs, craft ideas that I think would be fun to do with my kids, and lists of books that I would like to read (someday, when I'm 97 and actually find some "free time"!). Give Evernote a try, I think you'll love it too!
(I am in no way being compensated by the fine folks at Evernote… I am just an adoring fan!)
About the Author: Sharon
My name is Sharon and I am the busy Mom of six children ages 10, 9, 8, 7, 6, and 5. People often ask me "How do you do it?" I tell them that my key to success lies in planning ahead, with a whole lot of creativity and organization thrown in! Momof6 is the place where I share all of my tips and techniques to inspire you to tackle your own busy life! blog: www.momof6.com, facebook: SharonMomof6, twitter: @sharonmomof6