This post may contain affiliate links which may give us a commission at no additional cost to you. As an Amazon Associate we earn from qualifying purchases.
You're off! Starting a blog is the easy part, but now what? You've probably Googled just about every term related to blogging in hopes of getting as much information as you can.
Slow down and let's take things one step at a time. There is a vast amount information on the Internet and it's easy to get caught up in trying to learn it all when it comes to starting a blog.
You may be wondering, "What do I need to start a blog?" And possibly you're already dreaming up things to start a blog about. There are certain things you will want to focus on and we've laid it out for you in hopes of making your first 3 months of starting a blog a smooth ride.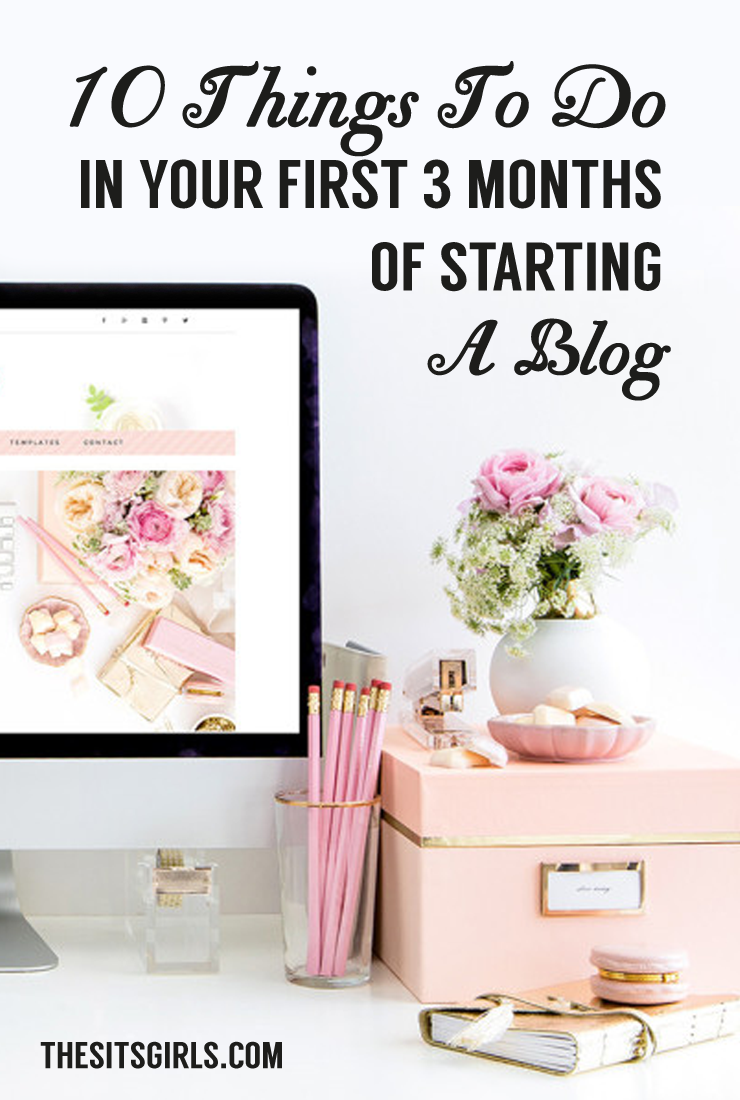 What To Do During Your First 3 Months of Starting a Blog
Here are the action items that will help make your first 3 months of starting a blog enjoyable and a lot less stressful! Note: this post contains affiliate links which may give us a commission at no additional cost to you.
If you haven't already set up your blog, check out our easy, step-by-step guide on how to start a blog in 20 minutes to get started. We recommend the SiteGround hosting starter plan for people who are setting up a new blog!
1. Set Goals
When you first are starting a blog you'll want to take some time to figure out what your goals are. Are you blogging to share your story, help others, make money or to promote a business? Do you have a list of things to blog about? Knowing why you are starting a blog will help you determine both your short-term and long-term goals. Knowing what your goals are will help to keep you on track and working towards your end game. In terms of things to know when starting a blog, goals should be first.
2. Create an Editorial Calendar
An editorial calendar isn't for everyone, but we strongly recommend creating one! An editorial calendar doesn't have to be set in stone; you can change up your editorial calendar anytime you see fit. The purpose of creating an editorial calendar is to give you a strategic plan on the type of topics you will blog about and when. As your blog grows, your editorial calendar will come in handy when keeping track of guest posts and sponsored post deadlines.
3. Establish a Social Media Presence
When you are first starting a blog, it isn't necessary that you spend a lot of time on social media. In fact you probably shouldn't spend a lot of time on social media as it could distract you from getting your blog ready for all those readers. However, you should create Twitter, Facebook, Instagram, and Pinterest profiles. You might also want to consider other social media channels, like YouTube, if you are going to create videos. Having these channels set up before you start promoting your blog is important. And don't forget to put your social icons at the top of your blog's home page!
4. Find a Tribe
During your first three months of starting a blog, you'll want to start building a tribe. Connecting with other bloggers is great for a blogger at any stage, but it's especially important for new bloggers. Your tribe members can give you advice, critique your work, promote a post for you and just be an overall support system.
Our Facebook Group is a great place to start building your tribe.
5. Build a Community
Blogging is about more than you putting out information. Blogging is about creating a community with your readers and making sure they know you truly do care about them. During your first three months, your community will be small and that's ok! Take the time to get to know the readers you do have and develop connections with them.
6. Set Up Your Newsletter
When bloggers first get started they often forget about creating an email list. Don't wait until you've been blogging for a year to start thinking about your email list. Create your newsletter subscription early in your blogging career. You'll probably only get a few subscribers to start out but the point is that you have it in place from day one!
7.  Write Great Content
This probably goes without saying, but you need to have great content. Come up with blog topics that will keep people coming back for more. The type of content you create will be based on the type of blog you have but no matter what your niche, it should be great content!
8. Learn Basic Photography Skills
Social media is all about the pictures. Pinterest, Instagram, and Facebook are all very photo heavy, so having great photos can give your content better exposure. You don't need to be a professional photographer to take good photos, but you should spend time learning basic photography skills.
9. Start Thinking About SEO
SEO is a hard concept to grasp and we would never expect you to learn all about SEO during your first 3 months of starting a blog. But you should start trying to learn the basics. Take some time to learn about keywords, placing keywords into your images and how to create SEO friendly blog titles.
10. Setup Your Google Analytics
Google Analytics will play a big role in your blogging career. You analytics will show you how many visitors your site is getting per day, what blog posts are being clicked on, how long readers are staying on your site, what search terms are being used to locate your site and much more! Take the time during your first three months of blogging to setup your Google Analytics and get familiar with the information it provides. As you get more comfortable with Google Analytics, you can check out our free Google Analytics class to learn how to use the information it provides to grow your pageviews.
Keep Reading
Looking for more info? Here are a few posts related to starting a blog that you'll find helpful: