This post may contain affiliate links which may give us a commission at no additional cost to you. As an Amazon Associate we earn from qualifying purchases.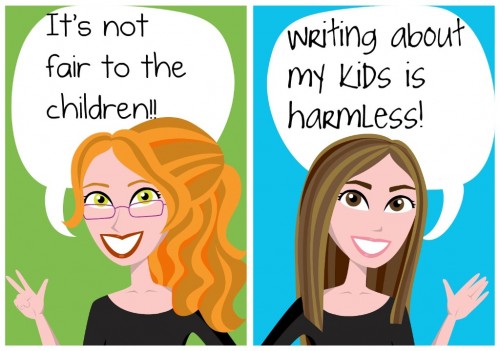 She says, She says is an opportunity for us to take thoughtful questions and encourage a healthy discussion in an attempt to discover where we stand and perhaps, develop a position on something we hadn't thought of before. The identities of our opinionated bloggers  will remain anonymous to avoid influencing anyone with their answers.
Today's She Says, She Says topic is about when to draw the line if you're a mom blogger and blog about your children. When is enough, enough? Is it appropriate to be posting about our kids when they're well into their teens? What is right for your family?
One SITS Girl we interviewed says: "Blogging about raising kids is fine, to an extent, but ultimately their story is not mine to tell and I don't think writing about them past the age of five (if at all) is appropriate. As they get into school, stories on our blogs can be embarrassing and unfair to them".
While another had this to say, "Look, I gave birth to my kids and I'm allowed to talk about my life as their mother, that includes me trying to learn how to raise each of their different personalities and growing pains. I have no plans to ever stop writing about my kids".
Let's discuss!! Weigh in with your opinion in the comment section below!  Where do you stand?