This post may contain affiliate links which may give us a commission at no additional cost to you. As an Amazon Associate we earn from qualifying purchases.
As a website designer, I get asked quite often which of the blogging platforms I would recommend. WordPress is always my answer.
Why blog with WordPress?
Here's the answer: WordPress, like it or not, is very well known, has a pretty good reputation, and for all intents and purposes, it's king as far as blogging platforms go for businesses and individuals alike. For our blogging tips and tutorials series, I'm going to share the five reasons I love blogging with WordPress.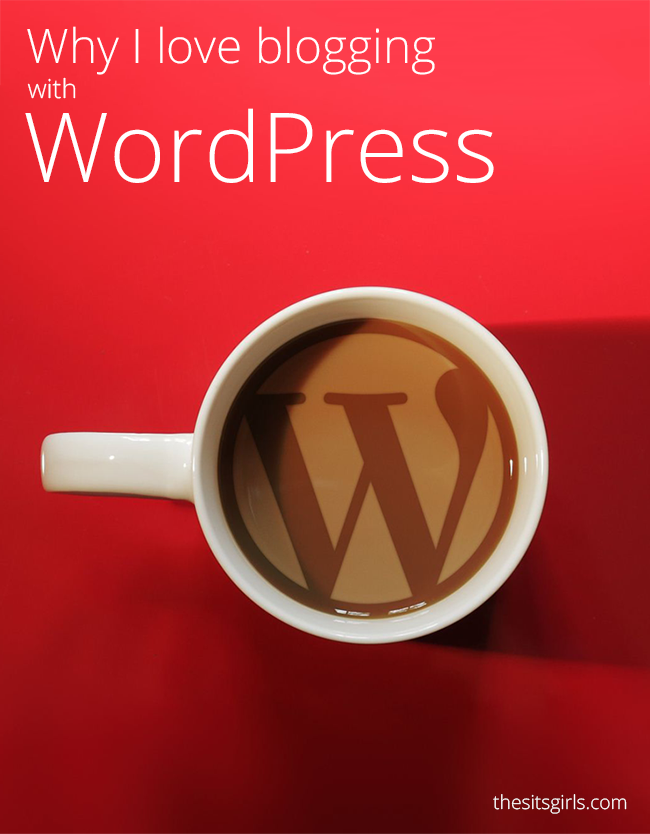 Why I Love Blogging With WordPress
1.  Wordpress software is free and easy to install
I know many people feel overwhelmed when thinking of WordPress and using it in the beginning, but to be honest, I have to tell you that not only is WordPress software FREE, but it is pretty simple to upload to a new site, as well.
True if you are self hosting with WordPress, you will need to pay for the domain name and the actual hosting, but the WordPress software, itself is indeed free. It only takes ONE click to upload the FREE WordPress files to your hosting account for your domain name.
2.  WordPress Themes allow for awesome design options
Once you have WordPress installed, you have unlimited choices as far as design elements are concerned with WordPress Themes.  I usually recommend the Genesis framework, which then allows use of the many different and varying Genesis child themes available out there.
Why do I recommend Genesis?
One big reason is because Genesis is automatically mobile responsive, which is now what Google search engines prefer when indexing websites.
3.  Plugins, so many plugins
If you have installed WordPress and have a theme setup, you will then want to further customize your site.
This is where WordPress plugins come into play.
WordPress has almost 10,000 plugins available.
There are plugins for anything and everything you could imagine or may need to use to optimize your website and make it user friendly.
Trust me, if there is something you are looking to do, chances are there is a plugin available for it on WordPress.
4.  WordPress makes you SEO friendly with Yoast SEO
As I quickly mentioned in #2, a big plus with WordPress is that it is Google-search friendly. To dive further into this, WordPress is SEO friendly on many levels – not just for mobile optimization.
A huge reason for this is because WordPress has a plugin that helps make this possible.
The plugin that allows for this is called, WordPress SEO by Yoast.  To find out more about WordPress SEO and all it has to offer you can read this tutorial to learn about it's search engine capabilities.
5.  WordPress is easy to keep secure
Another huge benefit of WordPress is that it helps keep your site secure from hackers.
There are plugins that allow for this such as, Akismet to help keep spam commenting down, backup plugins so that you can easily backup your site daily or weekly, and Wordfence to keep hackers from signing into your site remotely.
Hackers do exist, but it is nice to know that the WordPress platform and software has some failsafes to keep your site secure.
There you have it, some great reasons I love blogging with WordPress and if you still are unsure, please feel free to contact me to ask any lingering questions you may have.