This post may contain affiliate links which may give us a commission at no additional cost to you. As an Amazon Associate we earn from qualifying purchases.
I was a long-time believer and user of Blogger for many years before I finally made the change to WordPress. Now that I'm on WordPress, I don't understand what took me so long. I have blogging friends on both platforms, and I think they offer great benefits – but there can be a few downfalls of each platform. I don't think anything is perfect, but it's key to find what works best for you.
Let's look at WordPress vs Blogger, and the pros and cons of each, so you can see which blogging platform will work best for you.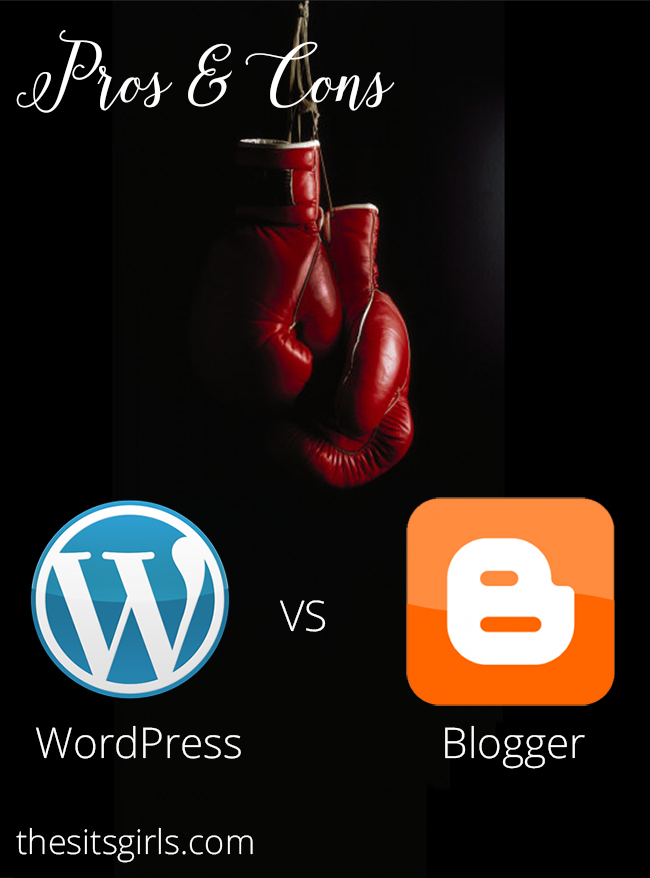 WordPress vs Blogger
Let's be very clear here. I'm referring to self-hosted WordPress, not WordPress.com. There are a few reasons at the end as to why I wouldn't recommend WordPress.com to new bloggers. The biggest reason I don't recommend WordPress.com is you don't own your content. The next biggest reason is you can't monetize when you're not self hosted.
Blogger Pros
It's free. You can have your own domain (for a fee), but the content is stored free.
It's easy and inexpensive to find templates to use on Blogger. If you're into code, their stylesheets are relatively simple to edit.
You can have ads and make money on your site. (You can't do this when you're on WordPress.com)
It's relatively inexpensive to update your design. You can find a LOT of Blogger designers who don't charge a lot for the templates.
WordPress Pros
You own your content.
You have access to great widgets to do helpful things. I love the photo slider on my site – something I couldn't do in Blogger. It's easy to customize within the widgets, and I love finding new "gadgets" for my blog.
You can monetize your site – and it feels simpler to add ads to my sidebars in WordPress.
Blogger Cons
You never truly own your content. This was instrumental in my move to WordPress.
Clarification: Google says they don't own your content – what's yours is yours. However, you do give them "a worldwide license to use, host, store, reproduce, modify, create derivative works (such as those resulting from translations, adaptations or other changes we make so that your content works better with our Services), communicate, publish, publicly perform, publicly display and distribute such content."
There isn't tech support to call on if your site goes down. It's just….down. This happened to my blog on more than one occasion.
WordPress Cons
You have to stay updated – and you should be able to make the updates and back-ups yourself.
Hosting can be pricey if you want something that holds a larger site and can handle a decent amount of traffic.
The code isn't always the easiest to manage – if you're into that side of things.
There are pros and cons to both platforms (obviously). I know more and more people are moving to self-hosted WordPress, and are so happy once they make the move! I remember having my moments of frustration after my initial move, but I knew it was better in the long-run.
Are you on Blogger or WordPress? Have you had to move your site? What challenges did you face?