This post may contain affiliate links which may give us a commission at no additional cost to you. As an Amazon Associate we earn from qualifying purchases.
Work from home – just saying this phrase brings up images of a relaxed work environment and the freedom to take days off whenever we want. It sounds like an idyllic life, doesn't it? What that phrase doesn't convey, is just how hard it can be to work from home. The reality is, working from home presents its own set of challenges. It's easy to feel as though you are perpetually overwhelmed and behind, especially if you're still trying to strike the right balance between home life and work life.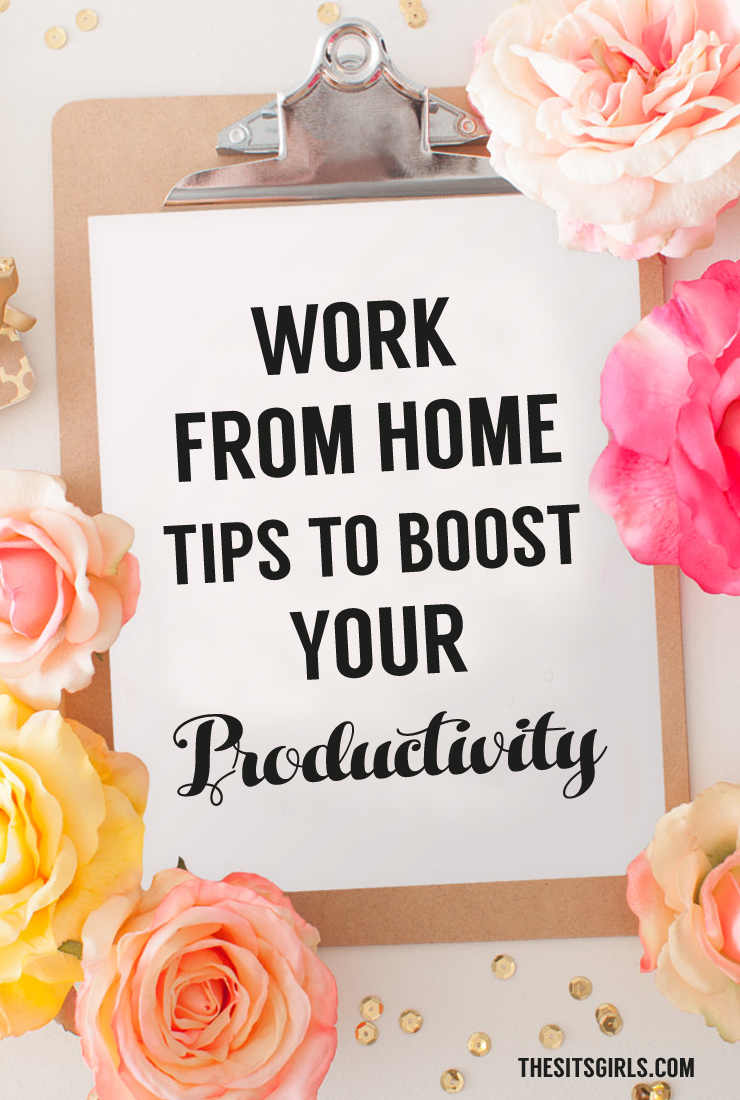 Work From Home Tips to Boost Your Productivity
Being productive while trying to maintain a balance between home and work can be tough. Thankfully, there are lots of tips and tricks that you can implement to help you stay on track and get stuff done.
1. Create a Clear Definition
When people think of working from home, they often don't actually think of work. Even those of us that do work from home sometimes forget that the operative word in that phrase is work. Creating a clear definition of what your work looks like can really help us to get in the right mindset. I like to make a list of all the things that my work entails. I know some people like to write up a job description they can refer to when they need the reminder that they really do work.
When you're doing something you really enjoy, like blogging, it can be hard to classify that in our heads as work, but it is. The sooner we start believing it, and taking our work seriously, the sooner we can start helping those around us take it seriously, too.
2. Set Work Hours or Set Aside Work Time
I know you've probably heard this tip many times before. The reason you keep seeing it is because it is so important to set aside time that is just for your work. When we work from home, we don't get that same separation of work life and personal life that one gets when they work outside the home. It's so easy to deal with house or family stuff when we should be working, and work stuff when we should be cooking dinner.
Creating time that is just for work allows you to be targeted and intentional about how you are using your time. It allows us to create that separation we so badly need. How you create this time is totally up to you.
Maybe your work time is every time the baby naps, plus an hour in the evening after the kids are in bed.
Maybe your work time is three days a week for 5 hours
Maybe your work time is the early morning hours before you family is up. Or the late night hours after they all go to bed.
Whatever works best for you, find it and set that time aside. Make sure you let your family know you are working. Turn your phone on to Do Not Disturb mode if you know your friends tend to call when you work. Guard your working time so you can focus on getting the work done.
3. Prioritize Your Work Tasks
Make a list of all your work related tasks and prioritize them based on what is most important for your business. The top priority items are the items you tackle first when your work time starts. This way, the important things are always getting done and if you have some extra time you can tackle the not so important things.
4. Get Some Help
If you have too many tasks to do for work, and not enough time to do them, consider hiring those jobs out to a VA, or ask a friend or family member to pitch in. Maybe you need an extra hour each week to get everything done – can you ask a friend to watch your kids? Maybe your husband can take over dinner and bath time duties one night a week?
It's more than ok to ask for help; it's necessary.
5. Education Can Happen Outside of Work Time
As bloggers, we are in an industry that is ever-changing and always evolving. It can feel as though something new is being added or something is being changed every day. Continuing education is important so we don't fall too far behind, but if we're not careful we can easily use all of the work time on education instead of work. Instead, we need can get creative with our learning.
Download podcasts or audiobooks to listen to while driving the kids around or while doing housework
Watch/listen to videos while cooking or folding the laundry
Create a family reading time for catching up on those blog posts, books, and articles you've been meaning to read. Encourage your kids to read their own books while you're reading your stuff.
Set aside time each week that is just for educational stuff for you.
6. Set Time for Household Tasks
Just like setting aside time for work can be great for allowing you to focus on work stuff, setting aside time to focus on household tasks is important. It can help keep the boundaries between work and home clear. It can also be a great way to make sure you don't get distracted by non-work stuff during work time because you know you have time set aside to deal with it later.
7. Connect With Others Who Work From Home
I love my work-outside-the-home and stay-at-home friends dearly, but they just don't understand the struggles I face. Not in the same way my work-at-home friends do. It's ok for our friends and family to not really understand where we're coming from. Unless they walk this path, too, it can be hard for them to relate. That's why it is so important to have a couple friends you can talk to who really can understand. To whom you don't need to explain the guilt you feel for not getting everything done. Who will understand why one week you feel like you're failing as a wife and mom because you had to put in more hours for that product launch than you thought you would, and the next you feel like you're failing as a blogger/business person because you took time off for that field-trip or you opted to spend time with a dear friend who really needed you.
Having a safe place to talk these things through can really help put things in perspective, and allow you to get those negative thoughts out of your head so you can focus on what you need to focus on. It's also a great way to find solutions to your problems from people who really understand where you're coming from.
Tip: To connect with other bloggers who are working from home, join The SITS Girls Facebook Group!
8. Take Time to Take Care of You
This is so important and it is often the most overlooked tip! Make taking care of yourself a priority.
Make sure you're taking time to:
Eat well-balanced meals and snacks
Stay hydrated
Exercise
Nurture your soul
Get some fresh air every day
Be creative without purpose
Pursue a hobby
Relax and unwind
If you're not taking proper care of yourself it can be easy for other areas of your life to start slipping.
Working from home can be really tough, especially when trying to strike that balance between work and home life. Being productive during our work time is crucial to being able to sustain the work from home life, and while it certain can be a challenge, with a little trial and error to find what works, and a little hard work, we can keep things balanced and moving forward.
I've shared my tips now it's your turn!
What are your tricks and tips for boosting your productivity while working form home? Share them in the comments.
Keep Reading