This post may contain affiliate links which may give us a commission at no additional cost to you. As an Amazon Associate we earn from qualifying purchases.
Writing blog posts is a time-consuming activity, and writing several blog posts a week can easily eat up several hours which could be spent focusing on other aspects of your business. But never fear, here's everything you need to know about making it easier to write more blog posts, quickly, while still maintaining a high level of quality.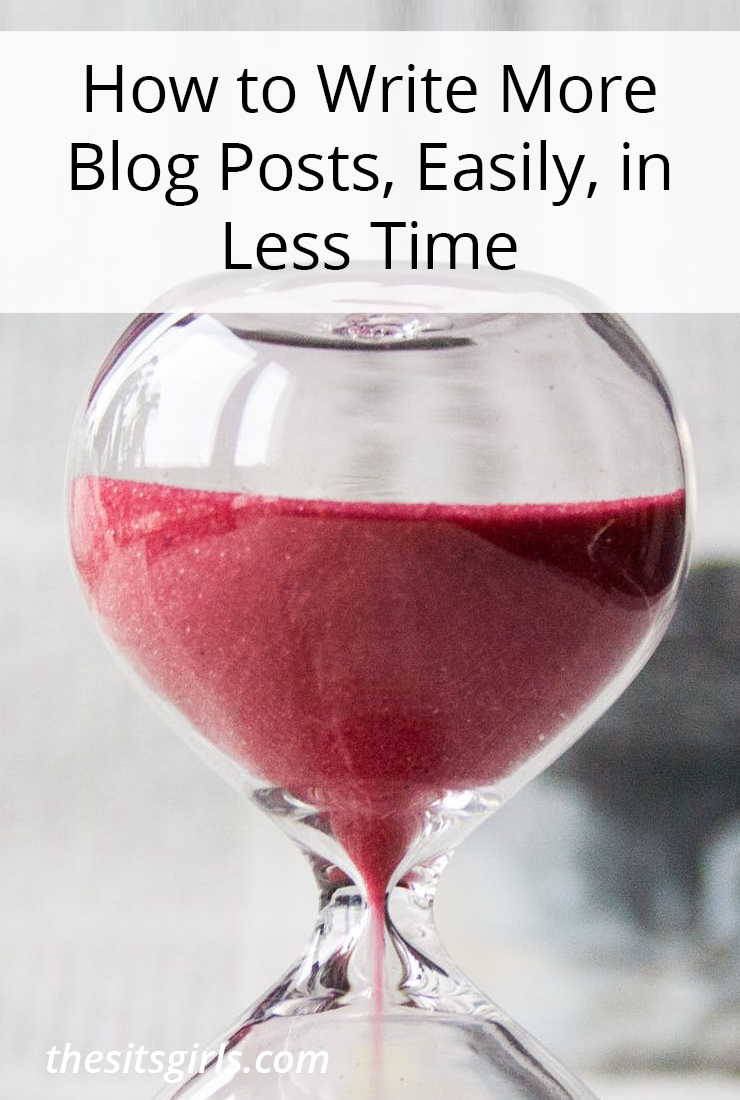 How to Write More Blog Posts, Easily, in Less Time
As you write more blog posts, you will be able to attract leads and customers, educate your costumers, expand your online presence, and maybe even go viral. Who wouldn't want to be able to write more blog posts quickly?
Brainstorm Ideas
Before you start doing anything writing related, it's important that you brainstorm all the ideas you want for your blog posts. This could be for the next week, the next month, or even just a list of blog post ideas that you want to use at some point in the year.
This means, when it comes to the time to start writing your blog posts, you can simply refer to the list for instant ideas, and you'll know what to start writing straight away.
Blogging Tip: If you need help, you can use this technique to brainstorm blog content.
Research is Key
Not many writers research and write at the same time. In fact, it's highly recommended that you do the research for your blog posts first, collecting all the data that you're going to need into one place, so when you do sit down to write, you can easily refer to it at any time.
Write, Break, Edit
If you spend too long on a piece of content, you can end up getting caught up in it. This will waste far more time than you have to waste. Instead, write the first draft of your blog post and then return to it at a later date to edit it with fresh eyes. This can help you bring a new perspective to your blog post.
Use Structure
Instead of just sitting down and trying to write your article without a plan, set out a structure, including your headline, your introduction, your subheadings, and finally your conclusion. Follow this outline, rather than trying to think of what comes next while you are writing.
Use Online Tools
There are many tools out there that can help you with your blog post writing process and make it so much easier to carry out certain tasks. Here are some of the best to get you started;
Forget Perfection until the End
The most important thing to remember is that you'll be going over your blog posts before you upload them several times which means you don't have to worry about perfection for the first few drafts.
Don't worry about correcting any errors and re-reading your content until you reach the stage where you're actively perfecting it; save time by not going over the same bit over and over again.
Don't Write If You Can't
There are going to be days where you simply won't have anything that comes to mind that you want to write about. This is known as writer's block, and it's a very common problem to run into. Instead of continuing to sit and try to write these pieces, simply focus your attention on something else until the writer's block has passed.
Stay Organized
This is one of the most important points that you're going to want to remember. The more organized you can be in your blog writing process, the more effective you'll be, the easier it will be to write more blog posts. This means getting all of your notes and resources together before you start writing, so everything is all in one place.
Author Bio: Brenda Berg
Brenda Berg is a professional with over 15 years of experience in business management, marketing, and entrepreneurship and a consultant and tutor for college students and entrepreneurs. She believes that constant learning is the only way to success. You can visit her personal blog at Letsgoandlearn.com.