This post may contain affiliate links which may give us a commission at no additional cost to you. As an Amazon Associate we earn from qualifying purchases.
Regardless of whether you are a blogger or a writer, navigating your writing path and understanding how to find your writing voice is incredibly important. In fact, spend five minutes in any writing workshop and you will hear the word, voice, at least a half-dozen times.
Your voice as a writer is not all too dissimilar from your voice as a person. It is what makes you you. It distinguishes your writing from the writing of the blogger next to you. The words you choose, the cadence of those words, the tone of your writing… all of these things make up your voice. They make your writing yours and only yours.
Something so quintessentially you should be easy to find, right? Well… not always. But here are a few steps to get you on your way.
How to Find Your Voice in Writing
Read, read, read
When I first started blogging, I read every blog I could find. The two that demanded I click every time they showed up in my reader? Enjoying the Small things by Kelle Hampton and MODG by Amanda. If you read these blogs then you know that these two ladies are amazing writers, each in their own way. And they each have a very distinctive, impossible to ignore, voice. I guarantee that if you read a piece by either of them somewhere other than on their blog, you'd know immediately that it was them. That's voice. Being able to detect someone else's voice is the first step to finding your own.
Experiment, experiment, experiment
Now that you have seen some voice in action, try some different styles on for size. When I first started blogging, I tried writing in the funny, sarcastic tone I found on MODG. Turns out, it wasn't me. So I kept experimenting with different styles and voices I had noticed in my reading to see what felt most natural to me.
Write, write, write
What did your experimenting teach you? Do you want to write sarcastically? Do you want to be humorous? Serious? Reflective? Introspective? Which of these come naturally to you? Write, write, write and see what comes out when you let your fingers do the thinking. The words that come out when you are typing from your heart will lead you to your voice.
Tune, tune, tune
Once you've found your voice, tune it. Maintain it. Keep watch over it. As you write, note the way the words land on the page and the rhythm they adopt. Notice your favorite pieces and what distinguishes them from your less favorite pieces. Your favorite ones are the ones in which your voice shines through the most.
When in doubt, repeat!
Feel like you had your voice but, somewhere along the way, you lost it? It happens. So start again! Read, experiment, write, and tune. Sometimes I do all three of these as I write a single post, just to make sure I'm writing true to myself and my voice. In the end, your voice is a part of you. It will never be too far out of reach.
Author Bio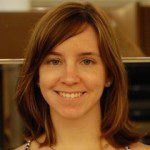 Tricia is an account director by day, writer by night, and mom all the time. She lives in Arlington, VA with her husband and bubbly, two-year-old daughter. Read about her quest for balance and life with her family on her blog Raising Humans.
More on Writing
Interested in more posts on writing? Then be sure you don't miss these:
*** FORUM ALERT ***
Keely from Lollygag Blog is talking all about blog strengths and weaknesses in the forum today. What do you do particularly well and where would you like to improve?
Join us and discuss how to blog better!