This post may contain affiliate links which may give us a commission at no additional cost to you. As an Amazon Associate we earn from qualifying purchases.
Blogging can be like riding a roller coaster sometimes. I'm a fan of this quote from The Simpsons: "I want it all: the terrifying lows, the dizzying highs, the creamy middles." The highs and lows of blogging can be external – based on the busyness of life, work, parenting, plus seasonal fast and slow times. You do hit the occasional blogging slump. The highs and lows of blogging can also be internal – about comparison and jealousy and frustration. It can be be a simple case of writer's block, or if you are not a writer, creator's block.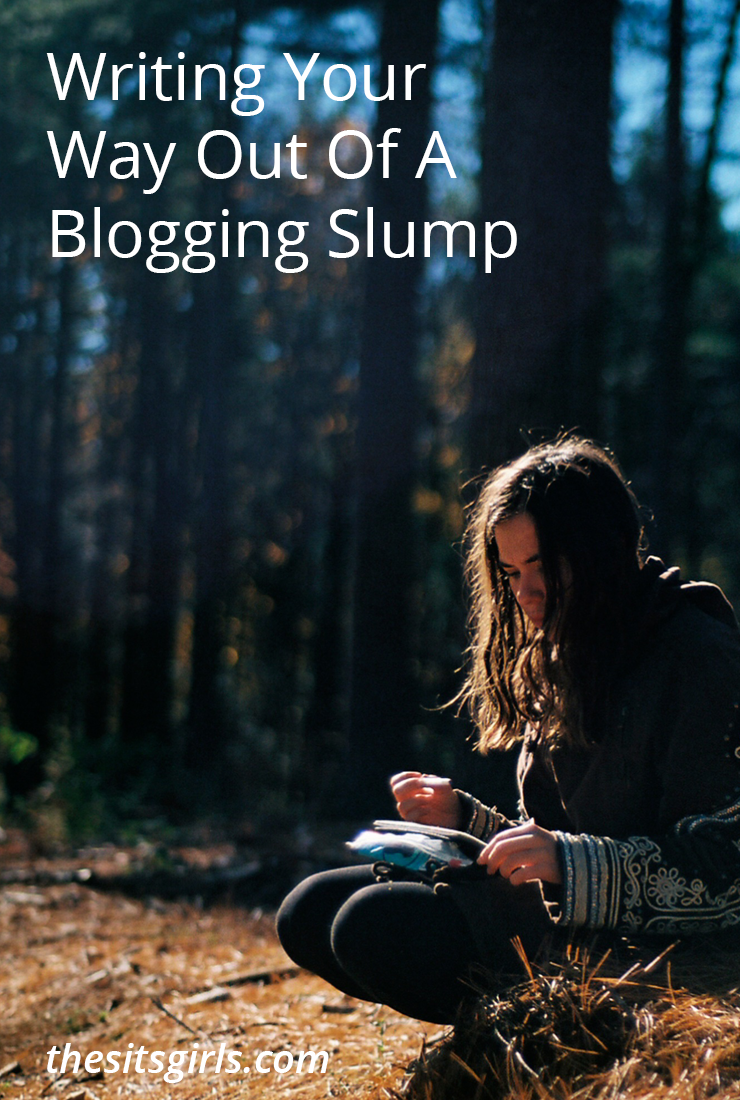 Writing Your Way Out Of A Blogging Slump
My blog is largely writing based, and was actually started as a vehicle for my writing after a particularly long dry spell – a writing slump, if you will. Then my blog took on its own theme and became more photography based – this was a great sharing vehicle to promote and further my career. I also focus a lot on parenting and anxiety because I'm following along with the natural courses and rhythms of my personal life. I love to talk about products and services as well. No matter the subject I write about, even if I have lists and plenty of topics to choose from – I get blogging slumps.
When I declared my major in college – Journalism – I was already a senior with intentions to graduate within four years. I had to take six writing classes at once, which meant six articles a week. There was no room for slumps then, and even if I did have them, which happens with the natural tides of writing and creating, I had to find a way out of these slumps.
I still use many of those tools today, and I have found new ones along the way. The first question I always ask myself is why.
Why You Might Be In A Blogging Slump
There are a number of reasons you might be in a blogging slump:
You've tried to monetize your blog and it's not going anywhere, or it's not growing as fast as you had hoped.
You don't have time – other obligations come first.
You're not confident in your writing ability, or in your photographs.
You don't feel noticed as a blogger.
You've run through your list of things to write about.
You spend a lot of time connecting, and not getting as much back in return.
You see other people succeeding, and you're waiting for your turn.
You think you have nothing new to say that hasn't already been said better than you think you can say it.
Your blog traffic is low.
Blogging is more work than you thought, and not as much fun as expected.
What can I do to get out of a blogging slump?
1. Who, What, Where, When, Why?
After you have figured out the cause of your blogging slump – the who, what, where, when, and why it all changed, then it's time to take action. I remember hitting a slump when I was sick of my design and my URL. I worked with a designer to transfer to self-hosted WordPress with a cleaner design, and I was so happy with the excitement and momentum a full blog makeover gave me.
2. Talk it out!
Another great way to get out of a blogging slump is to connect, talk it out, and ask for support. You can do this in person, on the phone, by email, or in blogging groups on Facebook that support and encourage other bloggers. Bloggers know how you feel. You'll be surprised at how many of them – even the ones you view as more successful as you – also have their struggles and insecurities along the way.
3. Plan your time.
If you schedule your blogging in advance with plenty of time to rest and recharge in between, it may feel fresh again.
4. Revisit the past.
Find posts in your archives that your current audience may not have seen. Perhaps seeing old posts will ignite new ideas about the same topic. Write from a new point of view if so, or reuse your old material and discuss it with current readers.
5. Long-term goals.
It may be time to focus on longer-term goals, and to remind yourself why you started blogging in the first place. If you focus on the positive sides of blogging, and there are plenty, it may bring back your original motivation.
6. Don't force it.
Take a break and fill your time with other things. Any other thing! It may come back to you.
7. Reach out to your readers.
Ask your readers for feedback and find out what they want to see more or less of in your posts. A huge chunk of the joys of blogging is your readers, so they may be very beneficial!
8. Get away!
Walk away. Listen to music and maybe go for a walk in nature. Do you what you love and maybe you can write about it later. Clearing your head can be a very beautiful thing.
9. Link up!
Lately when I'm in a blogging slump, I look to SITS Girls for writing prompts or linkups. This link has some great ideas.
10. Book a conference.
I went to my first blogging conference last summer, and I can't believe the amount of ideas and inspiration the two days there gave me. It can be expensive, but sometimes getting away and learning new things is the best way to get your mojo back.
11. Work on other things.
Have other projects to work on. I tend to have multiple work projects at once, so I give myself a certain amount of time for each one, and then I move onto something else for awhile. It makes blogging very fresh when I get back to it.
12. Go with the flow.
Roll with your slump. Forget about competition. Forget about blogging stress. Know it will all come back in tides – high tides! Read other blogs and remember blog reading for the love of it as a reader, and not as a blogger.
Now that you are ready to leave that blogging slump behind, learn how to brainstorm your way to brilliant blog posts!