This post may contain affiliate links which may give us a commission at no additional cost to you. As an Amazon Associate we earn from qualifying purchases.
Let's talk about blog conferences. If you've been in the blogging space for even a short period of time, you have probably seen your fellow bloggers talking about their conference plans. Does it all sound a little overwhelming? Don't worry! We all felt a little overwhelmed and scared when we bought tickets to our first blog conference. But once we showed up, started meeting the other bloggers, and saw how much incredible information there is to be learned at a blog conference, we were hooked!
Our next Bloggy Boot Camp will be May 30th in Temecula (Southern California). If you haven't gotten your ticket yet, you still have time to take advantage of the early price until March 15th! As we finish all the behind the scenes preparations, we wanted to give you six of our best blog conference tips to help you have the best experience possible.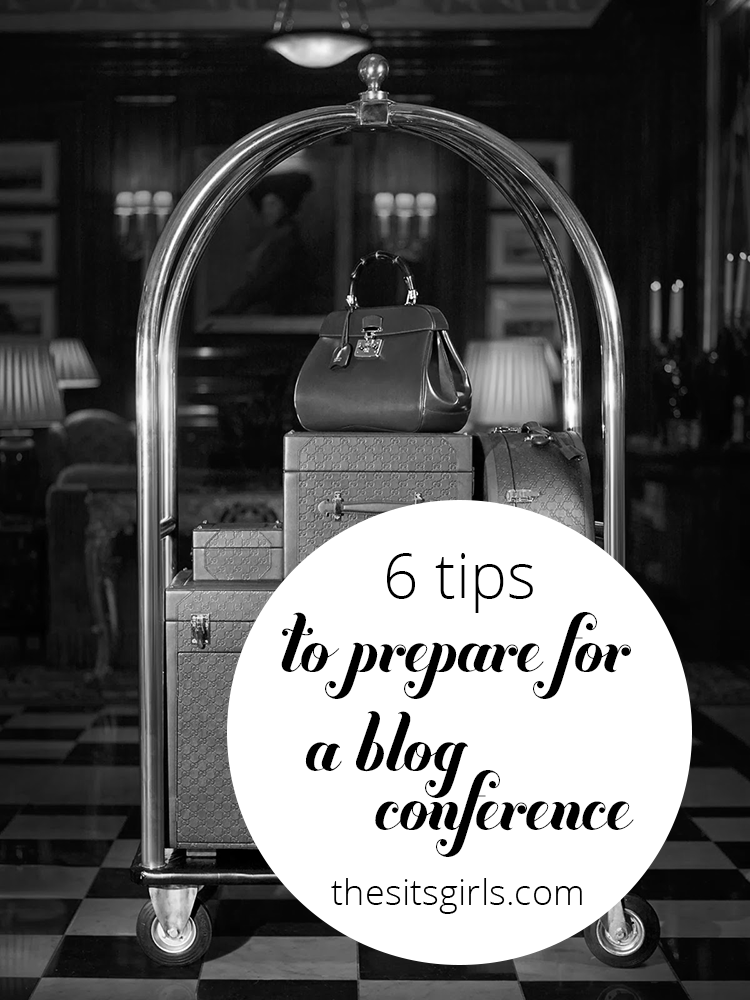 Our Six Best Blog Conference Tips
1. Set Goals
Why are you going to the conference? Do you want to connect with other bloggers? Learn about monetization? Get inspired agin? Learn how to up your social media game? Or maybe you are hoping to figure out what your next blogging step will be? Everyone is going to have different goals at a blog conference. Just make sure you know what your goals are before you get there, so you can have a plan in place to reach them.
2. Give Yourself Extra Time
When you are planning your travel arrangements, it never hurts to arrive early and leave a little late. This might mean staying an extra night. Spend some time on the conference hashtag, or in the facebook group that most conferences open in the months leading up to the event, and get a feel for how long most people will be staying. Use that extra time to connect with your fellow bloggers. It is nice to be able say yes to dinner or breakfast without having to worry about being late to catch your plane.
3. Bring More Business Cards Than You Think You Will Need
Everyone is going to ask you for a business card. You don't want to be the one blogger at the conference without one. True story: I forgot my business cards when I went to my first blogging conference, and I felt silly every time I had to admit it. Don't worry about ordering too many. If you don't give them all away at the conference, you will use the rest of them when you get home. Business cards are always a good investment.
Since we are talking about business cards – make sure to write a little note on each one you collect, because you will NOT remember everyone you met by the end of the conference. If you want to remember to email Susie about her upcoming book, write that on the back of her card. If you want to meet Jane for coffee because she lives near you, write that on her card. If you want to approach Joy about writing a guest post, write your thoughts on the back of her card. If you want to check out one of Amy's specific social media profiles, you guessed it, write that on her card. And then follow up with all of those notes within two weeks after the conference.
4. Take Notes And Then Use Them
Take notes during each session you attend. The act of taking notes will help you to stay more engaged with the material the speaker is offering. This is very important by the time you reach the last session of the day and you have already learned so many things you are a little worried your brain might explode.
When you get home, don't just throw the notebook with all your notes in a drawer. Pull it out, open up a blank document on your computer, and start organizing your notes into categories. This will help you decide what things you are going to do right away, and what ideas will take a little more planning or preparation.
5. Have An Elevator Pitch
The first question everyone is going to ask you is, "What is your blog about?" Can you answer that question in one to two sentences? I'm not trying to put you in a box here. We all have things that make our blogs unique, and sometimes those things come with really special, detailed explanations, but you will not always have time to give those explanations. This is when an elevator pitch comes into play.
An elevator pitch is basically how you would introduce yourself and sum up your work in the time it takes to complete a ride in an elevator. In this time you should be able to inform someone of three things:
Who you are.
Who your readers are.
A problem you're trying to solve or a passion you are sharing.
Example: I help other moms of tweens know they are not alone by sharing stories from my life and parenting tips for managing these challenging years.
It is a good idea to have a few forms of this answer prepared: super short, short, and a little bit more detailed. Notice that none of these forms involve holding someone hostage as you give them a 20 minute explanation of how you "blog about a little bit of everything." Blogging about a little bit of everything is great (I do it!), but focus on the main passions represented in your blog when you tell someone about it for the first time.
6. Be Awesome By Being Yourself
A blog conference can feel very overwhelming. Remember that you are not alone in those feelings. Many of your fellow conference attendees are doing this for the first time.
Do your best to relax and just be yourself. If you feel more comfortable one on one, then start by introducing yourself to another woman who isn't surrounded by a big group. Just remember that, unlike the awful party you attended where you didn't know anyone, EVERYONE at the blog conference has something in common, and you are all trying to make friends and connections in a place that is new and different from your daily routine. Find that balance between pushing yourself out of your comfort zone in a positive way and being sensitive to what you need in the moment. It is okay to excuse yourself to go outside to breathe some fresh air or make a quick phone call to someone you love.
Most of all, give yourself space to have some fun as you learn. Blog conferences have so much to offer. You are going to have a great time!
Looking for more blog conference advice?
Check out these great blog conference packing tips!