This post may contain affiliate links which may give us a commission at no additional cost to you. As an Amazon Associate we earn from qualifying purchases.
Bloggy Boot Camp came to a close in Philadelphia yesterday and, by all accounts, it was another raging success.  The event brought together approximately 125 women interested in learning from one another and meeting their on-line friends in person.
Even Twitter was overflowing with love…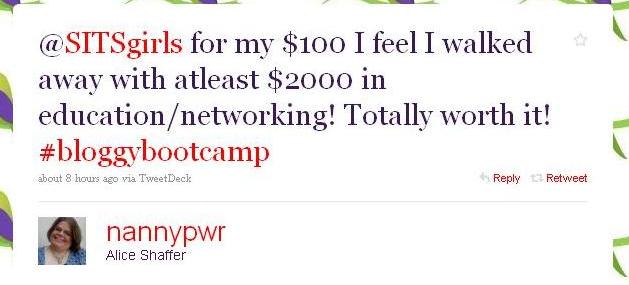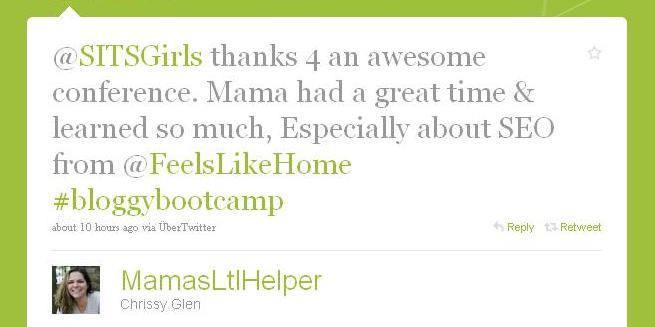 Have you joined us at Bloggy Boot Camp yet? If not, what's stopping you? The SITS Girls' conference series is a great way to take your first steps towards getting out from behind the computer and networking in real life.
We'll readily admit that attending a conference can be nerve-wracking, but fear not!  We've put together a list of tips to ensure that you get the most of out of the day and absolutely shine at any conference you attend….
Fake It Till You Make It
Walking into a crowded room filled with faces you do not know is enough to send anyone into a cold sweat.  However, at Bloggy Boot Camp, you do not need to worry about where you will be sitting or how to start up a conversation.  Seating is assigned during most of the day.   In fact, with our help, you are sure to meet everyone in the room before the event ends!
Look Fabulous
Nothing makes you feel more confident than knowing that you look good. Take advantage of attending a conference and go shopping, get a pedicure, get your hair done.  (Maybe do all three!) Do whatever makes you feel good about yourself and you'll start the day off making the best impression possible.
Be Curious
Have you been wondering how to start working with brands, but are not sure where to start?  Take advantage of your time at Bloggy Boot Camp to interact with brand representatives directly and get your questions answered.  Take Philadelphia, for example, which was sponsored by Virtua Woman, Open Sky, Collective Bias, DiaperBuds, and MASTERMINDgame.  Interacting with representatives from these companies either on-line or in person is a great way to learn, grow your blog, and support businesses who understand the importance of supporting women.
Listen
It sounds so simple, doesn't it?  However, here in the land of perpetual conversation, we sometimes forget how important listening can be.  The speakers at Bloggy Boot Camp, like Jill from Scary Mommy and Cecily from Uppercase Woman, know their stuff.  Listen to what they have to say because the tips and insights they can pass along to you in an hour may save you months of learning by trial and error.
Strike a Pose
It's your big day.  Enjoy it.  Get your picture taken.  Let your inner cat walk diva shine.
Now, are you feeling ready to take the leap and buy a ticket?  You won't regret it!
* * * * * * * * * * * * * * * * * * * * *
If you are looking for our weekly giveaway link-up, click here!  We published two posts today because we are overachievers that way.
* * * * * * * * * * * * * * * * * * * * *
Interested in becoming an official SITS Girl and being featured on our website? We'd love to showcase your blog! Read how to get involved here.
And, as always, when you see this button:
Be sure to support your fellow SITStah & leave a comment!