This post may contain affiliate links which may give us a commission at no additional cost to you. As an Amazon Associate we earn from qualifying purchases.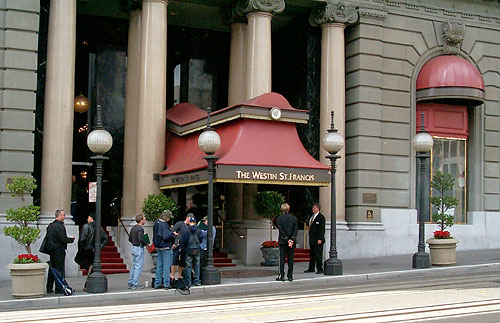 Are you headed to San Francisco today to attend Bloggy Boot Camp?  Or maybe just want to connect with those who are? Then check out the TweepML list we created.  It includes all attendees speakers, and organizers with Twitter accounts.
You can also follow along with what's happening at today's conference by using the #BloggyBootCamp hashtag.
Looking forward to a fantastic day of networking and learning in the City by the Bay!
The fine print:
The TweepML list has been created to make it easier for attendees to connect with one another.  No one should feel obligated to follow the list.
If you find that your name is missing, please send an e-mail to ma[email protected]. I'll make sure to get the list updated asap.
Here are those you'll find on the TweepML page:

Conferences for women in social media. Tweets brought to you by @mamakatslosinit, @SITSGirls & @SITSGirlF. Connect with us using #BloggyBootCamp.

Mom. Wife. Blogger. USC Trojan. Bloggy Boot Camp Chick. SITS Co-founder. The Secret to Success is Support-over 6,500 women bloggers spreading the comment love!

The Secret to Success is Support. That about sums it up.

I'm a sarcastic mother of three with a busy home daycare that clashes with my desire to do nothing all day.

Writer, bootyshort designer, event planner, kid wrangler, product expert & GM of Casa De Chaos. Personal bio at http://bit.ly/5SLjLc

Site Creator since '03, Blogger since '04; Founder, Mom Bloggers Club (mombloggersclub.com), Brand-Mom Connector Email me:

[email protected]

creater of web series www.bernthis.com

Mommy to twins plus one more. Founder of @FromLeft2Write book club. Blogger at MeTooYouBlog.com on parenting, running, yoga, life. Tech/internet/media lawyer.

Writer. Actress. Mom of 5. Women's Conference contributor. Mommytracked columnist. Intelligence Group's Think Tank. Actionist™ member. CU Boulder Parent Board.

Life is not about waiting for the storm to pass… it's about learning to dance in the rain. 🙂

Working mom, blogger, headband wearing, photographing genius. Oh, and I'm destined to be big in Utah!

Mom, Designer, Writer…

Life is short… live it!! (I only work w/ companies I love. That's why I tweet #OldNavy and #SFSmarties)

tjstaab – tjstaab

Crafter, photographer, party planner, cake decorator and explorer. Military wife. Mum to twin toddlers and a teen. Aussie living in California.

wifeto1 mom to 5, blogger, reading books

Dolby social marketer by day, blogger by night. Love to connect with fun people. Love all things French, traveling and food.

momlissa – momlissa

Bay Area working mom to irish triplets (twin boys + girl)…chaos is my middle name!

Too bad all this juggling isn't toning our arms. Just doing our best to manage the chaos of modern motherhood.

Tackling domestic life…one day at a time!

Single 30-something Christian Woman. Daughter. Sister. Auntie. Friend. Weight Loser/Maintainer. Blogger. Music Lover. Reader. Oh yeah, and loves to sleep. 🙂

I'm on a mission to let EVERY women know she is powerful and capable of accomplishing her goals and creating a life of meaning and purpose.

Finding the deals you've been looking for.

For the love of literature for little ones

nafiseh1 – nafiseh lindberg

Hi! I write about food, travel, home and garden and I try (really try!) to take pretty pictures. Come say hello!

Author of The Passionate Olive. An olive oil expert with a passion to educate others on the breadth and depth of the uses of olive oil.

Founder/director of the GaGa Sisterhood, a social network for enthusiastic grandmas. We're all gaga over our grandchildren. Please join us.

I am a night owl and a blogger and a shopoholic, I wear glasses and take pretty pictures I cook but rarely clean up after myself and I love PRINCE.

Loyal Friend, Laughing as much as I can, Beagle Lover. Blogger of Beagles and Delightful Finds.

iMomReport…a mommy blog that doesn't talk back. Stay at home mom, household engineer, listener and now blogger

I'm sorry. What were we talking about again?

Entrepreneur, Domestic Goddess In Training, trying to keep my home and my kids cat-hair free!

The Positive Discipline Mommy dedicated to sharing positive parenting tools that help develop capable, happy, secure children.

Lifestyle Blogger for the Artsy Chic: Celebrate Your LifEvents – Weddings, Nesting, Coupling & Kids

Living a normal life, I think…

Mommy Needs a Vacation!! But until then I am just taking it ONE. DAY. AT. A. TIME

A PICU RN who works nights, has 3 boys and is an excellent multi tasker. Loves to talk about RECOGNITION4RNS

First time Mommy to Bronwyn, wife to Steven. Lover of ! and … (read: uses them excessively)

I drink too much and talk too loudly. If you don't have something nice to say, come sit next to me.

Wife, mommy to 3, diet coke addict, busy trying to sew, fold the laundry, and keep it all fun.

I'm a mommy blogger & a midwife. Married to Mark, mom of 3. I've been part of the childbirth scene for almost 20 years.You can ask me ANYTHING!!

Cheese Skin. Cilantro heart.

I strive to appreciate the wonder, beauty, and whimsy in the small moments, the moments that, when strung together, form a childhood.

Mother to a daughter, PR Friendly, I have a Toddler! Also on the web at www.amanicmind.com

homeschooling 5 in So. Ca, clear skies, full heart.

I am a photographer and mixed media artist who loves art, photography, travel, dancing, chocolate, journaling, flea markets, my iPhone and moleskine journals.

Hippy, athletic, home improvement junky and happy mom

Sr Manager for Global eCommerce User Experience for Walmart – Mom & Lifestyle Blogger. Feeling good, having fun and being fabulous. @ me and I will follow you.

Mom of two girls under two. Part-time worker, sometime writer, full-time responder to screaming children. Oh yeah, and I'm married.

Wife, Mama, Jewelry Designer, Serious Lover of Chocolate.

Wife, mom, and blog writer. I workout so I can eat, I have two businesses so I can shop, and I'm here to meet you.

mom, blogger, social media consultant, and actively pursuing a nap

Stay-at-home mom and blogger trying to get her groove back. I know there's a bongga mom in me somewhere.. I just have to find her.

Blogging about life, love and early intervention. Mom to two little ones, including a preschooler on the autism spectrum.

Worlds colliding here as I tweet about PR (tech startups, social gaming and VCs), blogging (ReadOutLoud.wordpress.com),& motherhood (SV Moms Blog).

mommy, student…raising my children and finishing my degree

Founded 1971. Playgroups & support for parents of multiples (twins+). Advertising opportunities available. Photos: http://www.twitpic.com/photos/geminicrickets

I'm just here for the free food. Author of Nanny Goats in Panties. Also? Essayist, humorist, fictionist, and knife-wielding squirrel tamer. ist.

Makeup, Mochas, and I love you Mama get me through the day!

Full time Mommy and Bliss Blogger. Stop on by Everyday Bliss http://blisspot.blogspot. and Everyday Mommy http://bit.ly/cM1PrC

I have a baby. I tweet about poop. A lot.

I am a mom of 2 beautiful Italian children

Because I know what's good for you!

Christ Follower. Wife. Mom. Frugal Blogger. In that order…

Peace, Love, and Understanding…Oh, if only!

I'm a Graphic Designer working in the Silicon Valley blogging and twittering to share my journey through life, art and everything in-between.

I specialize in Frugal Family Living and living debt free. I teach couponing and cutting everyday costs. Join me on my journey and shares yours!

I'm Ali, Mommy to my Pickle and Sugar Plum! I love anything to do with kids, blogging, sewing, design…I have a variety of interests and love to learn!

I am a 30 something stay at home mom with 2 male children, one male husband and barely an ounce of sense left in my head.