This post may contain affiliate links which may give us a commission at no additional cost to you. As an Amazon Associate we earn from qualifying purchases.
Congratulations on buying a ticket to your next – or first – blogging conference. This is the next step in your blogging career and if the excitement hasn't set in yet, just give it a minute; by the time you finish reading this you will be psyched about buying your blogging conference ticket and you will be anxiously waiting for the date to come.
And why shouldn't you be excited? I know it sounds cliché but this is the first day of the rest of your blogging life – so take a breath and enjoy it.
Let's be totally honest – if this is your first blogging conference, you probably don't know what to expect, but what we can do is help you get the most out of your next conference. So grab your business cards, put on a smile, and get ready to get blogging.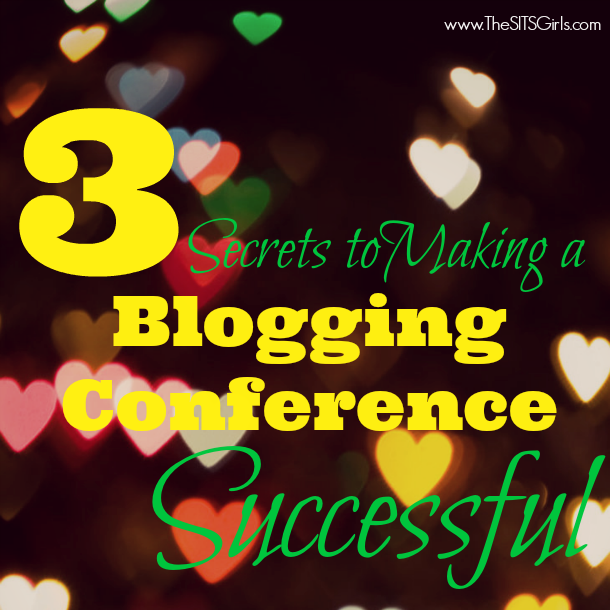 3 Secrets to Success at a Blogging Conference
Use these 3 tips to get the most out of your next blogging conference:
1) Set a Goal for Yourself
Whether it's your first conference or your fifth conference, don't go in without a goal. I went to my first blogging conference last year, and I have been to three more conferences since then. Blogging conferences are like chocolate chip cookies – you can't just go to one. Each time I go to a blogging conference I set a new goal for myself. Sometimes I want to make connections with brands, sometimes I want to connect in person with bloggers that I have met online, sometimes I go to learn about a new niche in blogging, and sometimes I go to connect with new clients. Think about what you want to get out of the conference before you go, and then keep that goal in mind while you are there.
2) Be Social, Don't Be Shy
Attending your first blogging conference can be a little bit overwhelming because it's a lot of people and a lot of great information in a short period of time. But the adrenaline rush is totally worth the fear, and after that first session trust me; the excitement will overcome the fear. You are at the conference to learn, so attend sessions, ask questions, talk to the person sitting next to you, sign up for social events, and smile at everyone you walk by. You will get out of the blogging conference what you put into it – so go and rock it out.
3) Build Relationships to Better Your Blog
There are several reasons why people attend blogging conferences and the social aspect of attending is a really major aspect. By meeting other bloggers and industry experts we can learn how to be a better blogger, we can also make valuable connections to help grow our blog as a business. Throughout the conference people will meet what feels like thousands of bloggers, and in order to succeed, we have to stand out – our personality is the way to do that. Be friendly and make connections with people – if they love you as a person, they will love your blog.
Keep Reading!
When it comes to blogging conferences, we've got the best resources around. Here are a few more posts for you to feast your eyes on: