This post may contain affiliate links which may give us a commission at no additional cost to you. As an Amazon Associate we earn from qualifying purchases.
It's an exciting time of year for blogging. We are headed into blog conference season! The SITS Girls are gearing up for our Bloggy Boot Camp blog conference with dates announced for Phoenix in April and Charlotte in May, with more to come!
Attending a blog conference can be fun and beneficial to you as a blogger, whether you are a new or seasoned blogger. But knowing there are costs and time away involved, you might be wondering exactly why you should attend.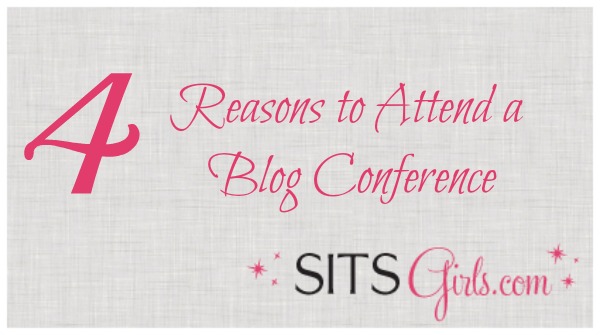 Why You Should Attend a Blog Conference
Blog Learnin'
Check out the list of speakers and topics for any blog conference and you'll see that there's so much to learn! Even if you see a topic that you already know a lot about, you will most likely hear bits of wisdom that can give you a new perspective. Never underestimate the wisdom of those seated near you in a session or at dinner- being around others who do what you do or who do what you want to be doing can provide you with new ideas to help your blog.
IRL Bloggy Friends
Blog friends are real, even if you only know each other through commenting on each others' blogs and tweeting one another.  But when you get to actually meet those same bloggers in real life, it's a whole different level of connecting. The best part is you already know so much about each other that it feels like seeing them again instead of for the first time.  In addition to the bloggers you already know from online, you'll meet bloggers totally new to you as well and expand your tribe. Plus, there is nothing quite like being in a roomful of people who get it when it comes to this blogging gig.
Connect with Brands
Make sure to meet with the sponsors of the blog conferences you attend.  Online relationships can go a long way, but there is just something about that face-to-face meeting that can really help build that connection. Getting your face in front of them and having brands get to know you personally instead of just online can increase the chance of them choosing to work with you in the future. When they want to work with bloggers, they'll think oh yeah, I remember meeting her! instead of simply going by a list of blogs they don't have any other connection with.
Fun Weekend Away
A blog conference gives you the chance to get away for a few days.  As much as I sometimes dream about running away for a spa weekend or something equally as decadent, I can never quite justify it. A blog conference, on the other hand, is a working weekend. But one that is tons of fun!
Have you attended any blog conferences? Will we see you at Bloggy Bootcamp this year?
Looking for more blog conference info? Then be sure to check out these posts: