This post may contain affiliate links which may give us a commission at no additional cost to you. As an Amazon Associate we earn from qualifying purchases.
There is something for everyone to enjoy in this great collection of 1st grade books for emergent readers. This complete list of classic books for your first grader includes tried and true favorites that contain beautiful life lessons.
Your child will probably be able to read many of these books on their own, but they might need a little help with some of them. As they are working through the 1st grade reading list, keep in mind the "five finger" test – have your child read a page aloud to you, if she misses more than five words on a page, the book may be too challenging. Don't let your child get frustrated with their summer reading goals. Switch back and forth between the more challenge books, which you can read aloud, and the easier books they can read independently.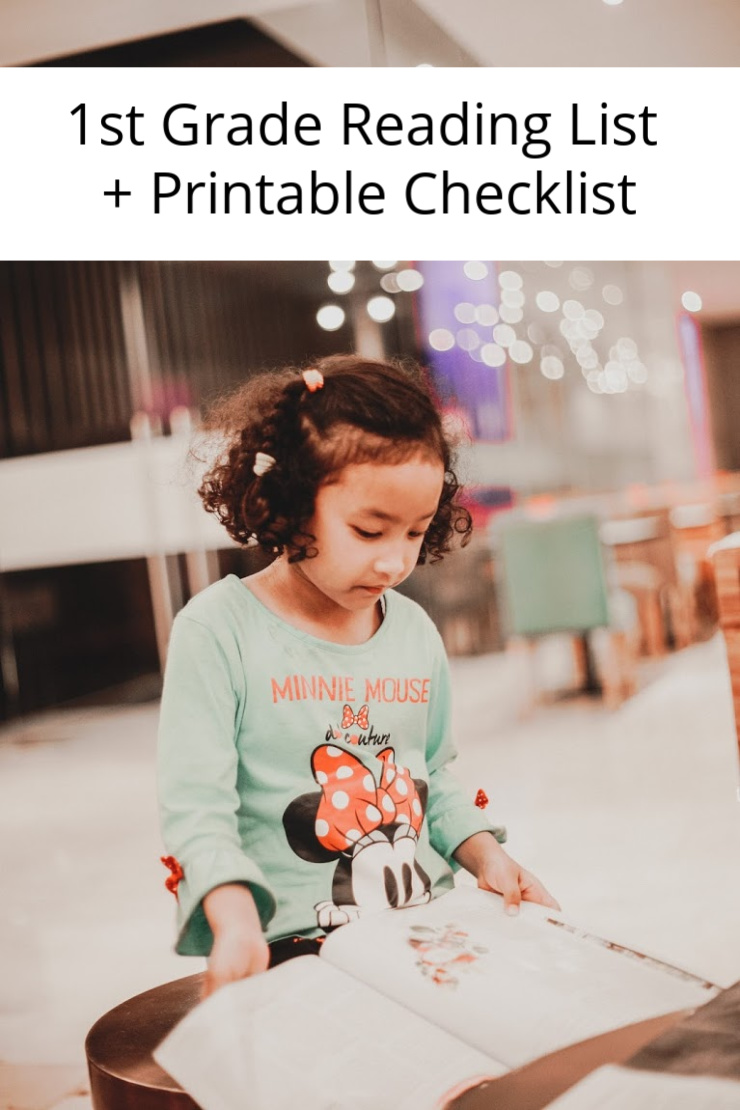 To keep track of your child's reading, download our printable 1st grade books checklist at the bottom of this post.

1st Grade Books
Miss Rumphius by Barbara Cooney
A timeless tale about a lady who travels the world in order to make it a more beautiful place. Truly a timeless tale.
The Giving Tree by Shel Silverstein
This is a 50 year old tale about the art of giving, and what it means to live for others. This one promises to touch the depths of your souls.
Flossie & the Fox by Patricia McKissack
A wily fox meets his match with witty Flossie. She is quick to outsmart him, and keep him from stealing her eggs!
Over and Over by Charlotte Zolotow
This is a sweet tale of how quickly the year passes in the eyes on a child. It is also a great resource that teaches the order of the months and year!
If you like this author try The Storm Book!
The Story of Ferdinand the Bull by Munro Leaf
A little bull who would rather sit with the flowers than fight the matadors teaches everyone a beautiful lesson. It is great for encouraging kids to just be themselves.
Love the book? Try the movie too!
Zin! Sin! Sin! A Violin by Lloyd Moss
Perfect for music lovers. It introduces instruments in an orchestra.
Thundercake by Patricia Polacco
A sweet story about the coming of a storm. It is perfect for kids who might be frightened by thunder. Bonus points that it includes a delicious cake recipe at the end. You can create a sweet tradition of baking a thunder cake every time there is a thunderstorm.
Sylvester and the Magic Pebble by William Steig
A little donkey finds a magic pebble and accidentally turns himself into a rock – one of our favorite 1st grade books. Don't worry there is a happy ending!
If you like this author check out Amos & Boris!
Tikki Tikki Tembo by Arlene Mosel
This book has had over 1 million copies sold! Kids love this classic Chinese tale about the boy with the long name that fell in the well. It is a great way to introduce stories from other cultures.
Jumanji by Chris Van Allsburg
Insane antics ensue after two kids find a forgotten board game. Filled with animals and lots of mystery, this is a delightful tale.
Lyle, Lyle Crocodile by Bernard Waber
There are many books about Lyle and all his adventures. He causes so many problems, but is so lovable.
Bedtime for Frances by Russel Hoban
Frances is hilarious and impossible at the same time. She is impossibly stubborn, and is perfect for any kid that refuses to eat or go to bed. Moms everywhere can totally relate.
A Chair for My Mother by Vera B. Williams
A sweet tale about how Rosa worked hard to save money for a chair after her house was consumed by a fire. A simple book that warms the heart.
Stellaluna by Janell Cannon
A bat is knocked from her mother and taken in by some unlikely occupants. Smile along as this baby fruit bat finds her way in the world.
The Gingerbread Baby by Jan Brett
Perfect for Christmas in July and all the baking that goes on. Matti's Gingerbread Baby runs away looking for a friend, and discovers something wonderful.
Love this author? Check out Fritz and the Beautiful Horses!
Alexander and the Terrible, Horrible, No Good, Very Bad Day by Judith Voirst
Alexander knew it was going to be a bad day when he woke up. It got worse and worse. This is a great book to giggle over with the kids.
1st Grade Book Series
Frog and Toad by Arnold Lobel
If you have an advanced reader, this is a great series for your First Grader. There are small chapters that they can tackle one by one. Who doesn't love a series about two best friends!
Amelia Bedelia by Peggy Parish
Don't count on literal minded Amelia to get anything right. Her hilarious hijinks always cause problems, but in the end she is ever so lovable! This series promises to give your new reader a good giggle.
Loved this book and series? Check out the prequel about Amelia as a child!
Bonjour Babar by Jean de Brunhoff
Babar and his royal family travel all around the world. Meet Celeste and Arthur, and take delight in Babar's magical world. If you enjoy this one, there is a whole series of Babar books and a super cute Babar television show.
To keep track of your reading this summer, download our printable 1st grade books checklist here.
More Reading Lists For Kids
Here are the Reading Lists by grade we've compiled to date:
For more book suggestions, check out all of our lists of the best books to read!