This post may contain affiliate links which may give us a commission at no additional cost to you. As an Amazon Associate we earn from qualifying purchases.
This is the perfect year to nurture your Second Grader's love of reading with books full of exciting adventures and important lessons. This list of 2nd grade books will fight off boredom and provide many hours of reading fun!
There are many different levels of readers, and this list of 2nd grade books reaches every single one. Some kids are advanced readers and might fly through a whole series of chapter books, while others might need books that are a little less challenging. Whatever your child's reading level, this collection provides a perfect balance of books they can read on their own and books you can read together.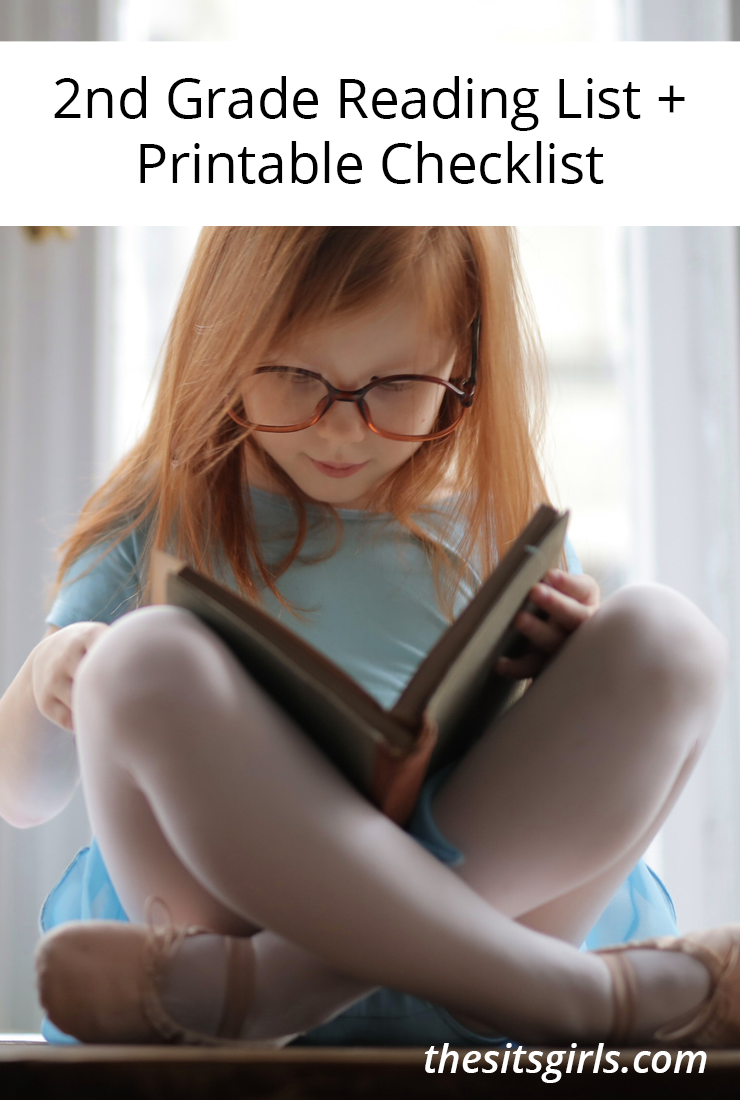 To keep track of your child's reading, download our printable 2nd grade books checklist at the bottom of this post.

2nd Grade Reading List
A Bad Case of the Stripes by David Shannon
Camilla Cream always worries about what other people think. In fact she is so worried that she can't just be herself. A great story about being different and owning who you are!
Dog Man by Dave Pilkey
A funny comic book style read about a Dog that becomes a police captain.
Loved the comic book style? Try the Captain Underpants Series!
A New Coat for Anna by Harriet Ziefert
A great introduction to post World War II for kids. It lightly tells about the hardships of getting basic items, and of a mother's love for her daughter. Not a chapter book, but still a great topic for a second grader.
Cloudy with a Chance of Meatballs by Judi Barrett
The pictures in this book are amazing. So much imagination, it is sure to inspire your child. Take a trip to the land of Chew and Swallow, and be thankful you don't have to worry about giant pancakes dropping on your head in the morning!
If you loved the book, you can check out the funny movie, too!
So You Want to be President? by Judith St. George
Perfect for your little one that has big dreams! It shows all the presidents and how they came to be! 2nd grade books that are entertaining and educational are always a win!
The Water Babies by Laura Melmed
Written in true folktale fashion this is a beautiful story about a childless couple who finds a dozen tiny babies in a meadow.
Indian in the Cupboard by Lynne Reid Banks
A magic cupboard transforms toys into mini real life people. A fun and fantastic magical adventure.
Loved this book so much? Read the sequel!
Chang's Paper Pony by Eleanor Coerr
In the time of the gold rush, Chang comes with his grandfather to work on the railroad expansion. Chang dreams of owning a horse of his own. With some luck, that just might happen.
Junior Genius Collection by Ken Jennings
Filled with pictures, charts, and lots of history these are great for introducing adult topics to kids. Explore Egypt, your body, and outerspace.
Peter Pan by J.M. Barrie
Adults and children love this classic tale. Sure the children have seen the movie, but have they read it for themselves? It is a great way to introduce classic stories to kids.
Loved the book? Watch the movie Hook!
2nd Grade Book Series
The Golly Sisters by Betsy Byars
Perfect for the newly independent reader, these mini chapter books are a great series to start with. The sister are lovable characters who face some of life's greatest hurdles.
The Magic Tree House series by Mary Pope Osborne
This series is a great way to introduce chapter books to kids who love to read. These series are filled with fun and adventure, and some spooky stories! Also, who doesn't want a magic treehouse?
The Boxcar Children by Gertrude Chandler Warner
The Boxcar Children is a beloved series of chapter books that has been a favorite for kinds since the first book was published in 1942.
Ramona Quimby, Beverly Clearly
Ramona is just your average 8 year old. She is totally relatable for kids, and so is her family. When your child is done with this series, they will feel like Ramona is their best friend.
Loved this series? Check out Henry and Ribsy by the same author!
To help your child keep track of their reading this summer, download our printable 2nd grade books checklist here.
More Reading Lists For Kids
Here are the Reading Lists by grade we've compiled to date:
For more book suggestions, check out all of our lists of the best books to read!