This post may contain affiliate links which may give us a commission at no additional cost to you. As an Amazon Associate we earn from qualifying purchases.
Third graders are ready to jump into the deep end and start reading awesome series and chapter books. This list of 3rd grade books is a great mix – with classic books that you probably grew up reading, and new series that you will want to read yourself!
At this age, kids really continue to develop their love for characters. Whether your kid wants to sit with you to read each one of these books together, or they are an independent reader devouring books by flashlight under their covers long after bedtime, there are themes in these 3rd grade books that will be great conversation starters for you.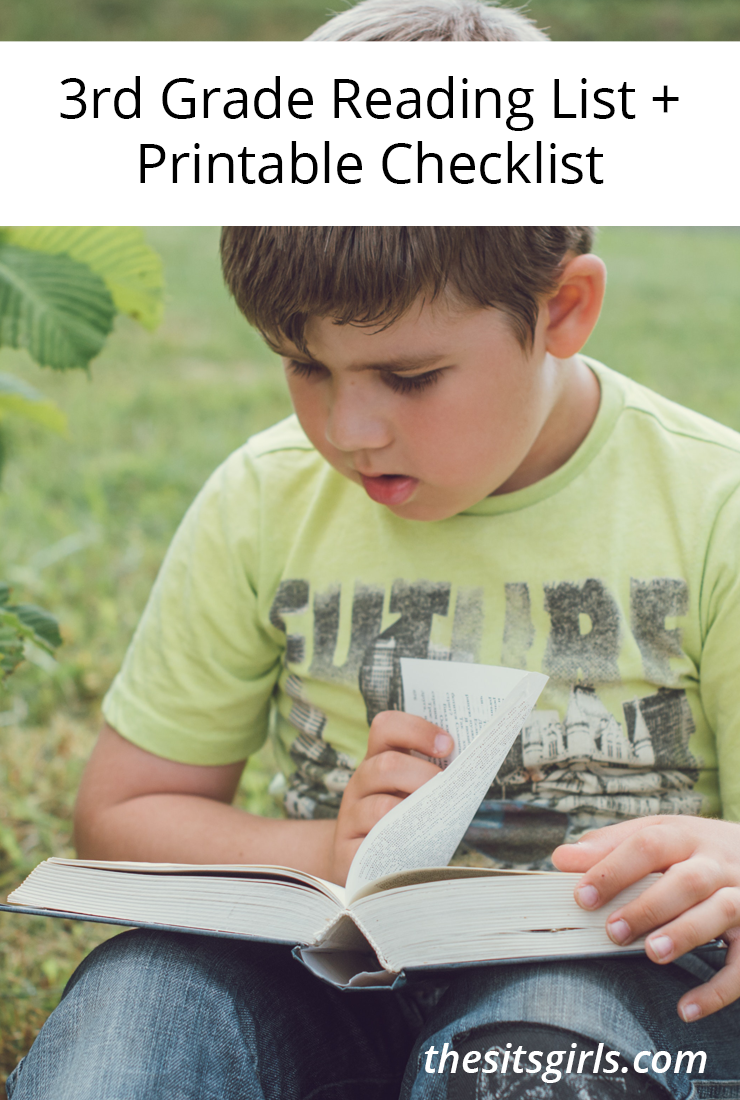 To help your child keep track of their reading, download our printable 3rd grade books checklist at the bottom of this post.

3rd Grade Reading List
From the Mixed-Up Files of Mrs. Basil E. Frankweiler by E.L. Konigsburg
Claudia decided to run away, but instead of running FROM somewhere, she decided to run TO somewhere. And so, after some careful planning, she and her younger brother, Jamie, escaped — right into a mystery that made headlines!
Pippi Longstocking by Asdrid Lindgren
Pippi is always up to something. Kids will fall in love with this endearing authentic character and her bright red braids.
One and Only Ivan by Katherine Applegate
Read this now before the movie comes out! This book is unique in that the story is told from the point of view of Ivan, a captive gorilla. A great story for an animal lover.
Phantom TollBooth by Norton Juster
Milo is bored with everything, and the moment a mysterious tollbooth shows up in his room he dives right through it. In this world life is far from dull.
Charlotte's Web by E. B White
Charlotte's Web is the story of a little girl named Fern who loved a little pig named Wilbur — and of Wilbur's dear friend Charlotte, a beautiful large grey spider who lived with Wilbur in the barn. Charlotte hatches a creative plan to save Wilbur's life. This is one of our favorite 3rd grade books because of the special lessons of love and friendship.
If you like this author, try Stuart Little.
The Courage of Sarah Noble by Alice Dalgiesh
The story takes place in 1707 when Sarah travels with her father through the dark woods to build a new house for her family. The story is inspiring, and a great example of what being courageous means.
The Mouse with the Question Mark Tail by Richard Peck
A heroic tale of the tiniest mouse in the Royal Mews. He takes off on an exciting journey to figure out who he is!
If you like this author try, A Long Way From Chicago!
Mr Popper's Penguins by Richard Atwater
This is the story of a house painter and his brood of penguins. Sounds crazy? It totally is, and it is such a fun read. A delightful story for all ages.
3rd Grade Book Series
The Borrowers by Mary Norton
The Borrowers series is a childhood MUST-READ! The stories follow a tiny family who we first meet living underneath the kitchen floor of an old English country manor. All their minuscule home furnishings, from postage stamp paintings to champagne cork chairs, are "borrowed" from the "human beans" who tromp around loudly above them. Their world changes when one of the Borrowers is seen by a human boy.
If you love this series, you should also check out the beautiful movie, The Secret World of Arrietty, from Studio Ghibli.
Harriet the Spy by Louise Fitzhugh
Harriet has a trusty notebook that she writes down the good, bad, and ugly about EVERYONE she knows. Watch the story unfold after she loves her beloved notebook, and it falls into the wrong hands. A great story that teaches the value of friendship.
The City of Ember, Jeanne DuPrau
A modern adventure tale about two friends desperate to save their doomed city. With over 3 million copies sold, we are sure this one is a hit!
The Doll People by Ann M. Martin
Annabelle Doll has been stuck in the same doll house for 100 years old. The same doll family and the same view, and always the same routine. That is until the Funcrafts move in…!
If you like this book, you might want to check out another of Ann M. Martin's popular series (a favorite of 80's and 90's kids) – The Baby-Sitters Club they are also available as graphic novels!
Sideways Stories from Wayside School by Lois Sachar
This is a fantastic series of 3 books. The stories are set in a silly school, filled with hilarious teachers and students. It is perfect for a back to school gift to get kids excited for class. If you think stuff gets weird, just wait it gets even weirder!
Diary of a Whimpy Kid Series by Jeff Kinney
Greg Heffley is suddenly thrust into middle school. Navigating school is not easy when you are one of the shortest in your class. Desperate to fit in, Greg does whatever it takes. Will he figure out that the best way to make friends is to always be yourself?
To help your child keep track of their reading this summer, download our printable 3rd grade books checklist here.
More Reading Lists For Kids
Here are the Reading Lists by grade we've compiled to date:
For more book suggestions, check out all of our lists of the best books to read!