This post may contain affiliate links which may give us a commission at no additional cost to you. As an Amazon Associate we earn from qualifying purchases.
Fourth grade kids are busier than ever, and you might find that you need to set aside time each day for them to read. The series and chapter books on this list of 4th grade books are sure to help you find great reads your kids will love.
We have included both new and classic books for fourth graders to read, as well as a couple of books that will teach your kids lessons about important historical moments.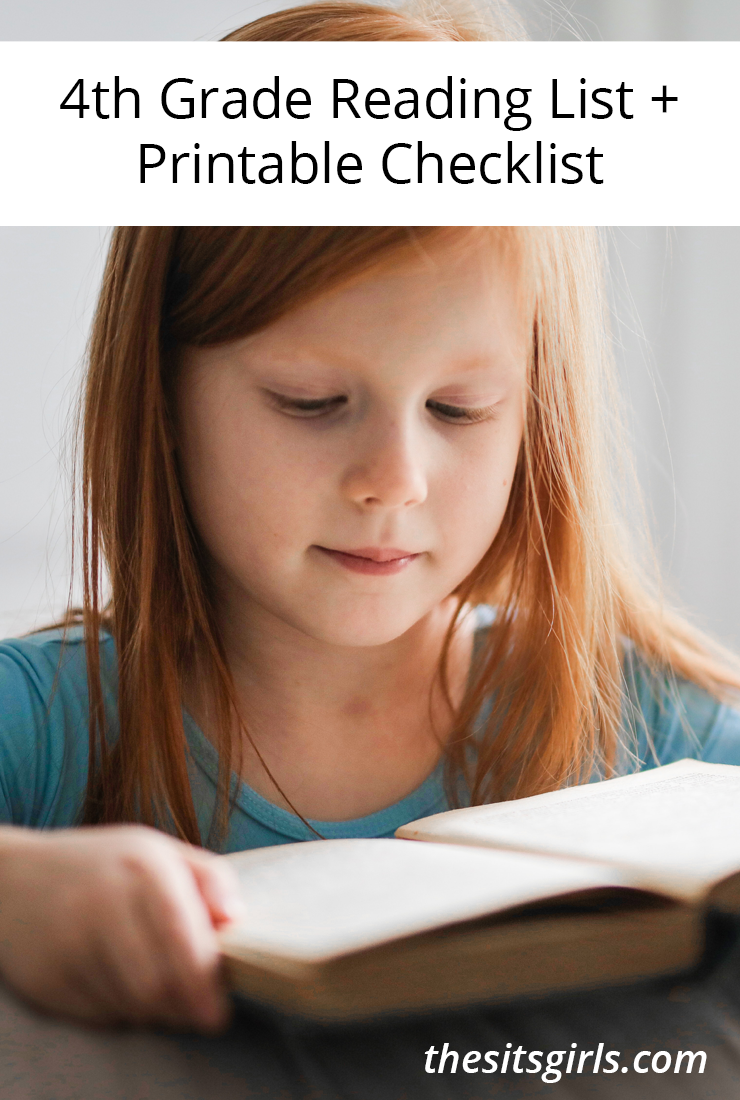 To help your child keep track of their reading, download our printable 4th grade books checklist at the bottom of this post.

4th Grade Books For Summer Reading
The Invention of Hugo Cabret by Brian Selznick
Hugo lives in the walls of a Paris train station. Hugo depends on anonymity for his very survival, but what will happen when people discover his hidden life? A captivating tale, that will keep you on the edge of your seat.
Loved the book? Watch the Hugo movie, too!
The Secret Garden by Frances Hodgson Burnett
Mary Lennox spent her early years in India, raised by servants, but is left alone in the world after a cholera epidemic and sent to live with an uncle she has never met in a nearly empty mansion. Spoiled and self-absorbed, Mary soon finds that the mansion is not so empty as it seems at first and gradually learns that world does not revolve around her, and is filled with wonderful living things and people who can become friends.
Sarah Plain and Tall by Patricia MacLachlan
A great intro into the expansion of America and life on the plains. Sarah comes from Maine to answer a man's call for a wife. His kids wonder, will she be nice and will she stay. Fabulous 4th grade book for blended families, as well.
The Penderwicks by Jeanne Birdsall
The Penderwicks sisters are off to enjoy their Summer. They are taking a holiday at the beautiful estate called, Ardunel. The perfect read for an easy breezy summer day.
The Tale of Despereaux by Kate DiCamillo
A story of a mouse who is in love with music, the arts, AND a princess. He embarks on a journey of a lifetime with a rat and a shrew. Proving that the "littest people" can make a huge impact!
If you like this book, you should check out The Miraculous Journey of Edward Tulane, too!
The BFG by Roald Dahl
The BFG is not an ordinary giant. He is kind and far too nice. Sophie is lucky, too. Had another giant carried her off in the middle of the night, she might have been breakfast!
If you liked the book, check out the movie!
Alice in Wonderland by Lewis Carroll
Alice explores an underground world of nonsense and make believe. Nothing makes sense, and she encounters the Mad Hatter, Cheshire Cat, and the Mock Turtle.
Thank You Jackie Robinson by Barbara Cohen
Sam and Davey forge an unlikely friendship over the Brooklyn Dodgers. It touches on the loss of Sam's dad, and can introduce how to deal with grief. Perfect for the sports loving baseball kid!
The Little Prince by Antoine de Saint-Exupery
The story is told from the perspective of a downed pilot stuck in the Sahara desert, trying to get home. The Little Prince appears one day, and the two forge an unlikely friendship as he tells of all the various planets he has visited. Some beautiful quotes that inspire are from this book. A beautiful life lesson for kids and adults.
Loved this book? Try Invisible Cities. It is by a different author, but the same thrilling ideas.
4th Grade Book Series
Harry Potter by J.K. Rowling
You have most likely heard of this series of fantasy novels that chronicle the lives of a young wizard, Harry Potter, and his friends Hermione Granger and Ron Weasley, all of whom are students at Hogwarts School of Witchcraft and Wizardry. While your kids could read these books all at once, we've split them up by age as the books get longer and darker as the series goes on. Fourth grade is a great age for most kids to read book one, Harry Potter and the Sorcerer's Stone, and book two, Harry Potter and the Chamber of Secrets.
Green Ember Series by S.D.Smith
Heather and Picket are ordinary rabbits, until their life changes suddenly. Kingdoms fall and tyrants rule, and they must navigate this crazy world. There are sword wielding rabbits and daring quests, sure to captivate any child's imagination!
Nancy Drew by Carolyn Keene
Detective and mystery lovers will devour this classic book series. Nancy is everything that every little girl hopes to be, and each book is better than the last. Girls unite!
The Hardy Boys by Franklin W. Dixon
Also a favorite for mystery lovers, this classic series follows brothers Frank and Joe Hardy as they solve mysteries.
Little House on the Prairie by Laura Ingalls Wilder
This series offers a look into the American frontier and a family who settles on the prairie. There are trials and triumphs, and your child is sure to fall in love with every member of the family.
Tales of Fourth Grade Nothing by Judy Blume
Two brothers are in constant competition. Peter doesn't understand why grownups love his little brother so much! This is a hilarious series, especially for a big brother to read.
Charlie and the Chocolate Factory by Roald Dahl
Willy Wonka's famous chocolate factory is opening at last! But only five lucky children will be allowed inside. This is a story to be read again and again, and your kids will love the follow-up stories as well.
To help your child keep track of their reading this summer, download our printable 4th grade books checklist here.
More Reading Lists For Kids
Here are the Reading Lists by grade we've compiled to date:
For more book suggestions, check out all of our lists of the best books to read!