This post may contain affiliate links which may give us a commission at no additional cost to you. As an Amazon Associate we earn from qualifying purchases.
Fifth grade kids are busier than ever, and you might find that you need to set aside time each day for them to read. The series and chapter books on this list of 5th grade books are sure to help you find great reads your kids will love.
We have included both new and classic books for fifth graders to read.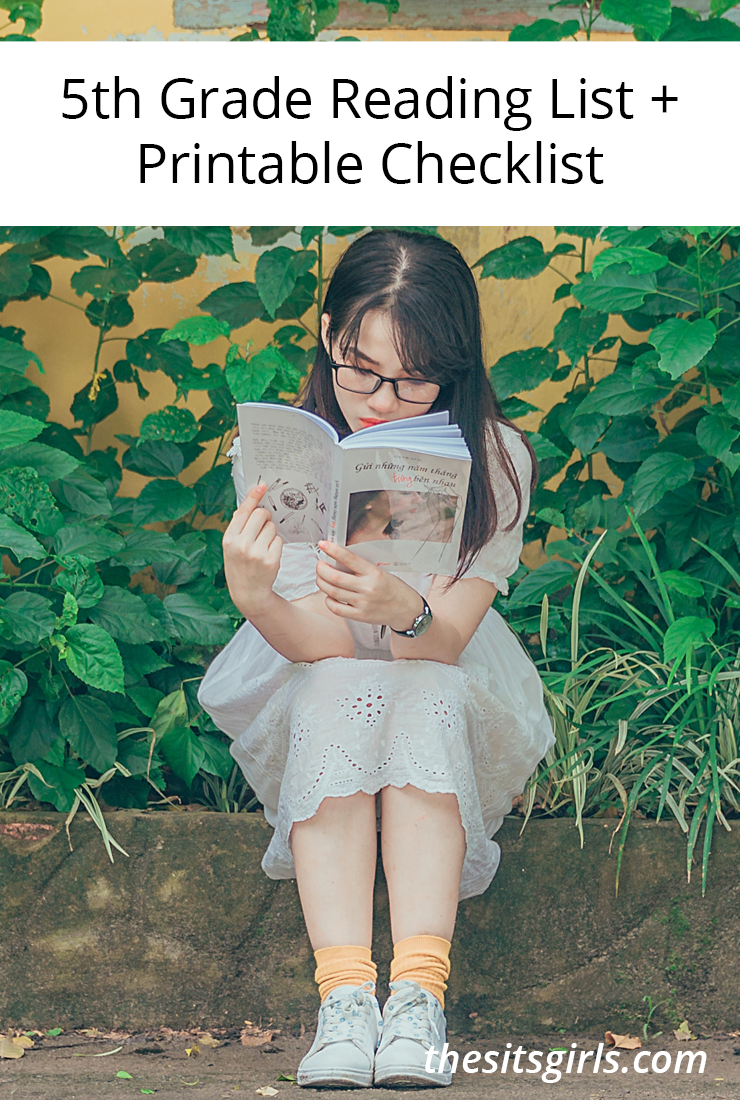 To help your child keep track of their reading, download our printable 5th grade books checklist at the bottom of this post.

5th Grade Reading List
Tuck Everlasting by Natalie Babitt
Young Winnie Foster must decide if eternal life is a blessing or a curse when she discovers an eternal spring. A great book that is for an advanced reader who loves to contemplate life.
Wonder by R.J Palacio
August Pullman was born with facial deformities. Now that he is starting mainstream school all he wants is to be treated like a normal child. A beautiful lesson for adults and children that everyone is beautiful and special. 13,000 five star reviews do not lie! This is one of our favorite 5th grade books.
Loved the book? Watch the movie starring Julia Roberts!
Where The Red Fern Grows by Wilson Rawls
This book is a mandatory read at most schools. Billy has saved up his money to buy two pups. His lifelong dream, finally came true with Little Ann and Old Dan. Soon Billy and his hounds become the greatest hunters in the Ozarks, but even the best friendships are tested with tough times.
Hatchet by Gary Paulsen
Brian takes a plane ride to visit his father for the very first time. When the plane crashes, killing the pilot, the sole survivor is Brian. He is alone in the Canadian wilderness with nothing but his clothing, a tattered windbreaker, and the hatchet his mother had given him as a present. This book does contain some elements that are meant for a mature 5th grade reader.
The Whipping Boy by Sid Fleischman
This is a play on the classic prince and the pauper story. Prince Brat accidentally switches place with his whipping boy (the child that must take all his punishments for him). What will happen when a resourceful orphan and spoiled rich prince find themselves in their new roles?
Julie of the Wolves by Jean Craighead George
Miyax tries to survive by copying the ways of a pack of wolves and soon grows to love her new wolf family. Life in the wilderness is a struggle, but when she finds her way back to civilization, Miyax is torn between her old and new lives. Is she Miyax of the Eskimos—or Julie of the wolves?
Roll of Thunder by Hear My Cry by Mildred D. Taylor
Cassie Logan an independent girl, learns the value of why her family wants to own their own land. This book is set in the height of the Great Depression, and touches on racial and social injustices.
Wizard of Oz by L. Frank Baum
Most kids have seen the movie, but have never read the book series. This brilliant novel is imaginative and filled with all the right lessons. Dorothy is transported to Oz, where she meets the Wicked Witch of the East and Glenda the Good Witch. She is the only one that can save Oz, and embarks on her quest. Along the way to meets the several unlikely companions: a lion, scarecrow, and a tinman. They band together and learn some valuable life lessons along the way.
A Wrinkle in Time by Madeleine L'Engle
Join Meg, the main character, in a story about time travel and space. Meg and two other students join together to find Meg's father, a government scientist who went missing while engaged in secret government work.
If you loved this adventure check out When You Reach Me.
The Blossoming Universe of Violet Diamond by Brenda Woods
Violet is biracial, but lives with her white family in a predominately white town. When Violet turns eleven, she decides to reach out to her father's side of the family. Violet is invited to spend 2 weeks with her paternal grandfather, Bibi, and ends up learning so much about her lost culture that alters her world forever.
Pollyanna by Eleanor H. Porter
Idealistic Pollyanna can always find the brightside in everything. Even when she is left orphaned and has to move in with her dull cold Aunt Polly. However, an unfortunate accident happens and it appears that Pollyanna might lose her sunny outlook on life. An amazing story of triumph and the human spirit.
Loved the book? Check out the classic movie, too! Totally a retro throwback.
5th Grade Book Series
Harry Potter by J.K. Rowling
You have most likely heard of this series of fantasy novels that chronicle the lives of a young wizard, Harry Potter, and his friends Hermione Granger and Ron Weasley, all of whom are students at Hogwarts School of Witchcraft and Wizardry. While your kids could read these books all at once, we've split them up by age as the books get longer and darker as the series goes on. Fifth grade is a great age for most kids to read books three and four, Harry Potter and the Prisoner of Azkaban and Harry Potter and the Goblet of Fire.
Anne of Green Gables by L.M. Montgomery
A beloved classic for over 100 years, this is a timeless series. When the Cuthberts send for an orphan to help them with work on their farm, they are surprised to find they are sent a fiery red-headed girl named Anne (spelled with an e). Anne quickly wins the hearts of her new family and stirs up life on Prince Edward Island.
The RedWall Series by Brian Jacques
A bumbling young mouse becomes the hero of this Redwall Abbey. They must defend themselves against an army of rats. Meet Matthhias as he attempts to to find the sword of Martin the Warrior, and save his friends and family. Filled with humor and adventure this is the perfect series for any kid. As a bonus it has 7 full page illustrations in it! Super rare in chapter books.
Holes by Lois Sachar
Stanley has been unjustly sent a boy's correctional facility where the boys spend all day digging holes. It doesn't take Stanley long to realize that the warden of the camp is making them dig holes because he is actually looking for something. Filled with adventure and mystery, this is part 1 of 3 books.
Loved the book? Watch the DVD!
How to Train Your Dragon by Cressida Cowell
You might be familiar with the cartoon movies, but the books are where it all started. There are 12 exciting chapter books that chronicle Toothless and Hiccup on their adventures to save the dragons AND the vikings. Why not start with the books, and then venture on to the movies!
To help your child keep track of their reading this summer, download our printable 5th grade books checklist here.
More Reading Lists For Kids
Here are the Reading Lists by grade we've compiled to date:
For more book suggestions, check out all of our lists of the best books to read!