This post may contain affiliate links which may give us a commission at no additional cost to you. As an Amazon Associate we earn from qualifying purchases.
Sixth grade kids are busier than ever, and you might find that you need to set aside time each day for them to read. The series and chapter books on this list of 6th grade books are sure to help you find great reads your kids will love.
We have included both new and classic books for sixth graders to read.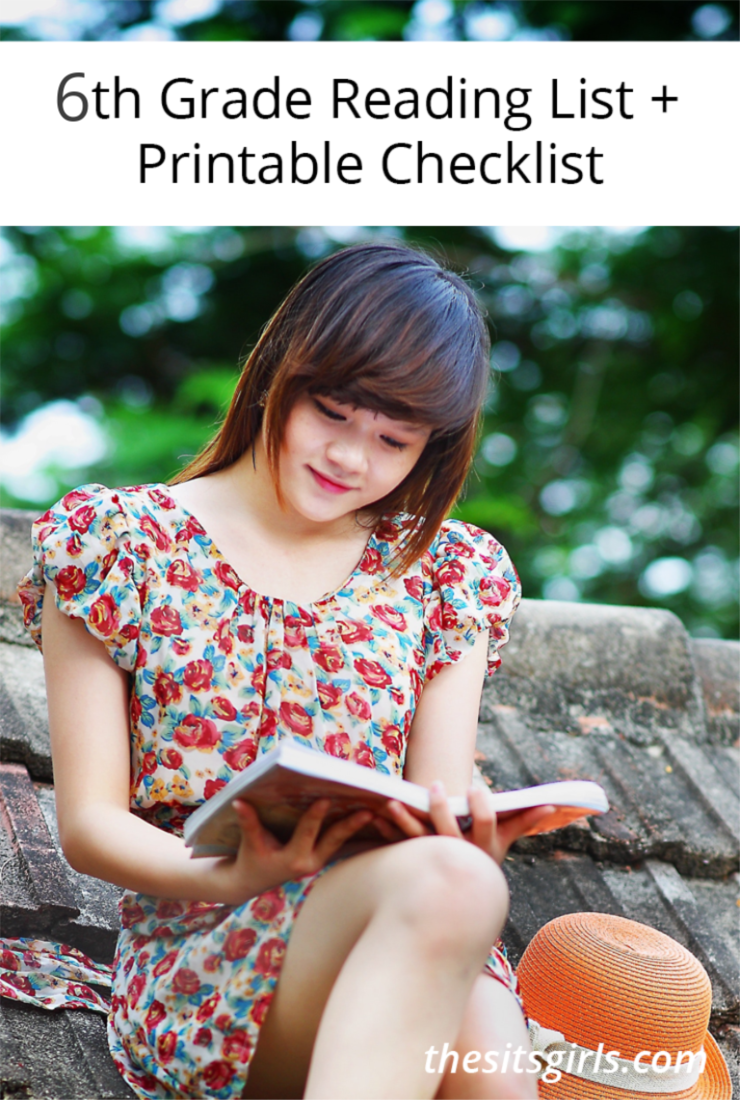 To help your child keep track of their reading, download our printable 6th grade books checklist at the bottom of this post.

6th Grade Books For Summer Reading
Little Women by Louisa May Alcott
The four March sisters could not be more different. Meg, Jo, Beth, and Amy must sort out their differences and band together when their father is away at war. Navigating life, love, and jobs isn't easy, but they can do it with the support of their sisters.
The Glass Sentence by S.E. Grove
Time travel, history, and magic come together in this unique fantasy that spans time and place. Sophia is a clever and observant girl from a long line of mapmakers who have been mapping the New World since the Great Disruption of 1799. The story begins when Sophia's parents and uncle go missing. She and her friend Theo embark on a mission to save her family and figure out what is really happening to their world.
The Green Glass Sea by Ellen Klages
In 1943, 11 year old Dewey is sent to live with his Dad in Mexico to a small, unknown town is filled with American mathematicians, scientist, and researchers. They are all working on a "gadget," and none of them know how important it will turn out to be.
Johnny Tremain by Esther Forbes
The American Revolution story told from the eyes of a fourteen year old boy. After an unfortunate accident, Johnny seeks work as a stable boy. He comes in contact with Samuel Adams and John Hancock, and is even present at the Boston Tea Party!
The Hobbit by J.R.R. Tolkin
The prequel to Lord of The Rings is a great introduction to the series. A band of dwarves and a special hobbit travel together on an amazing adventure to reclaim the gold stolen by an evil dragon.
Cheaper By The Dozen by Frank Bunker Gilbreth
The Gilbreths are a oversized family, and busting at the seems. 12 kids under one roof seems almost impossible, but not for their father who claims to be an efficiency expert. This is a great book for 6th graders, and it's based on a true story!
Around The World In Eighty Days by Jules Verne
The journey all started with a bet at the Reform Club. Phileas Fogg, the richest man in London, reads an article about how it is now possible to travel around the world in 80 days. In disbelief, a wager is made and an epic tale begins.
Charlie Thorne and the Last Equation by Stuart Gibb
Decades ago, Albert Einstein devised an equation that could benefit all life on earth—or destroy it. Fearing what would happen if the equation fell into the wrong hands, he hid it. But now, a diabolical group known as the Furies are closing in on its location. In desperation, a team of CIA agents drags Charlie into the hunt, needing her brilliance to find it first—even though this means placing her life in grave danger.
National Velvet by Enid Bagnold
A butcher's daughter ends her prayers every night with "Oh Lord, please give me horses." Her prayer is finally answered, and her determination and grit lead her all the way to the world famous Grand National!
Number the Stars by Lois Lowry
Set in WWII, Annemarie and her family take in her Jewish best friend. As the Germans begin to "relocate" Jews, they bravely risk their lives to help the Rosen family. A great history lesson on the Danish resistance during WWII, and the impact they had.
The Hound of Baskervilles by Sir Arthur Conan Doyle
When Sir Charles Baskerville is found dead, his best friend turns to Sherlock Holmes to help him find the killer. While working on the crime, they uncover a century old curse and a haunted house in this great mystery. The twist at the ending is classic!
Bridge to Terabithia by Katherine Paterson
Jess Aarons and the new girl in school, Leslie Burke, become friends and spend most days in the woods behind Leslie's house, where they invent an enchanted land called Terabithia. One morning, Leslie goes to Terabithia without Jess and a tragedy occurs.
The Invisible Man by H.G. Wells
A stranger dressed in a long coat, wide brimmed hat, and wrapped completely in bandages enters a small town and demands total privacy and solitude. Suddenly, robberies in the town begin, and residents wonder, could it be the mysterious bandaged man?
Summer of the Swans by Betsy Byars
All summer Sara has fretted over herself. Her looks, her reputation, her haircut, you name it. However, when her brother goes missing she abandons her selfish ways, and puts her brother's needs first.
Swiss Family Robinson by Johann Wyss
After a wild storm, the Robinson family were stranded on an island. Luckily, their ship had tons of supplies, and it turns out the island had hidden treasure as well. They begin to adapt to their new life, and actually take delight in it!
6th Grade Book Series
Chronicles of Narnia by C.S. Lewis
Set in the fictional realm of Narnia, a fantasy world of magic, mythical beasts, and talking animals, the series narrates the adventures of various children who play central roles in the unfolding history of that world. The books span the entire history of Narnia, from its creation in The Magician's Nephew to its eventual destruction in The Last Battle.
The Golden Compass by Phillip Pullman
This book is the first in a trilogy. Filled with spirit animals, magic polar bears, and witches, this magical tale is set in an alternate universe. Lyra, an orphan, travels through many lands/worlds to reach her ultimate quest!
Percy Jackson and the Olympians by Rick Riordan
Twelve-year-old Percy Jackson is about to be kicked out of boarding school…again. No matter how hard he tries, he can't seem to stay out of trouble. But can he really be expected to stand by and watch while a bully picks on his scrawny best friend? Or not defend himself against his pre-algebra teacher when she turns into a monster and tries to kill him? Of course, no one believes Percy about the monster incident; he's not even sure he believes himself.
Until the Minotaur chases him to summer camp.
To help your child keep track of their reading this summer, download our printable 6th grade books checklist here.
More Reading Lists For Kids
Here are the Reading Lists by grade we've compiled to date:
For more book suggestions, check out all of our lists of the best books to read!