This post may contain affiliate links which may give us a commission at no additional cost to you. As an Amazon Associate we earn from qualifying purchases.
I'm often behind on my ever-growing reading list. Since I increase my book budget by getting as many books as possible from the library, and only buying the ones I really love, I usually feel like the last person to read the new hot book everyone's talking about. My list is full of all the best books to read, but nothing makes a book move up my reading list faster than hearing it is being made into a movie. I always want to read the book first, and I know that once a movie comes out, the spoilers are sure to follow.
With Insurgent opening in theaters today, I wanted to help you (and me) be prepared for this spring's book to movie season. I've got a list of the seven books we need to read before they hit theaters in 2015.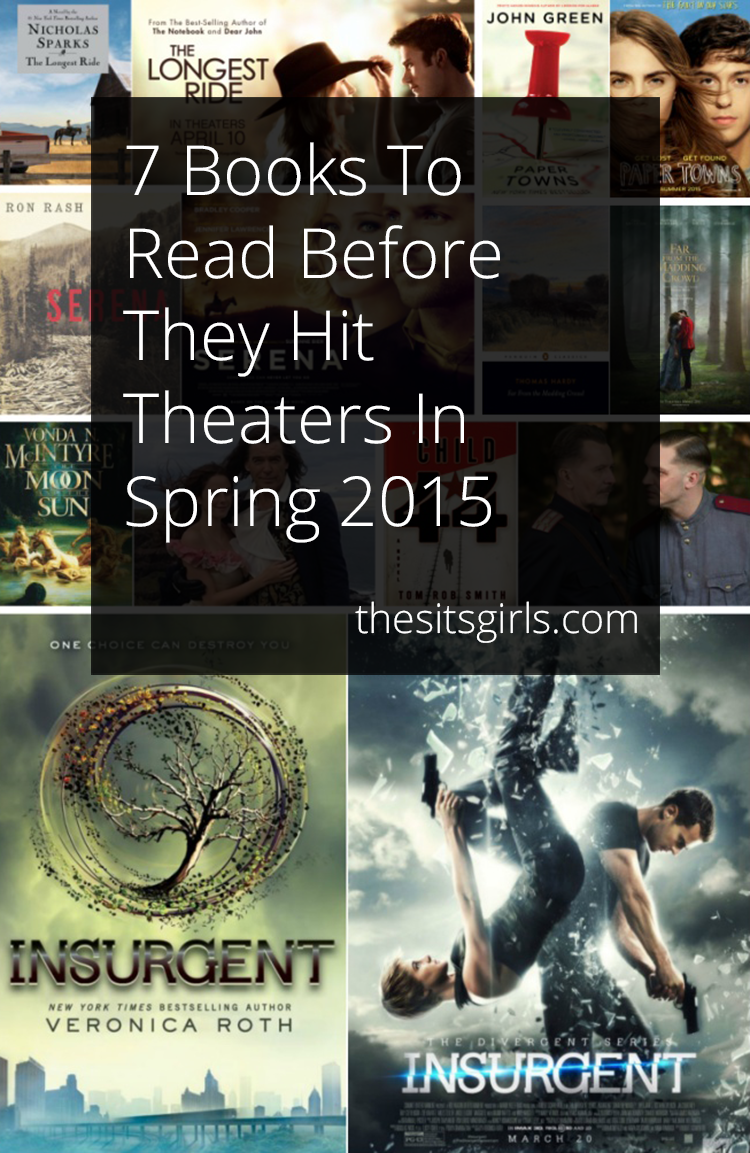 7 Books To Read Before They Hit Theaters In Spring 2015
Some of these are books I've read, and some aren't. But I hope to read all of them before seeing the movies. *This post contains affiliate links.
1. Insurgent, by Veronica Roth
Insurgent
picks up right where Divergent
ended, with Tris fighting against Jeanine Matthews and those who would see the divergents killed. If you read Divergent last year in anticipation of the first film, I'm going to guess that you probably read Insurgent, too, because you had to find out what happened. But if you haven't read any of them yet, I want to encourage you to pick up Divergent
first and start from the beginning.
Insurgent Movie Release Date: March 20, 2015
Starring: Shailene Woodley, Theo James, Ansel Elgort, and Kate Winslet
2. Serena, by Ron Rash
Serena
is the story of newlyweds the George and Serena Pemberton who move to the North Carolina mountains in 1929 to build a timber empire. Together, they kill anyone who gets in their way. They are a true power couple, until they find themselves at odds when Serena learns she will never have a child, and sets out to kill the son George had with another woman. The official movie release date is March 27th, but you can actually see it now on iTunes, Google Play, and Amazon. With that in mind, I'm not sure if it will make to any US theaters at all, so you probably have lots of time to read the book, which is apparently much better than the movie.
Serena
Movie Release Date: March 27, 2015
Starring: Jennifer Lawrence and Bradley Cooper
3. The Moon and the Sun, by Vonda N. McIntyre
I missed this book completely until the movie announcement came out. The Moon and the Sun
is an historical fantasy/fiction set during Louis XIV reign in France. It involves a quest for immortality and a mermaid. That is either the basis for a very great story or a very terrible one.
The Moon And The Sun Movie Release Date: April 10, 2015
Starring: Pierce Brosnan, William Hurt, Benjamin Walker, and Kaya Scodelario
4. The Longest Ride, by Nicholas Sparks
Nicholas Sparks books are all very similar. The Longest Ride
tells the love story of two couples in North Carolina, and is probably perfect for a fluffy Tuesday afternoon read. The movie has Clint Eastwood's son in it, so that will be fun.
The Longest Ride Movie Release Date: April 10, 2015
Starring: Scott Eastwood and Britt Robertson
5. Child 44, by Tom Rob Smith
Set in Stalin's Soviet Union, Child 44 (The Child 44 Trilogy)
is a mystery thriller about a serial killer. But there is more to the story than just that. You see, it is a crime to admit that a serial killer could be at work in the country at all, and MGB officer Leo Demidov might lose everything to find and stop this killer. I've heard that this book is a tough read, but I've also heard that it is captivating and brilliant and not gory just for the sake of being gory. We shall see.
Child 44 Movie Release Date: April 17, 2015
Starring: Tom Hardy, Gary Oldman, and Noomi Rapace
6. Far From The Madding Crowd, by Thomas Hardy
Bathsheba Everdene (not to be confused with Katniss Everdeen) has to choose between three suitors in this classic novel, Far from the Madding Crowd
. Somehow I missed this one during my school years, so I am making a special effort to read it before the movie comes out.
Far From The Madding Crowd Movie Release Date: May 1, 2015
Starring: Carey Mulligan, Tom Sturridge, and Matthias Schoenaerts
7. Paper Towns, by John Green
This book, Paper Towns
, is a bit more Looking for Alaska
then The Fault in Our Stars
, but any true John Green fan is going to love it. There is a mystery, an epic road trip, and an interesting look at just how far the bonds of friendship will stretch.
Paper Towns Movie Release Date: July 24, 2015
Starring: Nat Wolff and Cara Delevingne
There's my list!
Which book are you most excited to read and which movie are you most excited to see?
Happy reading!
LOOKING FOR MORE GOOD BOOK RECOMMENDATIONS?
Check out these bookish posts: