This post may contain affiliate links which may give us a commission at no additional cost to you. As an Amazon Associate we earn from qualifying purchases.
Do you feel love in the air? You might recognize its sweet scent as a tinge of chocolate mixed with the smell of leather and pages of old books. At least, that is how love smells in my world, for there are few things I love more than a really good book, especially when it comes to the best romance books around.
I'm taking the time to let a little romance sneak into my reading this month. Do you want to join me? I have a list of the best books to read for love in February that will help you get started.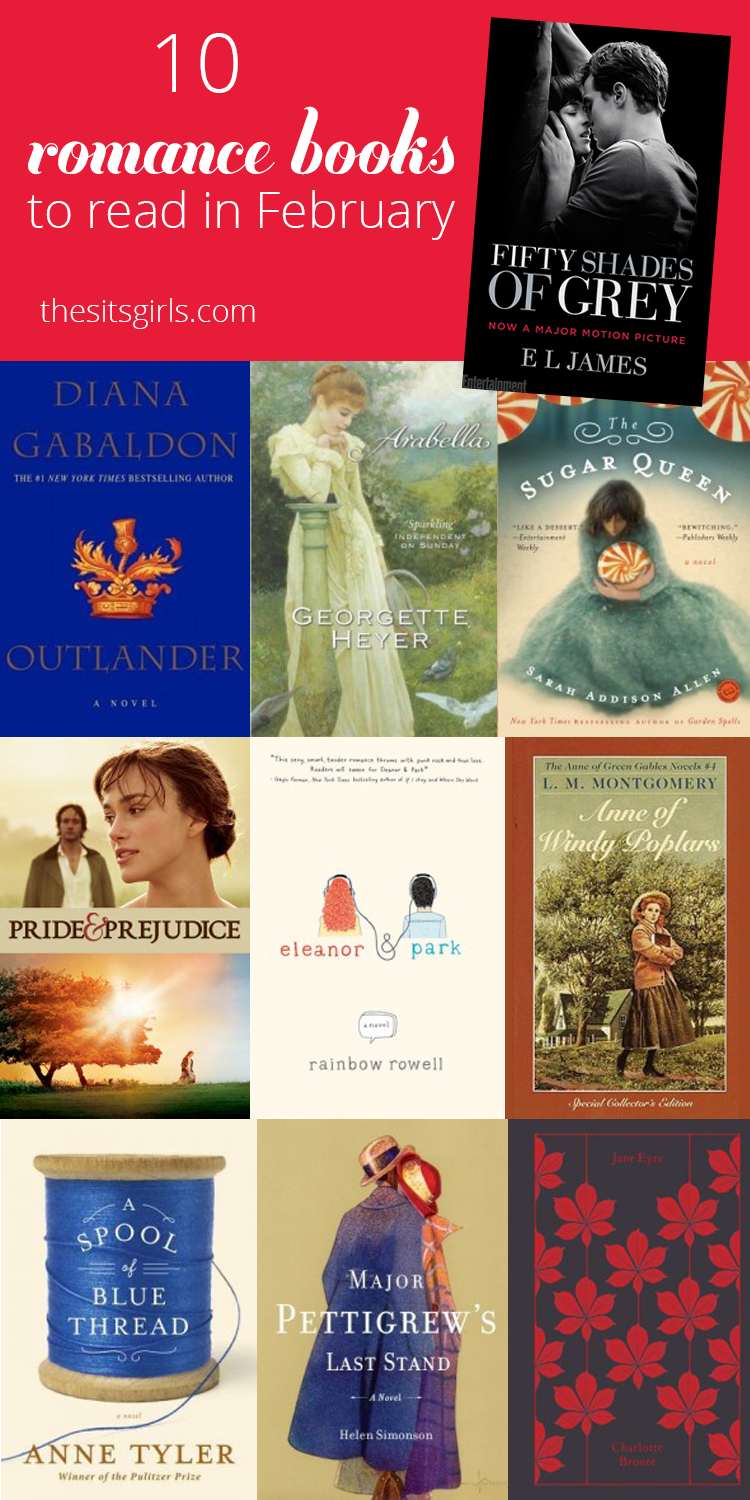 10 Best Romance Books To Read In February
Though often dismissed as fluff, the romantic novel can be a wonderful genre. There are stories full of depth. You can find yourself crying on one page and laughing on the next. Just like any good work of fiction, you may find yourself looking at the world in a new way.
Without further ado, here is our list of 9 best romance novels to read during the month of February. (Note: This post includes affiliate links.)
1. Pride And Prejudice
You can't really say romantic novel without bringing up Jane Austen, can you? I'm fairly certain it is against the law to list romantic books without at least one of her novels making the list. If you haven't read Pride and Prejudice
since your 11th grade English class, pick it back up again. You will find a whole new appreciation for Elizabeth Bennet. Or be daring and read something else by Austen. You simply cannot go wrong.
2. Major Pettigrew's Last Stand
Talking about romance in small, English villages, Major Pettigrew's Last Stand
was one of the most lovely books I read last year. Helen Simonson gives us an old-fashioned retired army major and a shopkeeper whose love of literature brings them together in an unlikely romance that is not accepted by their fellow villagers due to beliefs about class and race.
3. Jane Eyre
This is one of my favorites. I reread it last year with my daughter, and fell in love with Jane Eyre
all over again. You will find within its pages a love story, but you will also find a strong, independent female character who is well ahead of her time, as well as a creepy Gothic thriller. Just remember to have a box of tissues nearby once you start it.
4. The Sugar Queen
Sarah Addison Allen's newest book, First Frost
, was listed on our 12 Books You Must Read In 2015 list for good reason. We love her. But my favorite Allen novel will always be The Sugar Queen
. The relationships are interesting, the snack food is sweet, and the romance is lovely. I was so drawn to Josey and the small town in which she lives. It is one of those books that sticks with you after you close the cover on the last page. You probably don't need tissues for this one, but a package of Oreos wouldn't go amiss.
5. Anne Of Windy Poplars
Our of all the books in the Anne of Green Gables series by L.M. Montgomery, I always think of Anne of Windy Poplars
as the perfect book for love and cold weather. Comprised of letters from Anne to Gilbert, it is full of love and sweetness, and thoughts about exactly which kind of pen and paper are perfect for writing a love poem.
6. Outlander
Diana Gabaldon's Outlander
series isn't strictly a romance. It starts with Claire, a World War II nurse in Scotland who is transported back in time from 1945 to 1743. A meticulously researched historical fiction results with adventure, war, friendship, and mystery. But the heart of the story beats out the relationship between Claire and Jamie, and you will find yourself swept up in their love that is able to transcend time and space. There is so much I want to say about this series, but I don't want to give anything away, so I'll just tell you to prepare for an epic journey.
7. Arabella
Georgette Heyer wrote lovely Regency romance novels. If you haven't read Heyer before, start with Arabella
, and get ready to fall in love.
8. Eleanor & Park
For those of you who like YA novels, Eleanor & Park
is the book for you in this season of love. It is the story of two sixteen year olds who are drawn together by music and comic books. You will cheer for them as they overcome obstacles and cry as they…well, I won't tell you. I'll just say that I stayed up all night reading this one, and it was totally worth it.
9. Fifty Shades Of Grey
Love it or hate it, Fifty Shades of Grey
 won't be ignored. This is your chance to read it for yourself before the movie comes out later this month.
10. A Spool Of Blue Thread
It won't be released until February 10th, but A Spool of Blue Thread
is already at the top of my reading list for this month. The story spans four generations of the Whitshanks family and the house they call home, revealing their secrets, celebrations, and shared stories. While it might not be a romance in the classic sense of the word, I think it will be a story of love.
There you go! Our 10 best romance books to touch your heart during the season of love. Do you have a favorite love story? Let me know in the comments so I can add it to my reading list.
Looking for more great book suggestions?
Check out our list of 12 books you absolutely must read in 2015!