This post may contain affiliate links which may give us a commission at no additional cost to you. As an Amazon Associate we earn from qualifying purchases.
I'm SO excited about our next book club pick for many reasons:
It's a great read.
The author is so big time…she's a New York Times and USA Today bestselling author, and a lovely person to boot
We gave 100 books out at Bloggy Boot Camp Denver, so the upcoming book club chat on Twitter should be our biggest yet. (Thanks Gallery Books!)
And this month's book club book is…
Goodnight Tweetheart by Teresa Medeiros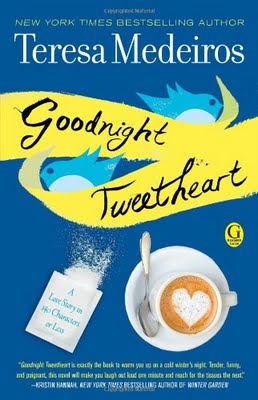 This is a fabulous novel for you if you enjoy Twitter and especially if you are new to Twitter. It seems like a light read and then… Medeiros sucks you into a gripping story. The writing is witty and poignant- quite a combination. Long story short, you are going to love it! My detailed review of the book with great quotes is here.
Please Join Us:
The Book: Goodnight Tweetheart by Teresa Medeiros
When: Thursday, October 20th , 8-9 pm CST
Where: On Twitter, Hashtag #SITSBooks
Book Club Giveaway
In addition to the copies that we gave away in the swag bags at the Denver Bloggy Boot Camp, Gallery Books wants to share the love with our online audience. They have given us an extra copies of Goodnight Tweetheart to pass along to 25 of our lucky SITStahs. To enter to win, simply leave a comment on this post and on Great Thoughts.
Goodnight Tweetheart is the perfect read as we head into fall. Light, funny, poignant and quick. We hope you'll join us!
This giveaway will close next Tuesday, October 4. In order to qualify, be sure to provide us with your email address. We also ask that you be able to participate in the book club Twitter chat on October 20. Giveaway entrants are limited to the continental U.S. this time around. For more info on our giveaway policies, go here.