This post may contain affiliate links which may give us a commission at no additional cost to you. As an Amazon Associate we earn from qualifying purchases.
The time has come! This Thursday is our Twitter Party to discuss the fabulous Goodnight Tweetheart. The amazing best-selling author Teresa Medeiros will be joining us.
The details:
Thursday, October 20th
8-9:00 pm CST
Twitter, Hashtag #SITSBooks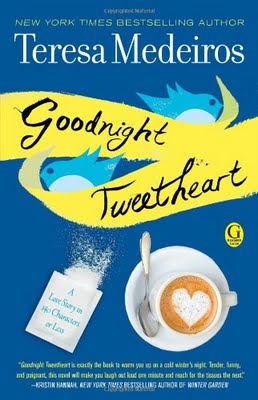 A few discussion questions for you to think about:
When Mark and Abby first "meet" on Twitter, Mark isn't entirely truthful about his identity. Do you think it's common for people to wear "masks" when they first meet someone online? To present themselves as the man or woman they believe the other person wants them to be?
What do you think about the statement Abby quotes to Mark during their first "date"?: "You'll never have more in common than you do on your first date."
Have you ever had immediate chemistry with someone you've met, either in a friendship or a romantic relationship? Do you believe it's a physical response or an emotional one?
Abby shares her favorite book, Peter S. Beagle's A Fine and Private Place, with Mark. Have you ever found common ground with a stranger by sharing your favorite book, movie, TV show, or piece of music?
If you were to tell someone your favorite book at this precise moment in your life's journey, what would it be?
Did you notice any hints about Mark's situation in their exchanges that Abby may have missed?
Do you believe that social media sites like Facebook and Twitter enhance intimacy or make it more difficult to achieve?
If you were writing the ending of Mark and Abby's story, what would it be?
If you received your free copy of Goodnight Tweetheart at Bloggy Boot Camp in Denver, or maybe a book from our online giveaway, then you'll definitely want to join us on Thursday.
See you then!