This post may contain affiliate links which may give us a commission at no additional cost to you. As an Amazon Associate we earn from qualifying purchases.
Kids are never too young for a reading list full of good books to read! To help you plan your book-filled summer fun, or supplement your kid's reading during the school year we've put together a kindergarten reading list. These kindergarten books will keep your family reading all year.
This complete list of classic books for your kindergartner includes tried and true favorites that tell beautiful stories, teach life lessons, and show the beauty of childhood. We like to think of this kindergarten reading list as a capsule of books for young kids. Some of the books your child might be able to read on their own, and some they might need a little help reading. So cuddle up together on the couch with a stack of good books and get ready to inspire a love of reading.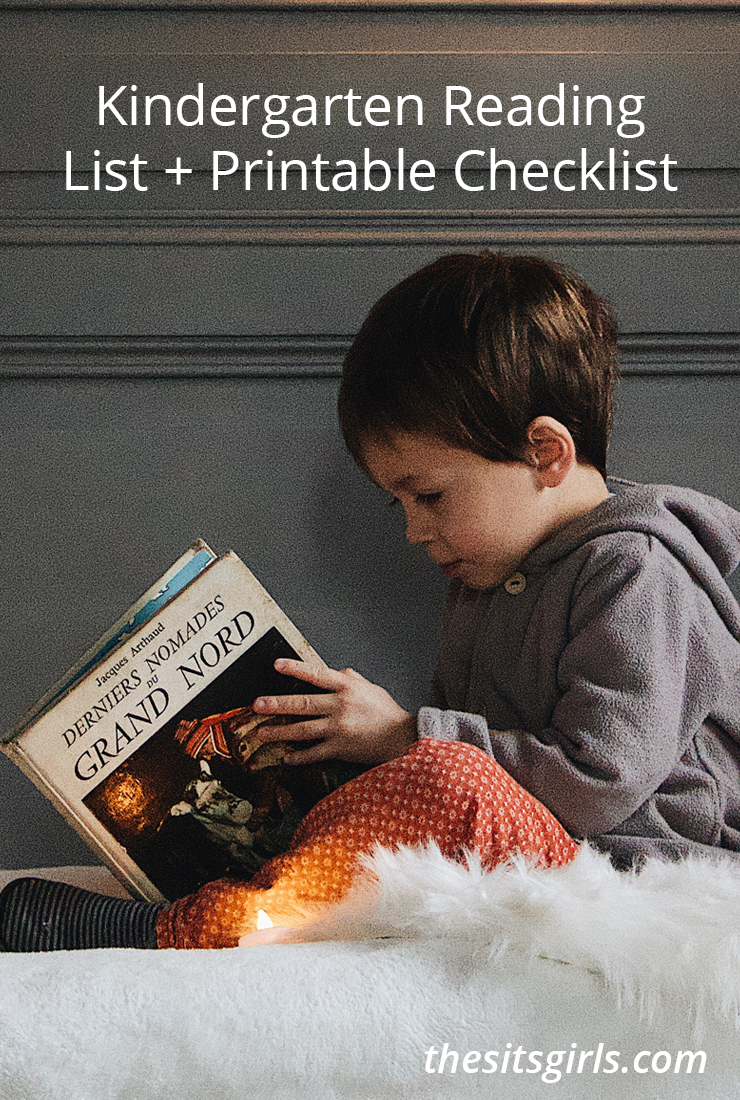 To keep track of your kid's reading this summer, download our printable kindergarten books checklist at the bottom of this post.

Kindergarten Books
Mike Mulligan and His Steam Shovel by Virginia Burton
A race against time as Mike and his steam shovel dig a cellar.
The Little Red Hen by Paul Daldone
A story about working hard and reaping your rewards!
The Story about Ping by Majorie Flack
A little Chinese duck and his adventures on the Yangstze River.
If you like this author, check out the Angus Book series or Ask Mister Bear!
Corduroy by Don Freeman
In this kindergarten book, a teddy bear lives in a toy store and comes to life at night to find his lost button. A delightful tale about how a young girl loves him despite his lack of button and raggedy appearance.
The Snowy Day by Ezra Jack Keats
This is a story about the first snow day, and Peter's great fun in a snowy world.
Little Toot by Hardie Gramatky
A mischievous little tugboat becomes a hero!
Chika Chika Boom Boom! by John Archambault
This is a great intro to the alphabet and the order of letters. The fun rhyme will have kids reading it over and over again!
Make Way for Ducklings by Robert McCloskey
A heartwarming tale about a mother duck raising her family in the busy city of Boston.
If you like this author, check out Blueberries for Sal!
You're All My Favorites by Sam McBratney
Perfect for a young child with siblings, this story discusses how a mommy bear loves all her kids just the same. If your little one is welcoming a new sibling soon, this is a great way to approach the topic!
Where the Wild Things Are by Maurice Sendak
Max runs away from home where he starts a wild rumpus with make believe wild beasts!
Quick as a Cricket by Audrey Wood
A great book to teach analogies, and explore animals. The pictures are beautiful, and so creative!
Are You My Mother? by P.D. Eastman
A baby bird falls out of the nest and is desperate to find his mom. After some funny encounters they are reunited.
No, David! by David Shannon
This book was inspired by some drawings the author found from when he was in kindergarten. There were stories of everyone telling him," NO, DAVID!". He turned it into a simple, but HILARIOUS book! Perfect book for your kindergartener to read this summer.
The Kissing Hand by Ruth E. Harper
This is the perfect book for any little one starting school. If your kindergartner is nervous, read this book the day before school. It tells the story of how a mommy racoon is always with her little one as he ventures off to his first day of school!
My Five Senses by Aliki
Sight, smell, taste, hearing, and touch—our five senses teach us about our world, and this book invites young readers to use each of their five senses to explore the world around them.
Kindergarten Book Series
The Tale of Peter Rabbit by Beatrix Potter
There are a total of 22 volumes of illustrated books featuring Beatrix Potter's beautiful pictures, and delightful tales. Meet Jemina Puddle-Duck and Squirrel Nutkin, too!
If You Give a Mouse a Cookie by Laura Numeroff
The best part about this book is that there are several others by this author that are just as delightful. The story begins with an innocent request for a cookie, and quickly spirals into a crazy day!
If you like this check out If You Give a Moose a Muffin or If you Give a Pig a Pancake!
Curious George by Hans A. Rey
Curious George is loved by kids and adults alike. This funny little monkey gets into lots of mischievous fun (much like kids), but always ends up saving the day! These stories are sure to make your kids giggle.
After you've read the books, check out the dvds!
The Berenstain Bears and the Messy Room by Stan and Jan Berenstain
This classic Berenstain Bears story is a perfect way to teach children about tidying up, organization, and taking good care of their belongings! Of course, we love all of the Berenstain Bears collection – there is a story for most of the important topics you want to teach young kids.
To keep track of your reading this summer, download our printable kindergarten books checklist here.
More Reading Lists For Kids
Here are the Reading Lists by grade we've compiled to date:
For more book suggestions, check out all of our lists of the best books to read!