This post may contain affiliate links which may give us a commission at no additional cost to you. As an Amazon Associate we earn from qualifying purchases.
After writing my post about the 12 Good Books You Must Read in 2015, I had a commenter ask me if I do not read books by male authors. I noticed shortly after the post was published that all of my picks were by women. I decided to do some digging, so I could write a post with the best books to read by male authors I enjoy, along with some I plan on reading this year.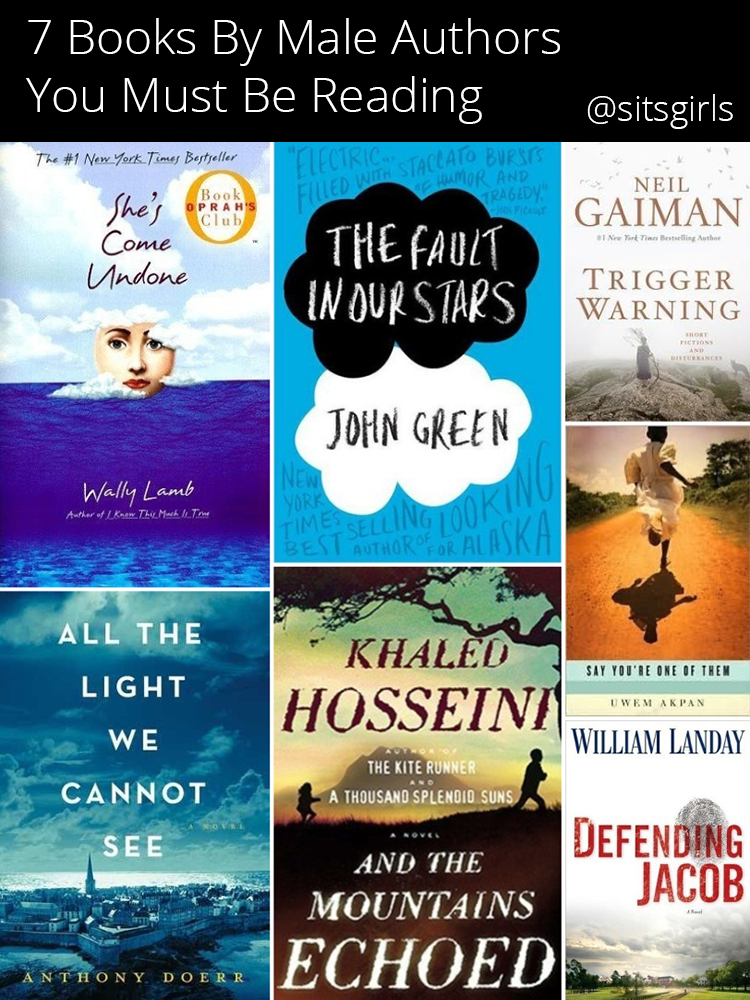 (This post includes affiliate links.)
Good Books By Male Authors You Need To Be Reading
1. Trigger Warning, by Neil Gaiman
Neil Gaiman is a well-known author I've only recently become familiar with. Aside from his successful children's book, Coraline
, you'll find Neil writing science fiction and short stories, along with many award-winning works. The most recent book I've read by him is The Ocean at the End of the Lane
. This book is a mystery filled with magical aspects, and one I enjoyed despite my tendency to avoid fantasy stories. It was creative and enjoyable and an easy read. I look forward to reading more of his work, especially his latest release (just out this February!), Trigger Warning: Short Fictions and Disturbances
.
2. The Fault In Our Stars John Green
Of course, this year everyone who was anyone learned about John Green after getting their hands on a copy of The Fault in Our Stars
. But Mr. Green has been writing for quite a while, and his talents go beyond that story. Looking for Alaska
, Green's first novel, is quite possibly his best work. I'm definitely a fan.
3. All The Light We Cannot See, by Anthony Doerr
If you have not yet heard about All the Light We Cannot See
you should. It's a book that's been praised across many a social media channels and was rated a NY Times and Barnes and Noble best book of 2014. The book was also a finalist for the 2014 National Book Award for fiction writing. Between those acclaims and Doerr's history as a NY Times bestselling author and recipient of loads of literary awards, this book is absolutely on my 2015 to-read list.
4. And The Mountains Echoed, by Khaled Hosseini
Khaled Hosseini has published three books and I have loved each one of them more than the one before it. His first release, The Kite Runner
, was extremely powerful, moving and unforgettable. A Thousand Splendid Suns
was even better, in my opinion, and beyond that And the Mountains Echoed
might be my favorite of the three. I recommend you grab yourself a copy of one of his books and sit yourself down immediately – ready to be absorbed into another world.
5. She's Come Undone, by Wally Lamb
I am not really sure where to begin with Wally Lamb. I've been reading him for years and he just keeps coming out with books that showcase his incredible talent. She's Come Undone (Oprah's Book Club)
is one of my favorites. As was I Know This Much Is True
. You know when you have a book and you hold onto it forever because it just meant that much to you when you read it? That's how I feel about these two novels. Lamb has released several books since then, and they all have been well received.
6. Defending Jacob, by William Landay
Defending Jacob
is one of my favorite crime-solving books. It's a mystery, but better. I love when stories like these unfold. The primary character, Andy Barber, is a lawyer who finds himself facing the idea that his son is a murderer. As the evidence develops we become as involved in this case as Andy is. Did Jacob do it? Or is he innocent? This book will draw you in. Word on the street is that the book has been optioned to become a movie soon, so I definitely recommend reading it first! Mission Flats
is the next Landay novel I'm hoping to sink into and I will keep my eyes open for any future releases, as well.
7. Say You're One Of Them, by Uwem Akpan
At this time Akpan's sole published work is a novel that was released in 2008 and ultimately took the literary world by storm. Say You're One of Them (Oprah's Book Club)
is a compilation of stories that introduce us to a world beyond our understanding. With intense and powerful writing, we're drawn into the lives of several struggling young children in Africa. It's not described as an easy read, but with the topics covered one wouldn't expect it to be. I hope that Akpan continues to use his voice and talent to bring subjects like this to light across the world.
There you have it. A few recommendations for those looking for novels by men. Of course, there are also books by the very well-known talents Stephen King, Clive Cussler, Nicholas Sparks, Scott Turow, Clive Barker (a fave here!), Dan Brown – and that's just naming a few. So it's obvious that there's no lack of male authorship out there. Do you have a favorite you'd recommend? Let us know in the comments!
For more great book recommendations, check out the 12 books I am reading in 2015.