This post may contain affiliate links which may give us a commission at no additional cost to you. As an Amazon Associate we earn from qualifying purchases.
Andrea from Great Thoughts is back today to announce our July Book Club pick. And based on the recent review from the New York Times, it sounds like she has chosen another stellar book for us. Read on to learn more and to enter the giveaway.
If you are interested in reading more about the #SITSBooks Book Club, as well as pick up a copy of the badge to display on your blog, then check out this page.
Our July book club pick is AMAZING!
You know you've got something special on your hands when you can't stop reading and you stay up until 1:30 am (on a weeknight) to finish it.  That, my friends, is Exposure by Therese Fowler.
Simply put, Exposure is one hell of a great book.  You can read my review in full on my site here.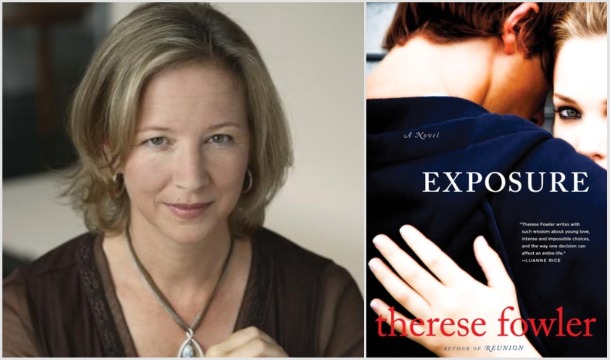 The premise of the book is perfect for 2011.  Two teenagers in a consensual relationship choose to text one another inappropriate pictures.  The girl's conservative, successful father unfortunately finds out and legal action ensues.  This book is very timely in our age of digital cameras, flip videos, Skype, etc.  I dare say that everyone who has a child that knows how to use a cell phone should read this novel ASAP!
This book is an absolute page-turner and utterly perfect for your summer reading list. I really don't want to say much about the plot so that I don't spoil your fabulous upcoming reading experience.  Suffice it to say, the boy, the girl and their parents all get in BIG trouble.
Exposure is really a 21st century Romeo and Juliet.  This book will be the delight of our SITS Book Club as it has a gripping plot and can so easily lead to moral and ethical discussions.  I'm going to go out on a limb here and say that I see this book becoming a movie in the near future.
I loved this book so much that I immediately invited Therese Fowler and Exposure to be the July pick for the SITS Book Club.
Please join us on Twitter on July 14th from 8-9 pm CST, hashtag #SITSBooks. This will be a great discussion with the author!
Random House, Ms. Fowler's publisher, is graciously giving out 25 copies of Exposure to our readers.
To enter, simply leave a comment on this post.
For extra entries, do the following:
Follow @Gr8Thoughts and @SITSGirls on Twitter
Send out this tweet: I'm excited to #read Exposure by @ThereseFowler for the July SITS Book Club! #SITSBooks #giveaway http://bit.ly/iecOXd
And if you can't wait for the results of the giveaway, you should definitely pick up a copy of Exposure right away!  Listed by the New York Times as a "book to bury yourself in this summer", consider kicking your summer reading into high gear asap.
The Fine Print:
This giveaway is open to the continental U.S. only. Contest ends next Wednesday, June 8 at midnight PST. 25 names will be drawn at random and notified via e-mail. Winners will have 24 hours to provide their home mailing address and claim their prize.