This post may contain affiliate links which may give us a commission at no additional cost to you. As an Amazon Associate we earn from qualifying purchases.
Do you have a kid who is nervous to go back to school? Or maybe you are nervous to let them go! These are our Best Back to School Books to calm those first day jitters! These books tackle tough situations, and will leave kids feeling awesome about the upcoming school year!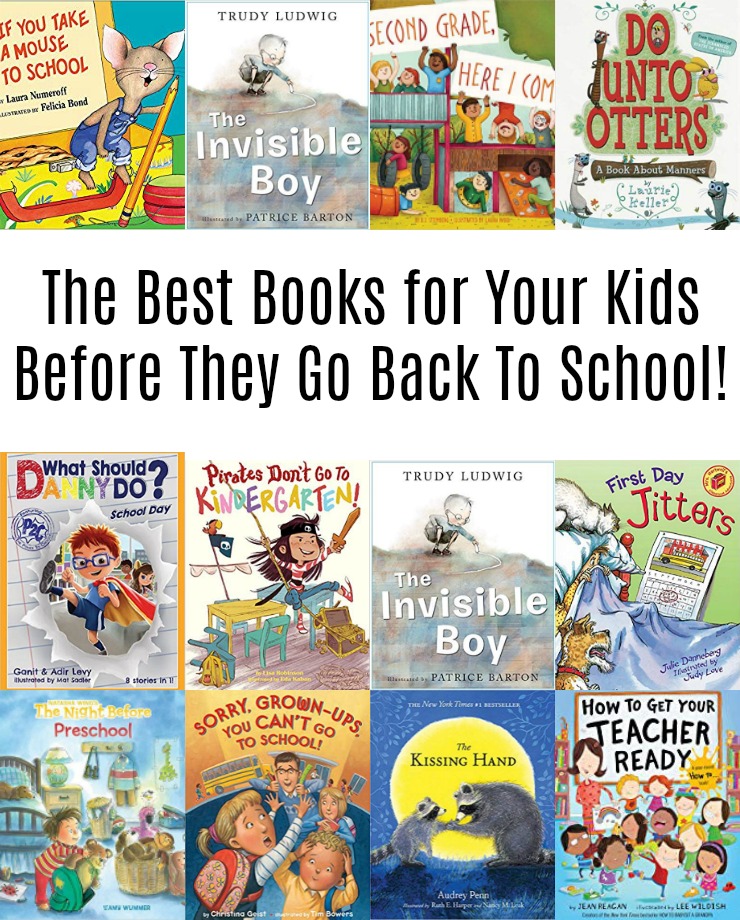 The Best Back to School Books

The Kissing Hand
Raccoon is so nervous to leave his momma and go to school. However, she shows him what The Kissing hand is, and he feels much better knowing that a part of his mom is always with him!
If You Take A Mouse To School
This is a great spin on the classic " If you Give a Mouse a Cookie" book. Kids will love this hilarious tale of Mouse!
First Day Jitters
Sarah is scared and doesn't want to start a new school. She has a sinking pit in her stomach. She doesn't know anybody. However, there is no need for First Day Jitters, because everything ends up to be exactly opposite of what she feared.
Pirates Don't Go to Kindergarten
Pirate Emma is about to start Kindergarten, but she is not so sure she's going to like it. What if the kindergarten pirate Captain isn't nice? Will her fears be realized?
Second Grade, Here I Come
Silly rhymes bring to light what is so awesome about 2nd grade! Big kids math and chapter books are something to be excited about!
The Invisible Boy
Brian is the invisible boy at school. So when a new kid comes to class, he is the first one to welcome him. They end up best of pals and teaching all the kids a valuable lesson!
The Night Before Preschool
Billy is so nervous the night before preschool that he can't even sleep! However, he soon discovers that there is no reason to fear school! His day is amazing, and he can't wait to go back!
Do Unto Otters
This is a great book about teaching kids to treat others the way they want to be treated. It addresses it in a funny manner using otters and a play on words! Perfect for back to school!
What Should Danny Do? School Day!
Danny is faced with different situations at school and needs to figure out the best course of action. This is a great book for a tad older kids!
Sorry, Grownups, You Can't Go To School!
It seems like it is going to be a typical school day, until Mom, Dad, and Grandma BEG to go to school! This interactive story is great for kids who are reluctant to leave Mom or Dad for the first day of school!
How to Get Your Teacher Ready
A class of adorable students gives tips and tricks for getting a teacher ready for all the fun things that will happen during the school year. A great way to help kids get ready for school by helping them to think about how to get their new teacher ready.
Her Body Can
"Her body is beautiful—strong, kind and wise. All bodies are lovely no matter their size." Her Body Can is a book of poetic self-love and body positivity declarations for all young girls. Its aim is to encourage our young girls to create a reality for themselves in which they love themselves and their bodies for exactly who and what they are, instead of learning to judge themselves and hate their bodies for what they are not.
Check out some fun Back to School ideas here, including our Jitter Juice!