This post may contain affiliate links which may give us a commission at no additional cost to you. As an Amazon Associate we earn from qualifying purchases.
Andrea from Great Thoughts is back today with an update on The Dressmaker of Khair Khana, our book club pick for April.  Let's get caught up on what's happening with our book club…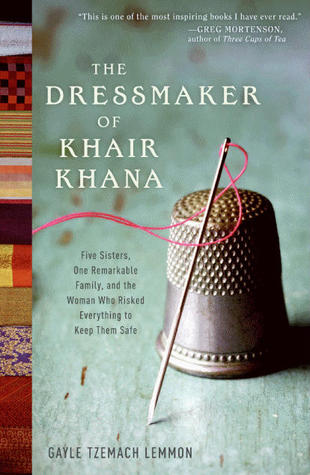 By now, I hope many of you are reading The Dressmaker of Khair Khana by Gayle Tzemach Lemmon.  If you are like me, you won't be able to put it down.  Be sure to check out the Book Club in the SITS Girls Forum where I'll be posting discussion ideas, etc, relating to Dressmaker.
As a reminder, the details for our Twitter Party to discuss The Dressmaker of Khair Khana are:
When: Thursday, May 5th
Time: 8-9:00 pm CST, that's 9-10:00 pm EST and 6-7:00 PM PST
Where: Twitter hashtag #SITSBooks
We had a great discussion last week at our first #SITSBooks Twitter party.  This one will be even better as Gayle Tzemach Lemmon, the author, will be joining us.  As you are reading , think about:
How did Kamila adapt the skills she learned as a teacher and put them to use starting her dressmaking business, and later in her U.N. work?
Under the Taliban, Afghan women were confined to their homes and saw their lives transformed virtually overnight. Many women like Kamila still needed to support their families, though, and so found creative ways to work within and around these new restrictions. What would you have done under similar circumstances? Would you have dared to go against the Taliban's rules at the risk of your own safety?
Lemmon paints a colorful, yet nuanced portrait of modern day Afghanistan. The story of Kamila and her family presents an alternative to the conventional image of women as victims of war. Did Lemmon's portrayal change the way you think about Afghanistan? Or about women and war?
I look forward to discussing this book with the author (isn't that cool?) and you all.
Looking for more details on the SITS Book Club?  You can find everything you need to know here.  (It is a static page we added to the Community drop down menu in the black navigation bar at the top of the homepage.)  Going forward, we'll be updating this page to include the details on the latest book we're reading.