Disclosure
All blog posts and social media activities MUST follow the WOMMA Code of Conduct (http://www.womma.org/ethics/womma-code-of-ethics) and include both an appropriate Disclosure Statement at the beginning of any blog post and prominently display AD in all social media mentions (i.e. Twitter, Facebook, Pinterest, Google+, etc.).
Dairy products should be referenced as "California ______" (insert dairy product name – i.e., milk, butter, yogurt, yogurt) in recipes and in copy.
We represent ALL California dairy products so we do not call out or showcase any brands by name and rather refer to styles (such as California butter, California cream cheese or California milk).
Our dairy products are best featured out of the package, in bowls, cups, pitchers, etc. and we prefer that you don't feature product in packaging so as to not highlight one brand over another.
When referring to specific cheeses, capitalize the first letter within the names of the cheeses. For example, California Monterey Jack cheese, California Mozzarella cheese, etc.
For your information, our boiler plate is noted below:
The California Milk Advisory Board (CMAB), an instrumentality of the California Department of Food and Agriculture, is funded by the state's more than 1,500 dairy families. With headquarters in South San Francisco and Modesto, the CMAB is one of the largest commodity boards in the United States. The CMAB executes advertising, public relations, research and retail and foodservice promotional programs on behalf of California dairy products, including Real California Milk and Real California Cheese. For more information about California dairy products, visit www.RealCaliforniaMilk.com or connect with us on social media at Facebook.com/RealCaliforniaMilk, on Twitter and Instagram @RealCalifMilk, and Pinterest.com/RealCalifMilk.
For a complete list of California dairy products, please visit: http://www.realcaliforniamilk.com/products/dairy/
For complete list of California cheeses, please visit: http://www.realcaliforniamilk.com/products/types-of-cheese/
Since we have both a Real California Milk and a Real California Cheese seal which distinguish our products, please use the provided seals logo highlighting both seals with the copy "Look for the seals". A high res image will be sent to you.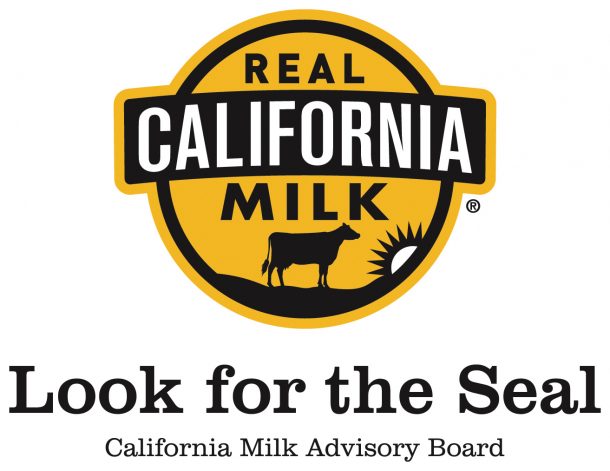 California dairy is sold nationally and can be found at retailers such as Wal-Mart, Sam's Club, Walgreens, Target, 7-Eleven, Vons, Albertsons, Ralphs, Stater Bros., Food 4 Less, Superior Grocers, Lucky, Longs Drugs, Nugget and O'Brien's. For a comprehensive list of retailers, visit http://www.realcaliforniamilk.com/for-californians/where-to-buy-ca-milk/
Please do not use or feature any dairy alternative or non-dairy (margarine, soy, etc.) products in recipes.
Please do not use or feature non-cow's milk dairy (goat's milk, sheep's milk, etc.) products in recipes.
Below are some fun facts about California dairy:
California is the number one dairy state in the US, producing more milk, butter and ice cream than any other state and is the 2nd largest producer of cheese and yogurt.
We have over 60 cheesemakers in CA producing over 250 different types of cheese
California is the number one dairy state and the country's leading producer of Hispanic dairy, making more than 25 varieties and styles of Hispanic-style cheeses as well as cremas and drinkable yogurts.
Many California dairy products are sold nationally. 99% of California dairies are family-owned. When you look for and buy products with the Real California Milk and cheese seals you know that your dairy products are made from 100 percent California milk from California's over 1500 dairy families.
Getting Social With California Dairy
www.RealCaliforniaMilk.com
Real California Milk at Facebook.com/RealCaliforniaMilk
Twitter @RealCalifMilk
Pinterest.com/RealCalifMilk
Instagram @RealCalifMilk