This post may contain affiliate links which may give us a commission at no additional cost to you. As an Amazon Associate we earn from qualifying purchases.
The assignment for Day 4 of our 31 Days to Build a Better Blog Summer Challenge sounds easy enough: Spend 15 minutes analyzing a blog in your niche. Darren from Problogger suggests looking at things like that blog's content, reader engagement and design. He cautions us not to fall into a trap of replicating others but rather to remain unique and keep the focus on our own blog.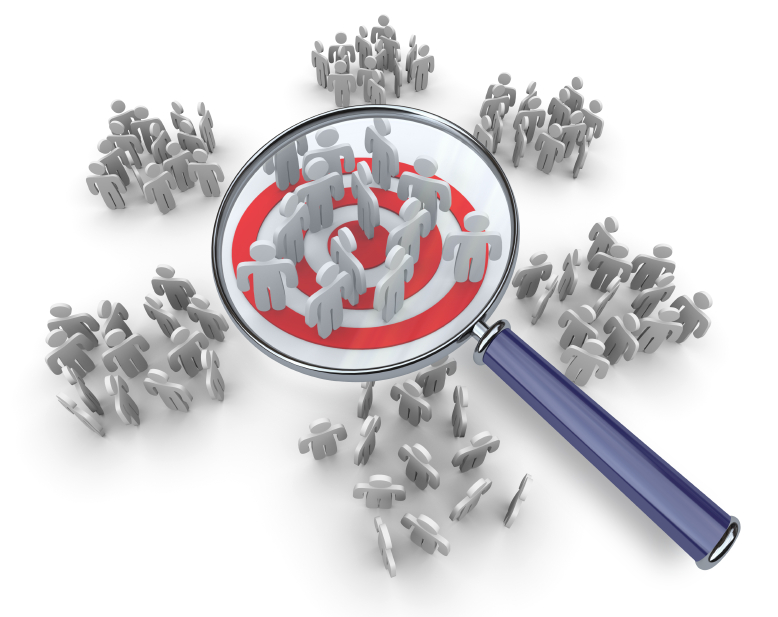 It's a great assignment that packs a big punch. But let's give it a twist and toss in some extra usefulness AND awesomeness. You can get as much value at also taking analyzing blogs OUTSIDE your niche and even—gasp—corporate and non-profit blogs.
Taking a Look Outside… Your Niche
By looking just in your own niche, you box yourself into a certain way of thinking. You do "this" because everyone else does it and "that" because isn't that how you're supposed to? Well, looking outside your niche can help you bring in a fresh approach to your own niche.
During my 11 years in the marketing field, I've worked in four industries: ad agency, sporting goods (golf), credit unions and enterprise software. Why would a credit union hire a golf industry chick? Because I brought a fresh perspective. I wasn't so entrenched with "it's how we always do things" like someone who worked in the industry for years might be.
The same can be said for you when you look outside your niche for ideas and inspiration.
So, once you complete Day 4's task as is, start digging around elsewhere. What are some of your favorite outside-the-niche blogs or company blogs? If you can't think of any, did you fan a company's Facebook page recently? If they have a fan page, they probably have a blog too.
As you looked at a blog inside your niche, Darren said to ask yourself questions like:
What topics are they covering?
What topics generate the most conversation?
What options do they give a reader to subscribe?
For digging around outside of your own niche, it may not be as obvious what to look at.
Here are a few suggestions:


About Us Page

After your homepage, your About Us page is hand down the most important page on your blog. Take a look at some other blogs. How do you they layout their page? What do they say about themselves and their blog? Do they encourage readers to subscribe from their page?


How the Blogger Works with Brands

Is this blogger working with brands? A different industry could be partnering with bloggers in a completely different way than within your niche. You can take some of those ideas, tweak them for your own niche and pitch to one of your favorite brands. You may just get a paying gig from it.


What Does Their PR/Advertising Page Look Like?

On Cool Mom Picks, they include an FAQ that's clear, yet written in a fun, down-to-earth way.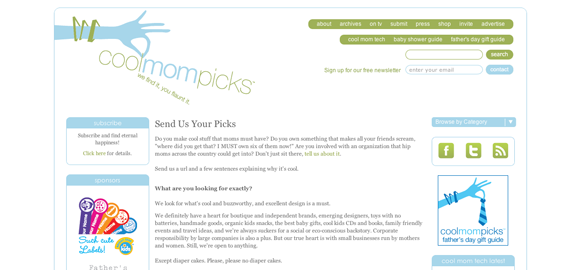 Blog Topic Ideas
Yes, even from a completely unrelated blog! For the most part, corporate blogs are written by professional writers who have a knack for crafting attention-grabbing headlines. Use that to your advantage. For example, take a look at Evernote's latest blog post: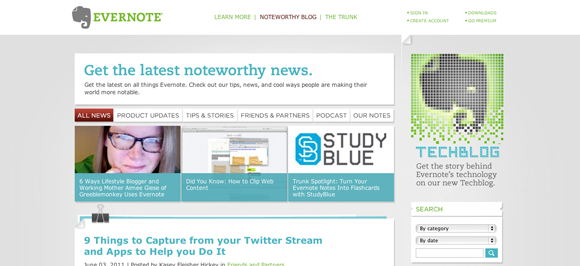 See the blog title at the bottom? It says "9 Things to Capture from your Twitter Stream and Apps to Help you Do It."
Use key elements of the headline (like "9" and "capture") as a springboard into a post idea for YOUR niche.


How a Company Blog Highlights Its Audience

Looking at company blogs may seem completely irrelevant to a personal blog but they definitely aren't! Good company blogs highlight their fans, customers, members or donors. For example, non-profit Charity: Water's blog did a post highlighting a cute little donor: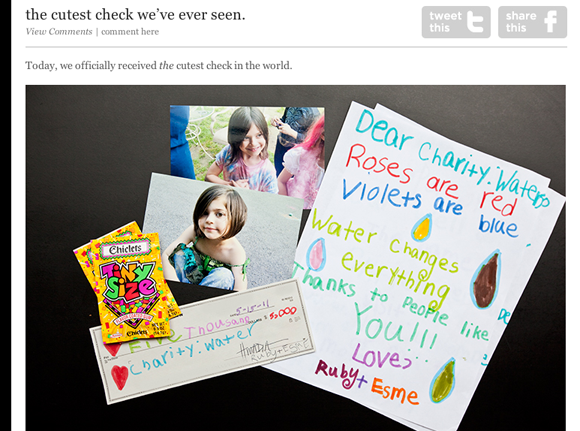 Could you highlight a special email from a reader (with their permission, of course)? Interview a top commenter? Something else? On Momcomm, I recently started Momcomm Mashups where once or twice a month I ask a question on my Facebook fan page and compile 10-15 of the answers into a blog post. I include the blogger's answer and a link to their blog. It's a great way to give back that also benefits other readers as well.


Go With the Flow

Take a bit of a go-with-the-flow approach and see what catches your eye. For example, I was drawn to Charity:Water's header.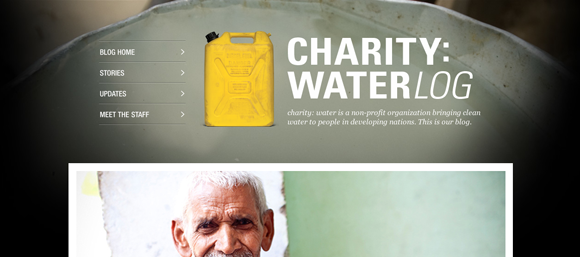 The first thing that catches my eye (besides the graphics) is the name of the blog. Charity:WaterLOG.
Ooh, clever! So what can you do with that? If you were working on launching a new weekly series or a newsletter for instance, this could give you the idea to play off your blog name or tagline in naming your series or newsletter. I'd like to say it gave me the idea to call this section "go with the FLOW" but that was just a coincidence. *chuckle*


Now Get Analyzing!

Wow. In any other industry "analyzing" would sound SO boring but we all know blogging is anything but boring! Complete Day 4 as is… then step outside your niche and find a new perspective. You never know what ideas and inspiration you'll find.

The
31 Days to Build a Better Blog Summer Challenge
is a program that Darren Rowse, aka Problogger, designed so that bloggers can improve their sites in about a month. Follow along
in our Forum
, with the
#SITS31DBBB hashtag on Twitter
, and on
Facebook
. It's never too late to jump in!
Here are the topics we've covered to date: